Today is International Women's Day—a day that one of my personal heroes Leslie Knope (heroes can be fictional characters, right?) thinks is the best day of the year. Here's proof: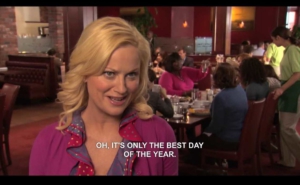 Image Courtesy of NBC
Okay, so Leslie was referring to Galentine's Day but I'm sure she'd agree that International Women's Day is equally awesome and important.
Observed since the 1900s, International Women's Day is intended to commemorate the movement for women's rights. But it also serves as an important reminder that while we've made strides when it comes to gender equality, there's still plenty of work to be done—especially in the workplace.
In fact, last year's Global Gender Gap Report estimates it will take 217 years to achieve gender parity given the current rates of change.
Yikes. If you're impatient like me (and Leslie Knope), you're not willing to wait that long.
But it isn't all doom and gloom.
The same report shows that when women are represented in leadership roles, more women are hired into those organizations—seeding the next generation of female leaders and resulting in the gender equity we need in the workplace.
All this got me thinking. Who are the female leaders that inspire me? And what about my sales and marketing colleagues here at Seismic—who do they admire?
So I asked. And the result is a list of intelligent, fierce, amazing women who are helping to change the perception of what it means to be a leader in sales and marketing.
Without further ado, here's our list of some of the women we admire and inspire us to be great leaders ourselves.*
101 Women We Admire in Sales and Marketing
Adriane Maron – Apptio
Aimee Bourke Foster – Franklin Templeton
Alexandra Gobbi – SecureWorks
@alexandra_gobbi
Ali McCarthy – Brinker Capital
Ali Vance – Denver Investments
Allison Snow – Forrester
@allisonsnow
Ann Handley – MarketingProfs
@MarketingProfs
Ann Lewnes – Adobe
@lewnes
Anne-Marie McConnon – BNY Mellon
@mcconnona
Ashley Brown – U.S. Bank Private Wealth Management
Betsy Lee – Wellington Management
Cara Kriwet – Philips
Carole Anne Sheppard – Federated Investors
Carol Myers – Rapid7
@CarolJMyers
Carolyn Van Putten – LMCG Investments
Catherine Blades – Aflac
@CHBlades
Cathy Rowell – Nectar
@CathyGRowell
Charlotte Blackwell – American Express Global Business Travel
Cherie Gartner – DXC Technology
Christine Polewarczyk – SiriusDecisions
@Christine_mktg
Cristin McMullin – GMO
Diane Vieira – Leerink Partners
Eileen Brooker – Proofpoint
Elaine Leavenworth – Abbott
@ELeavenworth
Elizabeth Marvin-Smith – HighVista Strategies
Fara Hain – Zerto
@FaraJHain
Fiona Shanley – Travelport
Hannah Maslar – Glassdoor
Heather Cole – SiriusDecisions
Heidi Hahn – Associated Bank
Heidi Kaufman – Torchlight
Jazmin Jourdain – Baron Funds
Jen McSorley – Federated Investors
Jennifer Jackson – Teradata
Jill Konrath – JILL KONRATH
@jillkonrath
Joann Chatfield – MoneyGram International
Judy Snow May – Pax World
Julie Beck – Apptio
Juliette Rizkallah – SailPoint Technologies
Kaila Crowley – Glassdoor
Kandra Vu – Mobile Iron
@kandravu
Karen Eisenbach – Voya
Karen Hopkins – EY
Karen Quintos – Dell
@KarenHQuintos
Karen Walker – Cisco
@KarMWalker
Karen Walsh – MFS Investment Management
Kathleen Pierce – Illumina
Kathleen Voboril – Elekta
Kay Du Fernandez – Konica Mintola Business Solutions
@kaydufernandez
Keisha James – GE Power
Kelly Sennatt Esten – Toast
@KellySennatt
Kristie Helms – State Street
@kristiehelms
Laura Byrne – LiquidNet
Laura Ramos – Forrester
@lauraramos
Laura Wilbanks – Equifax
Linda Boff – GE
@lindaboff
Linda Sherman – NCR
Lisa Aubert – Cochlear
Lisa Milburn – Bank of Montreal
@lisa_milburn5
Lisa Pope – Epicor
@lisacpope
Lucianne DeCicco – PIMCO
Madelyn Hernandez – Matrix42
Marcy Campbell – Braintree
Maria Winans – IBM Watson
@MariaWinans
Marty Willis – Nuveen
Mary Beth Moynihan – Boston Scientific
@MoynihanMB
Mary Shea – Forrester
@sheaforr
Meg Guarente – dataxu
Melissa Hilbert – Gartner
@MelissaAHilbert
Mia Shernoff – First Data
Michelle Calcutt – Aviva Investors
Michelle Dunlop – Russell Investments
Michelle Groff Burling – Hitachi Vantara
@mgroffburling
Michelle Johnston – Intel
@mjholthaus
Michelle Peluso – IBM
@Michelleapeluso
Michelle Pouliot – Brown Brothers Harriman
Monique Bonner – Akamai
Nancy Maluso – SiriusDecisions
@nmaluso1
Nancy Nardin – Smart Selling Tools
@sellingtools
Neenu Sharma – GE Digital
Nika Stracabosko – Credit Suisse
Pat Venters – IDEXX
@p_venters
Paula Kelley – The Dreyfus Corporation
Peggy Magrish – Federated Investors
Phyllis Davidson – SiriusDecisions
@phyllismusings
Rachael Moore – AmerisourceBergen
Rakhi Voria – Microsoft
@rakhivoria
Renee Baker – Carillon Tower Advisors
Riham El-Lakany – Freddie Mac
Shannon Talbert Hadfield – Schneider Electric
Sharon Driscoll – IBM
Sharon McGowan Spinelli – Avid
@sharonmcgspin
Sona Jepsen – FIS Global
Stephanie Berry – Allscripts Healthcare Solutions
Sue Barsamian – Micro Focus
Sue Malenfant – Forrester
Susan Felke – Illumina
Tellye Hedrick – Lockton Companies
Tracey Newell – Proofpoint
Trish Bertuzzi – The Bridge Group
Vicki Terpening – Baker Hughes
*Please keep in mind that there are many women leaders we admire and this list is not meant to be all-inclusive!