Seismic Shift is the company's sixth annual customer conference which will take place on November 5-7 at the Omni La Costa in Carlsbad, CA. The event is full of success sharing, in-depth product training, collaborative workshops, industry break-out sessions and plenty of networking opportunities.
The Seismic Shift Awards program honors the people who champion the ideals of sales enablement and sales and marketing alignment within their organizations; the teams and programs that have upended the idea of what a sales enablement process should look like and what it can accomplish; and those that have taken the Seismic product to innovative new heights.
And, new to this year, the Seismic Shift Awards is honoring an individual pioneer who has helped spearhead the entire sales enablement movement through a relentless drive and series of achievements over the course of their career.
The winners of this year's awards truly exemplify customers who are Shifting Beyond and driving the sales enablement industry forward. We will be profiling some of this year's winners on our blog, showcasing their thoughts on the current state of sales enablement, winning a Shift Award, and a few decidedly non-sales enablement questions!
Our first feature is Alan Yarborough, Senior Brand Enablement Manager at Blackbaud who is one of this year's Shift Product Award Winners. Alan has been working with Seismic for more than 3 years and is an internal champion for sales enablement at Blackbaud. His team continues to partner with Seismic to find new, innovative ways to leverage the product. You can get to know Alan by reading more below and attending his presentation on Day 1 at Shift where he'll showcase Blackbaud's creative use of Seismic's NewsCenter, a tool which delivers personalized, relevant feeds of news and information to sellers.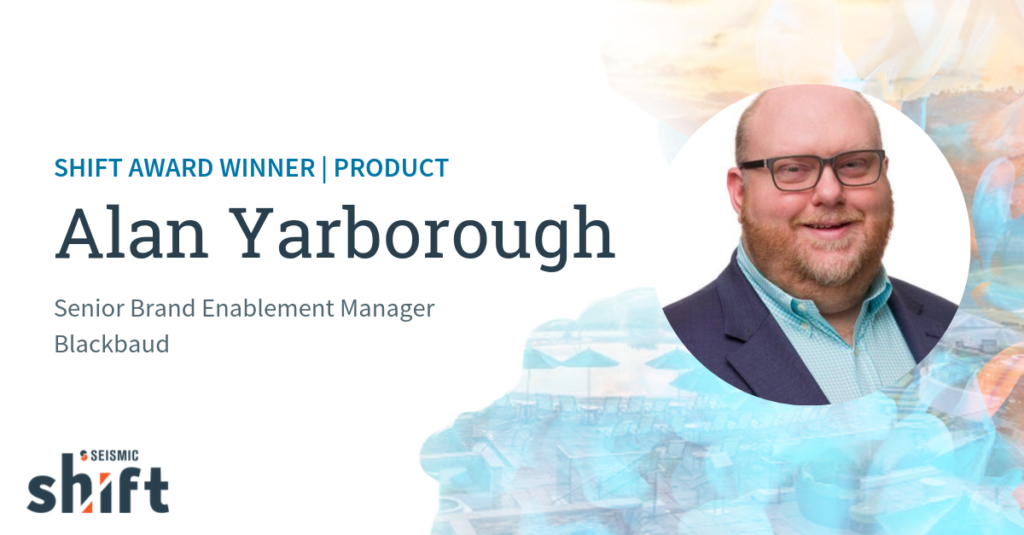 What does this Seismic Shift Award mean to your organization? How did you feel being named a Seismic Shift Award winner?
For Blackbaud, winning a Shift award really validates all the work my team has done to establish Seismic as our single source of truth for both sales and marketing. I feel many things but most of all I feel proud of our sales team for trusting in what Seismic can do for them. I am especially proud to see how Seismic has helped Blackbaud increase pipeline and diminish our sales cycle.
Any advice you would share with other organizations looking to build out a sales enablement program?
I have 3 pieces of advice for those looking to build out a sales enablement program:
Take your time to ensure you find the right vendor.
Make sure you have senior leadership onboard every step of the way, from selection to implementation.
Trust you made the right choice in vendor, partner with them to build out your program and results will come.
What is the biggest problem for your business that Seismic has solved?
Seismic has broken down silos between marketing and sales and driven alignment between those two teams. Also, we no longer have multiple repositories where sales can access content – sellers rely on Seismic to find the most effective piece of content for every engagement.
What is your favorite part about Seismic Shift?
My favorite part about Shift is definitely the networking opportunities. Also, the opportunity to see the new product advancements coming.
Where do you plan to keep your trophy?
On my desk for all to see.
Fun fact about yourself.
I once competed in a karaoke contest and won $2,500!
Click here to learn more about this year's winners. Register today to attend the sales enablement event of the year!