Our office is definitely feeling the pain of a summer sports lull. We gave up on the Red Sox months ago, we're sick of Deflategate, and are really only finding consolation from those poor Jets. But ESPN is still rolling on our office TV, and if you ask me, it's always a good time to revisit the age-old comparison of sales and sports. People are constantly likening a salesperson's desired traits to those of an athlete, saying they should share the same balance of competitiveness and camaraderie. This rang true at our annual company get-together, Seismic Activity, last week in Boston. Our President Ed Calnan presented on behalf of our sales team, and shared "why we win" as a way to reinforce our sales team's work-hard-play-hard mentality. Ed even brought in some B2B sales data to reinforce these athlete/salesperson similarities. Below are five characteristics Ed presented that you'll see from successful sports teams, as well as our own sales team at Seismic.
1. Competitive
According to Ed's presentation, 35-50% of sales go to the vendor that responds to an inquiry/demo/form first. Seismic's sales team knows that if they're contacted by a prospect or lead, they'll get back to them as soon as possible. It doesn't matter if they're at lunch, at home, or if it's 7 in the morning. If that person is on our site, they're awake and want to know more. It doesn't sit well with our reps to let the competition beat them to anything, especially a qualified lead. The same goes for athletes. Whether it's vying for a roster spot, getting to the ball before an opponent, or even just being the first one to the locker room, there's no doubt that the most successful athletes have a slightly outrageous competitive streak.
2. Creative
A stat from the Aberdeen Group, shared by Ed, states that personalized emails improve click-through rates by 14% and conversion rates by 10%. Our sales reps are famous around the office for their creative spins on personalization, such as including a prospect's recent work accomplishments, accolades, and even high school sports stats in their cold outreach. One rep even purchased a children's book illustrated by his prospect's wife when he wouldn't reply… we're all excitedly waiting for his response to this: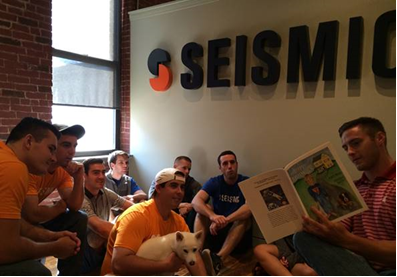 Successful athletes (and especially coaches) get creative when it comes to winning as well. Practicing unconventional ways to score, like this hockey player or this football team is just one way to put creativity to work.
3. Relentless
This characteristic goes hand-in-hand with the previous two. Anyone can be competitive or creative, but the ones who are relentlessly committed to creativity and competitiveness are the ones who will win. According to this Slideshare from BuzzBuilder, it takes 8 cold call attempts to get a prospect on the phone, and the average salesperson typically only makes 2. It takes unwavering relentlessness to stay on top of prospects like this. A fun comparison comes from a sports success story-turned-Disney movie, The Rookie. Jim Morris, a promising 19-year-old baseball pitcher, initially gave up the dream of going pro because of a series of arm injuries. But he ended up pitching his first MLB game at the age of 35, thanks to his high school students' challenges to pursue his dreams. Becoming a professional athlete at the age of 35 is no easy feat, and requires a special kind of fire in the belly.
4. Focused
You're not going to be the best at something if you're trying to be the best at everything. This goes for sports and sales; if you're not focusing your messaging and outreach efforts to specific buyers, titles and industries, you're wasting your time. Jupiter Research found that relevant emails drive 18 times more revenue than broadcast emails. It's the same in sports: you have to target a single sport or skill at a time so your mind and body are focused on repetition and improvement. The teams most focused on the next task, skill or game are the ones with a competitive edge.
5. Able to move on to the next game
Win or lose, there's always another opportunity to succeed. In sales and sports, you have to learn from losses and figure out the weak spots for improvement. When you win, don't let it get to your head. Each season (or fiscal year or quarter) you start over at 0-0, and you have to figure out new ways to win again.
It's no coincidence that the entire Seismic team is made up of many former athletes, all willing to do whatever it takes to succeed. What other characteristics do you think make a good salesperson? Let us know!