I'm going to kick off my "Metrics that Matter" by shedding some light on conversion rates.
Conversion Rates: Rarely Understood, Often Misused
Despite being one of the most cited metrics by sales and marketing organizations, conversion rates are rarely understood, and are often misused. When calculated correctly and reviewed in the proper context, your company's conversion rate is one of the most powerful ways to understand the performance of your organization, trends over time and individual performance relative to the whole. I want to start at the beginning of this process, with a best practice approach to calculation.
Successfully leveraging the information extracted from conversion rates begins with the calculation. There are numerous ways to apply conversion rates within your sales and marketing organization, but for this example I will use stage to stage conversion, like what you'd see in a multi-stage sales process.
Most people understand, at the most basic level, that conversion rates reflect what percentage of opportunities move from one stage to a later stage in a defined process. Sounds easy, right?
Well, not as easy as it appears.
To calculate conversion rates you need to plug in two important values: quantity and time.
Quantity
How many did you start with and how many have moved forward.
To measure quantity accurately, you need:
A defined, multi-stage process
This can be as simple as how many people visit a web page vs how many download a whitepaper, or as complex as a six stage sales process with verifiable outcomes required to progress from stage to stage. The better defined and realistic your process, the more consistent your results will be. Danger zone: If your process is constantly in flux, you won't be able to gain much value from conversion rates. Do the work up front to decide on a process and give it enough time to see results.
A system that records data.
You need some kind of system in place that can record data for this to work. Most commonly, organizations are using CRM systems such as Salesforce that allow you to see when an opportunity or lead moves.
Time: a very important component that many people fail to include in their conversion calculation.
Time is essential to creating parameters in your metrics that ensure your results are consistent, contextual and understandable. You need:
A defined starting point.
To generate accurate results, you need to a starting point. Defining a starting point ensures that only comparable quantities will be measured against one another. For example, you don't want to treat an opportunity that entered the stage last week the same as an opportunity that entered 6-months ago. Obviously, they haven't had equal chance to convert. Group with a starting point (I like monthly groups), and you're able to add context like "the stage one to stage two conversion rate was 50% for opportunities created in December."
A defined timeframe for expected conversion.
This is essential for generating consistent results but is often the most neglected piece of conversion calculation The conversion rate of an opportunity over its entire lifetime isn't useful when most of us are operating to meet monthly, quarterly or annual goals. We need to measure how many opportunities are converting in the defined timeframe, and if the conversion is meeting or missing our expectations.
Once you have each of these values, the calculation is pretty straightforward. I'm going to give you an example (diagramed below) that will hopefully make the process of conversion calculation a bit more clear.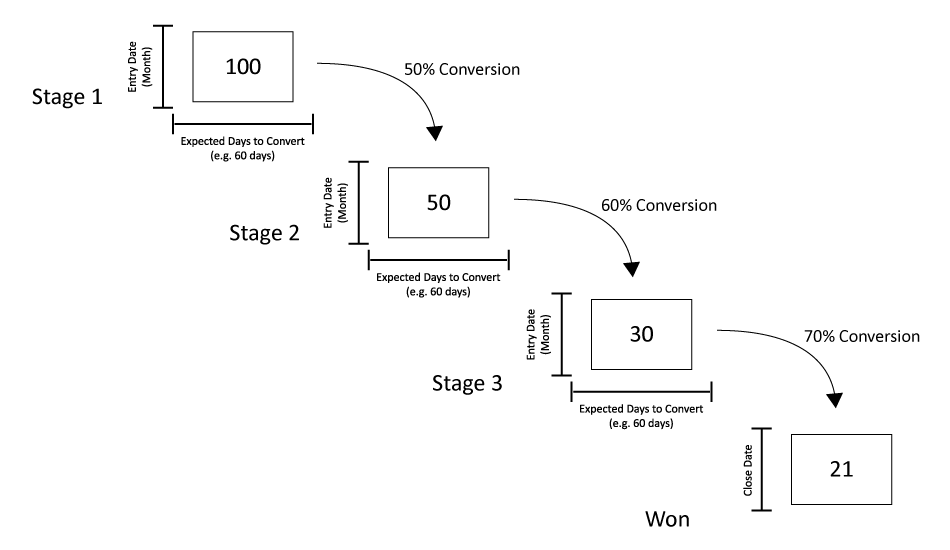 Let's say I want to calculate the conversion rate between stage 1 and stage 2 in my sales process. The steps I'd take to complete this calculation are below:
Decide on the entry date timeframe (i.e. when did my opportunities enter stage 1). For this example, let's say I want to look at all opportunities that entered stage 1 in September.
Determine the timeframe within which you expect these opportunities to convert. As an example, if my sales process calls for an average opportunity to move through Stage 1 within 30 days, I may want to look at a 60 day timeframe where I'd expect most opportunities to either move forward or be closed out.
Identify quantity of opportunities per established timeframe. With the first parameter defined, I'm able to identify the quantity of opportunities that moved into stage 1 during the month of September. In this example, let's say the number is 100.
Identify the opportunities satisfied second parameter. With the second parameter defined, I'm able to look at which of those 100 opportunities moved into stage 2 within the 60 day timeframe. It's important to keep in mind that the 60 day timeframe is opportunity specific (i.e. an opportunity added on Sept 1 would have till Nov 1 and an opportunity added on Sept 15 would have till Nov 15). In this example, let's say the number is 50.
Calculate! The calculation itself is relatively simple as you take your ending quantity (50) divided by your starting quantity (100), which in this example would be a 50% conversion. It's then important that you express the conversion rate in the context of your timeframe – "50% of our stage 1 opportunities created in September 2013 converted to stage 2."