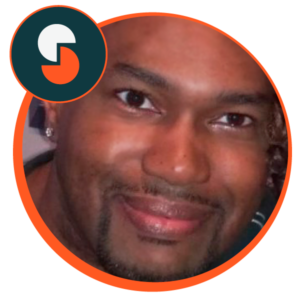 Presumably, the football field is not the first place that comes to mind when making a list of "places where software engineers learn their craft." Not so for Darwin Martin, one of Seismic's newest software engineers.
Darwin played Division 1 college football at Arizona State University as a defensive lineman, wreaking havoc on opponents' offenses while learning how to code in the classroom. Recently, I sat down with Darwin to learn more about what drew him to both software engineering and football, and how his time on the gridiron prepared him for a life as an engineer.
What drew you to engineering?
I remember getting my first computer, and it quickly became a passion of mine. I went to ASU to study engineering, and football came as a natural addition to my college life. Many football players use recruitment to get into college and fuel their educations, but for me football was always secondary to my enthusiasm for engineering.
How did you balance the demands of an intensive program like engineering and Division 1 athletics?
Having two very arduous and competing priorities in college was a challenge, but it taught me a lot. My coaching staff saw football as the most important thing, and wanted me to change my major or quit football. My classes conflicted with the demanding practice schedule, and they didn't think that I could dedicate adequate time to both. But I sat down with my coaches, and we figured out a schedule that worked. I also knew deep down that it'd make for bad press if I was forced out of engineering to commit more time to football.
What did you learn from football that helps you be a successful engineer?
Since college, I've stayed committed to being on "coach's time," which requires me to be at least five minutes early for everything. According to my coach, if you weren't five minutes early, you were late. This has helped me maintain punctuality for interviews, meetings, and deadlines. I also have kept the team-first mentality that I adopted at as a Sun Devil, and treat my teammates' actions as my own. This applies to wins, losses and everything in between. The same goes for software engineers: everyone has their own role, but we need to operate as a team to succeed.
What was your career like before Seismic?
Before college and football, I actually served in the military and was sent from my hometown of Canton, Ohio to Luke Air Force base in Phoenix. I had a job manually typing up pharmaceutical prescriptions, a process that was wrought with inefficiencies. My colleague and I were determined to find a way to streamline this process, so we created a computer program that printed the labels automatically. After the military and ASU, I stayed in Arizona and worked for a company called PCS Health Systems, which pioneered the mail-order prescription delivery process for people who were physically unable to receive their own medications. I also worked at Intel, American Express, and Mitchell International before Seismic. All of these experiences helped me focus on making programs better, faster, and more productive for the people employing them.
What drew you to Seismic?
I have tried to keep myself open to the best opportunities throughout my career. I heard about Seismic through Tom Greifendorff, Seismic's Talent Acquisition Manager, and thought that Seismic seemed like a dynamic and exciting company. It's been just a couple of months, but I'm really enjoying it so far!
While NFL franchises may regret Darwin's decision to pursue engineering as opposed to football, we're really grateful to have him on our Seismic team! And for other rockstar software engineers out there: we're hiring!
This is the first post in a series featuring members of Seismic's engineering team, their stories, and what drew them to Seismic. Stay tuned for more insights, coming soon!