For banks, lending is getting less profitable and funding has gotten more costly. According to David O'Connell of the AITE Group, this means banks need to embrace lending as the "tip of the spear" and field new opportunities to acquire deposits. Maximizing collaboration between lenders and treasury management and "treating all products and services as equals in pursuit of overall relationship profitability and deposits as a funding source" is imperative for commercial banks' success in 2019.
AITE Group surveyed lenders asking, "what percentage of your borrowers are treasury management clients." Only 27% of respondents answered in the top tier of 76-100%. When the same respondents were asked their desired rate, 72% answered in the top-tier, as shown in the chart below: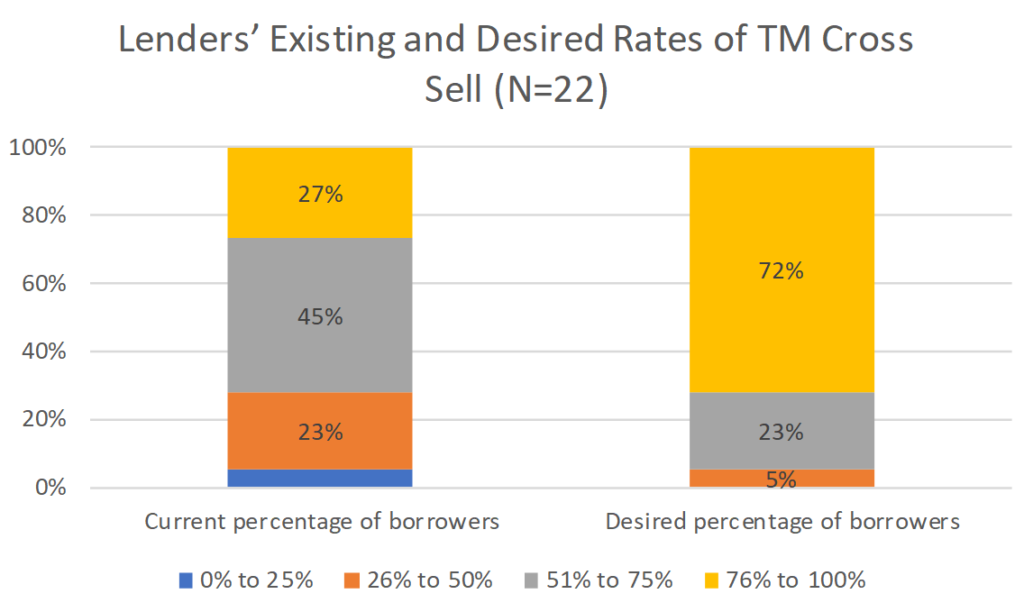 In June 2019, Seismic spoke with the AITE Group and American Banker to dig into the underlying issues and share the research group's findings with an audience of commercial banking professionals. To confirm the AITE Group's research, we asked our webinar audience how strongly they agreed with the statement: "Our institution does a good job of identifying and pursuing every treasury management opportunity encountered by lenders, even the ones that won't be borrowers."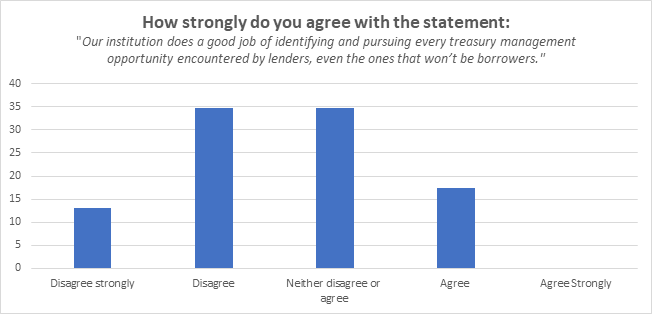 Zero percent of respondents agreed strongly and almost fifty percent of respondents disagreed or disagreed strongly!
So where is the disconnect?
According to the AITE Group's discussions with Banks, treasury management is almost exclusively dependent on the lending for leads. But the disconnect comes in how relationship managers and treasury view their relationship.
AITE Group's research showed that 45% of relationship managers think the relationship is completely effective, while 85% of the treasury group views the relationship as only somewhat effective.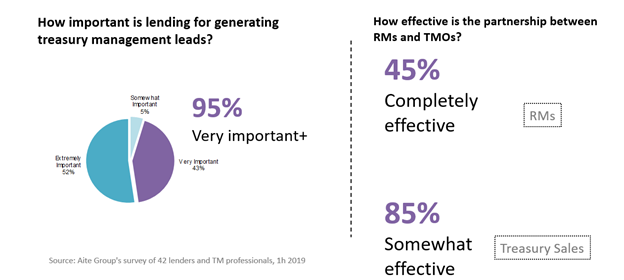 How Sales Enablement Technology can Help
Banks are trying a variety of strategies, including content creation, trainings, re-organization, new processes, technology investments, and more to align these groups. But often, these efforts are not tied together in a collaborative, strategic manner.
These teams need to have the necessary information at their fingertips, be able to collaborate on presentation materials directly within their CRM, and gain insights on what prospects are interested in to form better relationships and drive client engagement. Here is great clip of Shaalin Parekh explaining how sales enablement technology is helping banks accomplish just that.