Benchmarks, Budgets, & Trends
A hot topic in today's content marketing world is cultivating content that optimizes the buyer experience at each stage – awareness, consideration, and decision. In the last year or so we have seen a shift in trends from companies focusing on creating well-fueled content engines to mapping that content to their buyer's journey.
Around one-third of enterprise marketers report their organization is extremely or very successful with its overall content marketing approach.
While content marketers are still heavily focused on top of funnel activity – like brand awareness and demand generation- they are starting to expand efforts to support the larger picture – delivering optimal experiences to their buyers. Last month, Content Marketing Institute came out with a new 2020 Enterprise Content Marketing Report, exploring all things content in the new year. See below for some of the key findings:
Documenting Content Strategy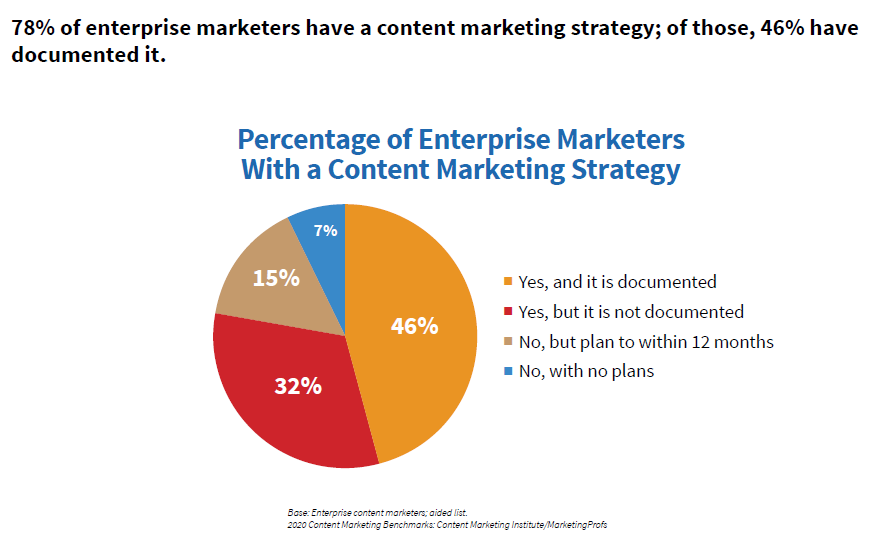 Having a content marketing strategy is important, but what good is a strategy if it's not documented? Documenting your strategy allows for you to map key content to the buyer journey, as well as find gaps in your content, messaging, and overall strategy.
Optimal Experiences Across the Customer Journey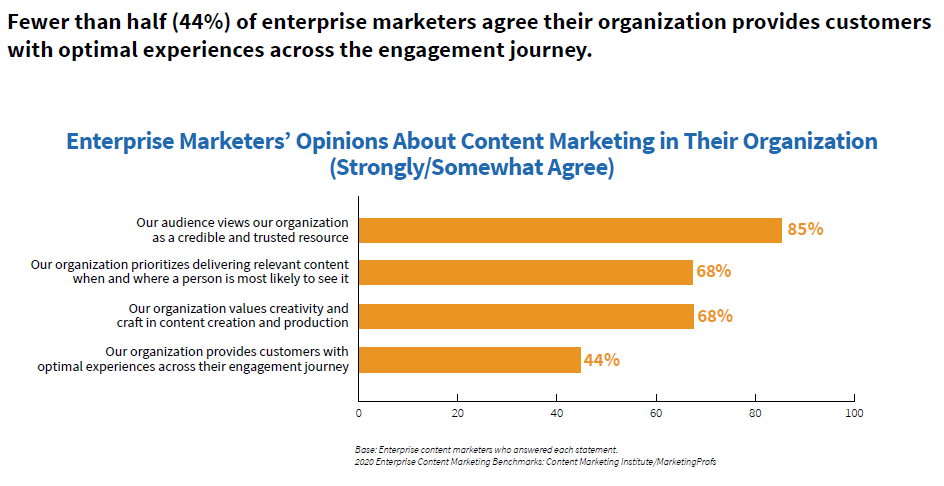 In today's economy, buyers have more knowledge at their fingertips than ever before, and are coming to the table with a great deal of research and knowledge about their needs, and your company as well. According to LucidChart, competition is stiffer than ever, buyer's journeys are more complex than before, and churn is getting more and more expensive. It's imperative to use your content strategy as a tool to elevate the customer experience at each stage of the buying process.
Crafting Content for the Customer Journey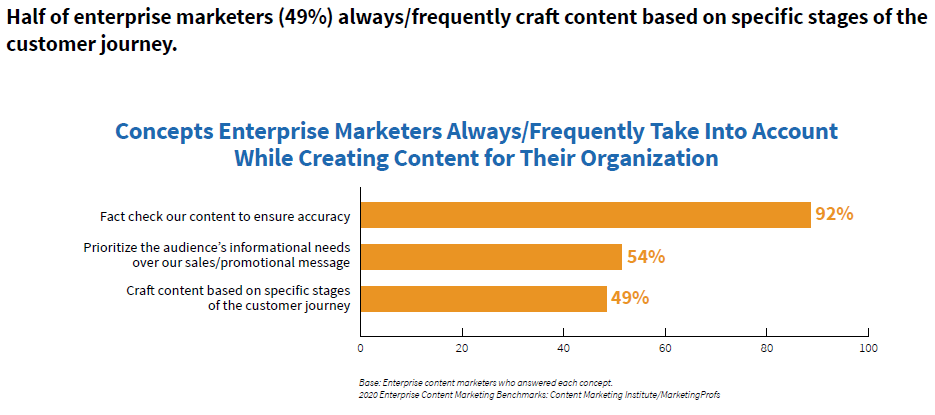 Crafting content based on the specific stages of the customer journey is imperative to providing a great buyer experience. Potential customers are more likely to buy when they are served up the most relevant content at the right time. It is crucial for content marketers to lay the groundwork of mapping out personas, buying stages, and measuring results. A content team must create a relevant mix of content for all stages- awareness, consideration, and decision to win business.
To see more facts and finding, please download the full report here.