It's no secret that we've been looking forward to today for a very long time. Not only are we kicking off Seismic Shift '22, but we're also announcing the latest products and capabilities in our Fall '22 release.
Now more than ever — with market conditions uncertain, and change always around the corner — it's critical for businesses to invest in a powerful enablement strategy. Teams are under increased pressure to hit the number — and, at the same time, are being asked to do more with less. But for teams that are equipped to adapt, this moment is full of opportunity.
In our Fall '22 Release, we're announcing several industry-first products and features designed to empower enablement and go-to-market teams to think and work more strategically, while optimizing their processes, in order to drive smart growth.
In this post, we'll break down each of the new products and capabilities, as well as how you can see them in action yourself.
Seismic Enablement Planner
As enablement has evolved and proven its business impact, teams have earned more visibility — and expectations — from the c-suite. To drive smart growth, enablement teams need to be both strategic and agile. They need to be able to identify which training initiatives or suite of collateral will truly move the needle, iterate based on what's working in the field, and respond to changes in the market.
However, to do that strategic thinking and planning, most enablement teams still use tools that are designed for more tactical work. For example, an enablement team that uses spreadsheets to audit content and plan sales plays can struggle to pivot when the market demands a new strategy: if their content, project plans, and revenue data live in three or more different systems, it can be difficult for them to connect the dots to identify the right path forward — much less execute quickly on a plan to deliver new content to field teams.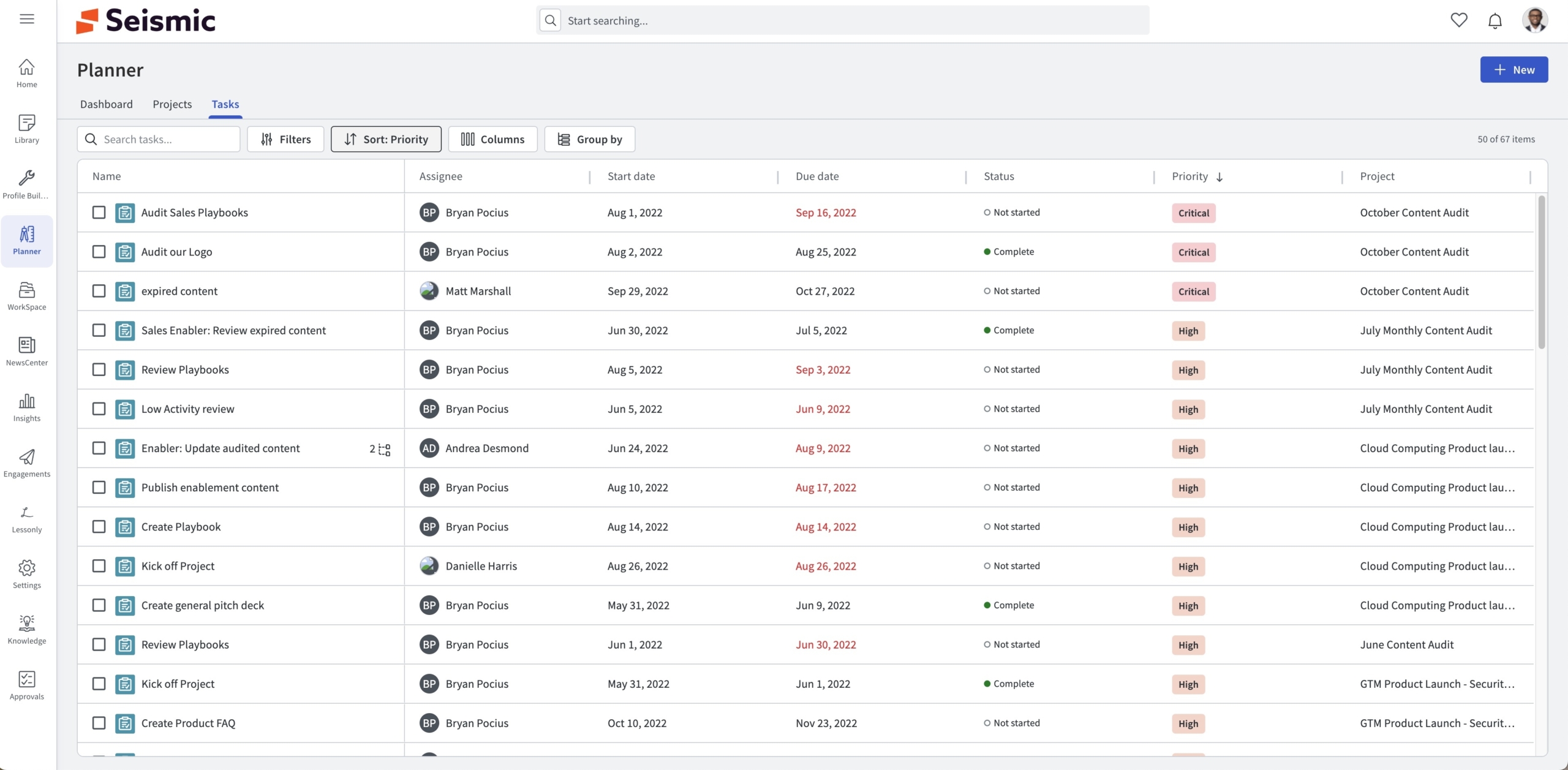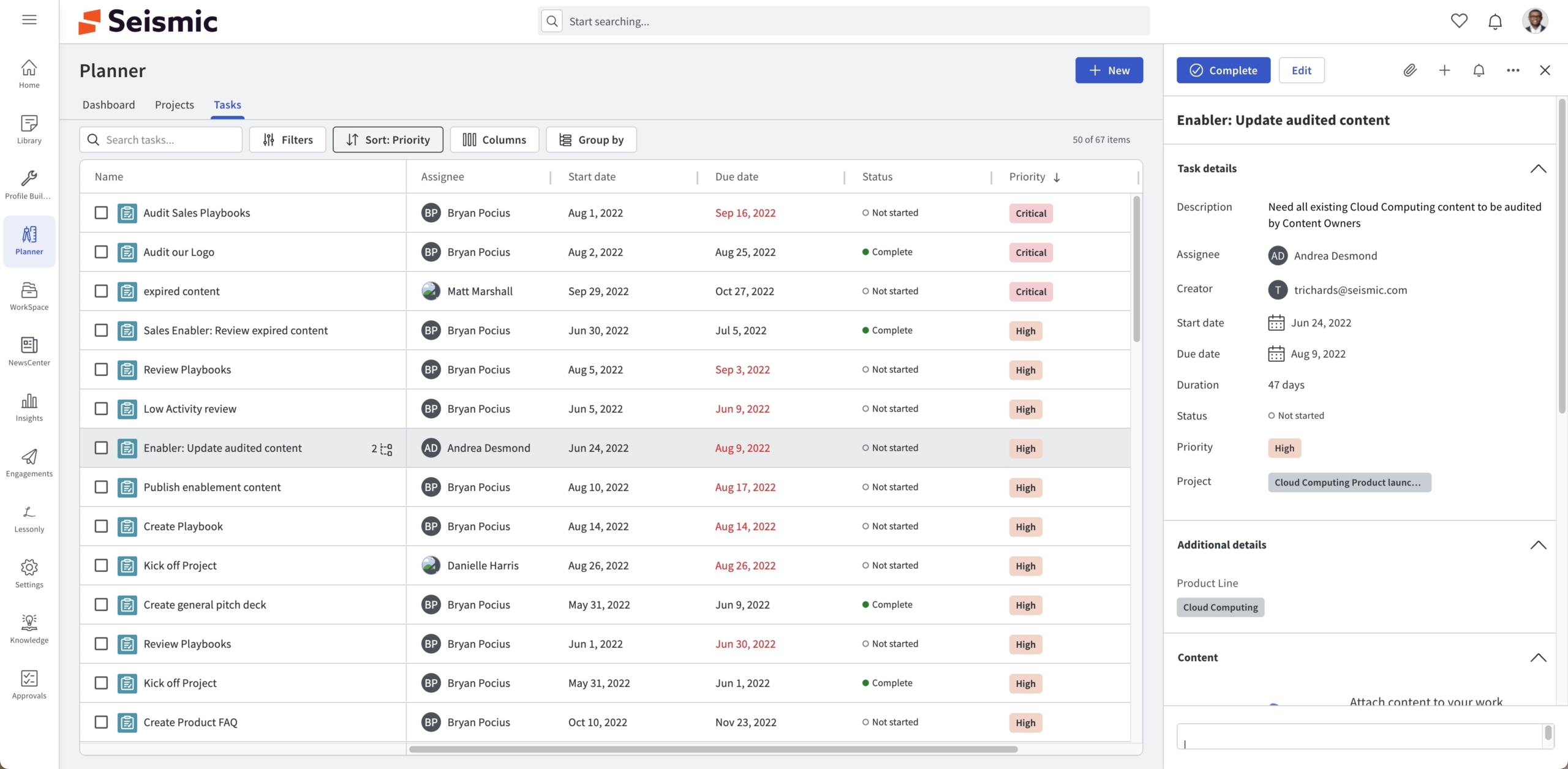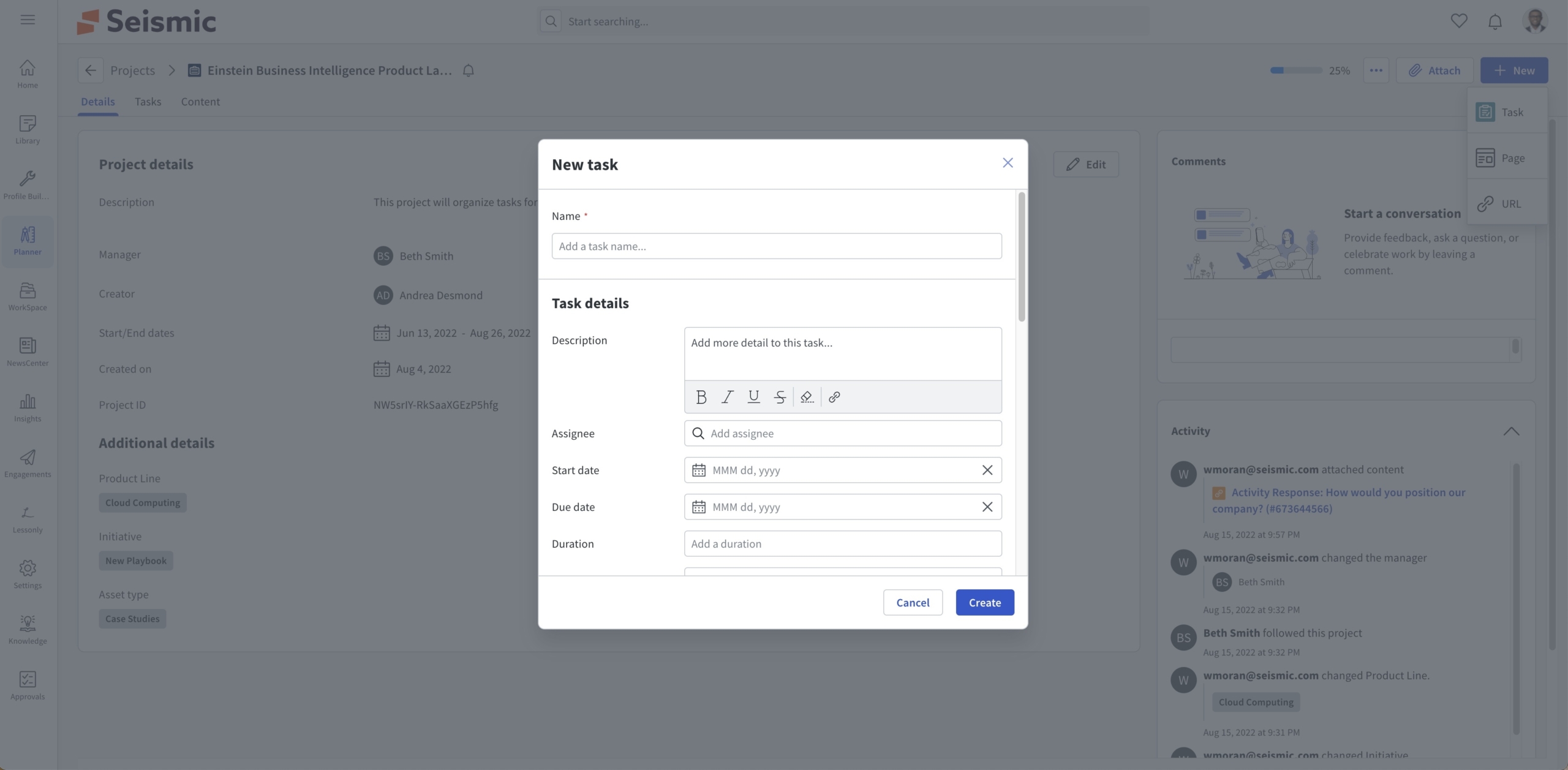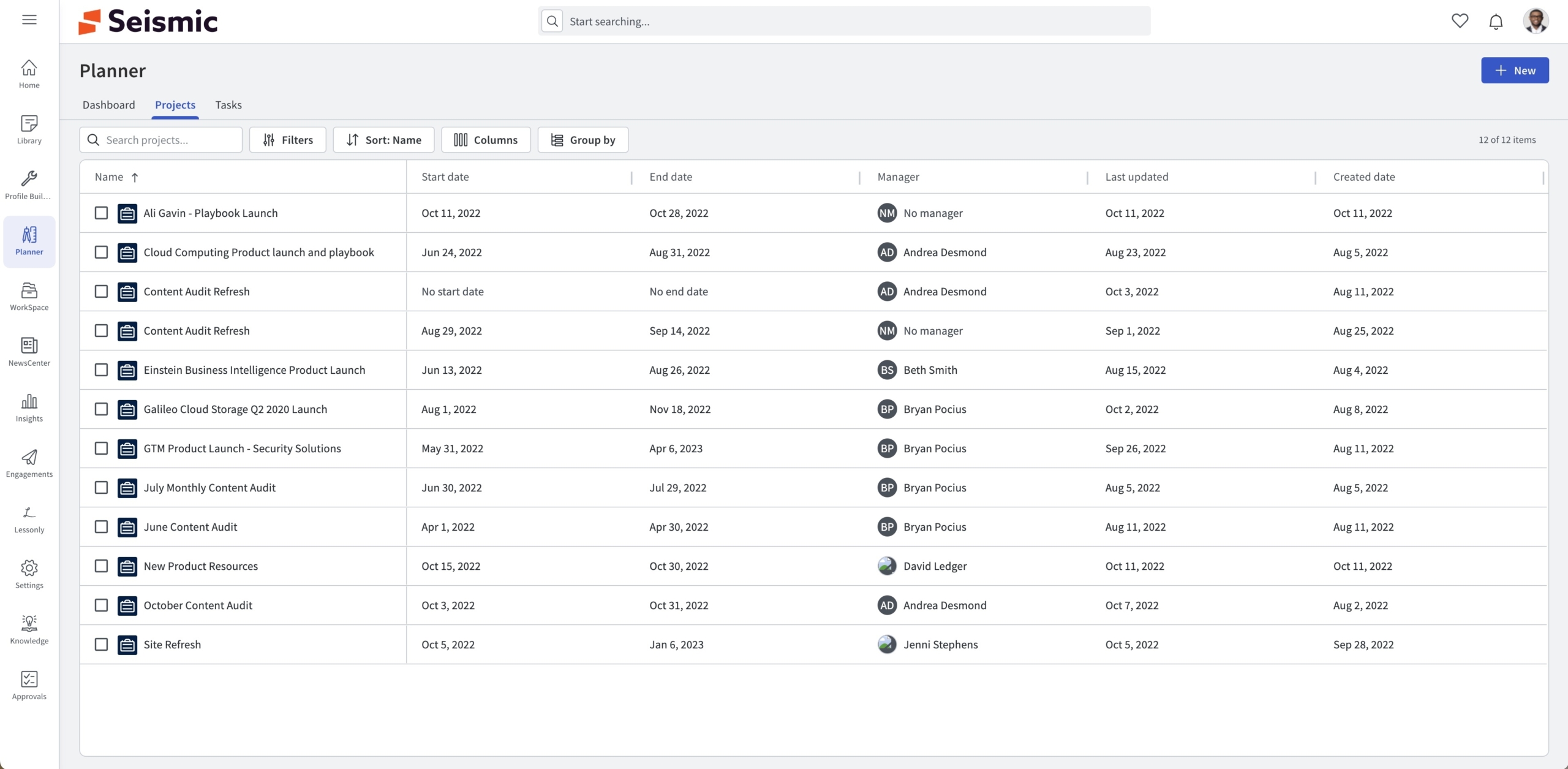 That's where Seismic Enablement Planner comes in. It's purpose-built to help enablement teams define their strategies, plan initiatives, and iterate based on real revenue and efficiency insights. By optimizing the enablement teams' processes, it empowers them to bring high-quality content and training to the field faster — and to continually improve the quality of their content and training, so customer-facing teams can move deals forward faster. Enablement Planner helps enablement practitioners:
Take action on stale or underperforming content directly within their Library.
Plan new product launches and onboarding programs that build on past wins.
Get a holistic view of what works and what drives revenue, so they can continually take their strategy to the next level.
Whether they're refreshing content, crafting new sales plays, or developing new training, enablement teams need a tool that empowers them to create a virtuous cycle that up-levels their enablement and revenue impact entirely. Enablement Planner makes it easy for your team to align content and training to what the field needs, enabling them to have even better conversations with customers that accelerate deal closure.
When seller experience improves, your reps will use content and training more often, which leads to more data about what does and doesn't work in the field. The insights from your efforts then empower you to plan more effective enablement programs that drive even better sales outcomes. By optimizing their enablement processes in this way, businesses ultimately optimize and uplevel their whole go-to-market org — and Enablement Planner, with its streamlined, purpose-built workflow, is what teams need to iterate and adapt, to do more with less, deliver to c-suite expectations, and capture new opportunities in a changing marketplace.
Seismic Knowledge
Now, more than ever, enablement teams are pressed to do more with less. But the reality is, they can't be everywhere and do everything at once. They need a solution that helps them scale and optimize their efforts.
Information is the cornerstone of every organization. And as organizations grow they continue to collect more and more information and add new tools that further silo information. At any given time, institutional knowledge can suddenly become relevant to one of your sales reps or support agents. For example, a customer might ask what languages your product supports. To find the answer, they may search an intranet or tap a colleague, but when knowledge exists in siloed locations – both digital and human – it becomes difficult to harness its full potential.
In fact, a study from McKinsey and Company found that revenue teams waste 20% of their time looking for answers to help them close deals and support customers. This is why, today, we're excited to introduce Seismic Knowledge, a just-in-time solution designed to help organizations structure knowledge in a way that gives everyone access to the information they need to excel at their job.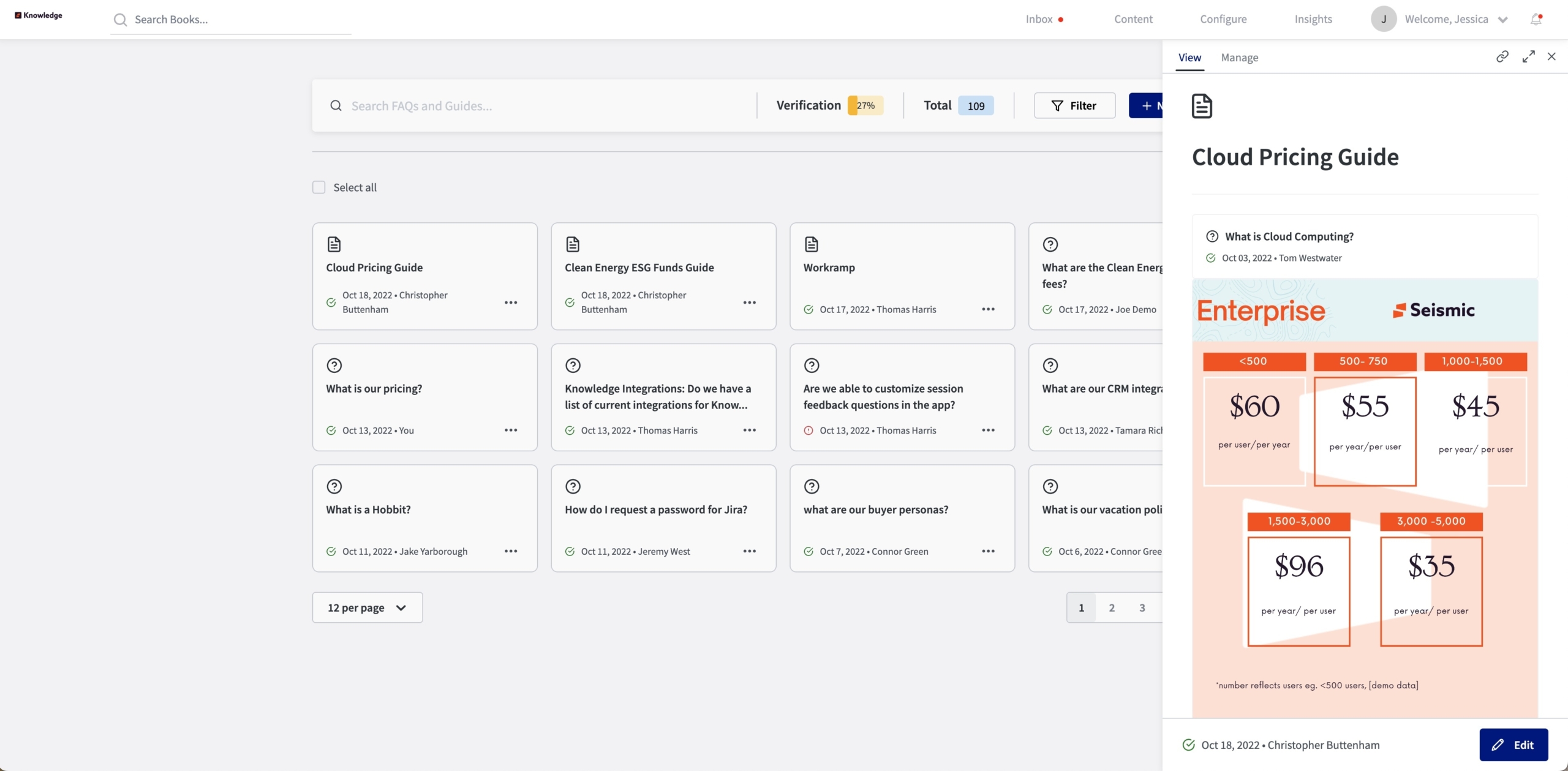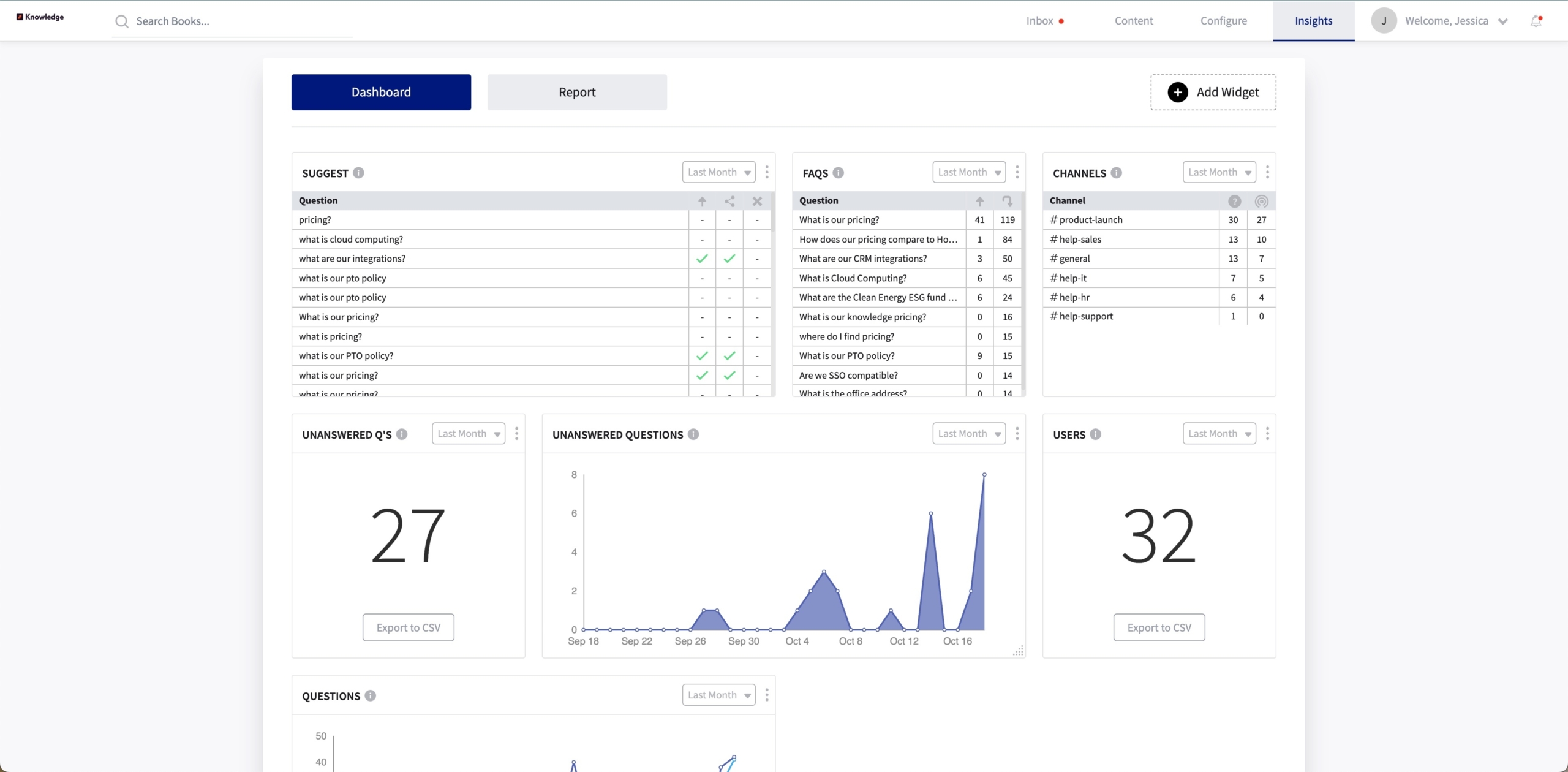 Seismic Knowledge is a self-service enablement solution that provides teams with faster access to answers, documentation, and assets right within the flow of work and the tools they already use, including Seismic, Lessonly, Slack, and Chrome. Users can connect information that lives across various systems to create one, searchable source of truth so reps are confident they have the right information. Enablement teams are able to scale and optimize their efforts so that they spend less time in their day answering questions from the field, and more time working on strategic initiatives that move the needle. And, with insights into common questions asked and questions that remain unanswered, you're able to uncover knowledge gaps and improve structured enablement efforts.
New tools for personalization
Personalization is a difference-maker for buyer engagement. A study from McKinsey found that 71% of customers expect personalized content. In order to make a lasting impression on buyers, sellers need the ability to personalize content at scale.
Seismic's leading content automation solutions empower go-to-market teams to personalize an array of content. Seismic empowers teams to personalize everything from low-touch content such as case studies and fact sheets to high-touch content like proposals, client reviews, and sales decks. Our two newest capabilities — Seismic for PowerPoint and Guided Assembly — empower our customers to solve the challenge of personalization in two unique ways.
Guided Assembly is an intuitive, guided experience that makes it easy for sellers to assemble personalized content for every client conversation. Sellers get automated recommendations to coach them as they build content, speeding up the process, and ensuring that they create effective, on-brand presentations. For example, with Guided Assembly, sellers can input the details of a deal like a customer's industry and the products they want to pitch to automatically generate a deck using pre-selected, approved content.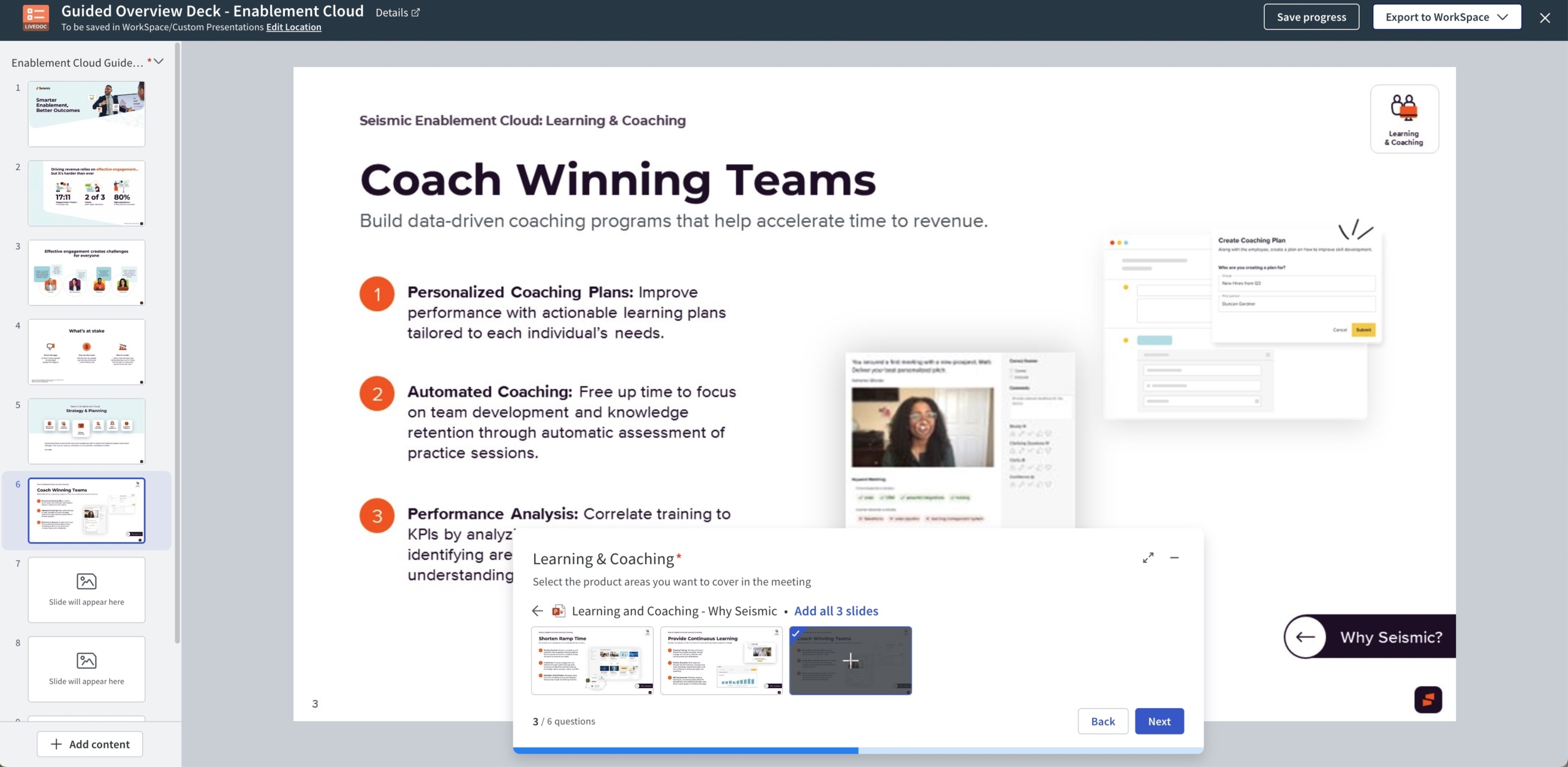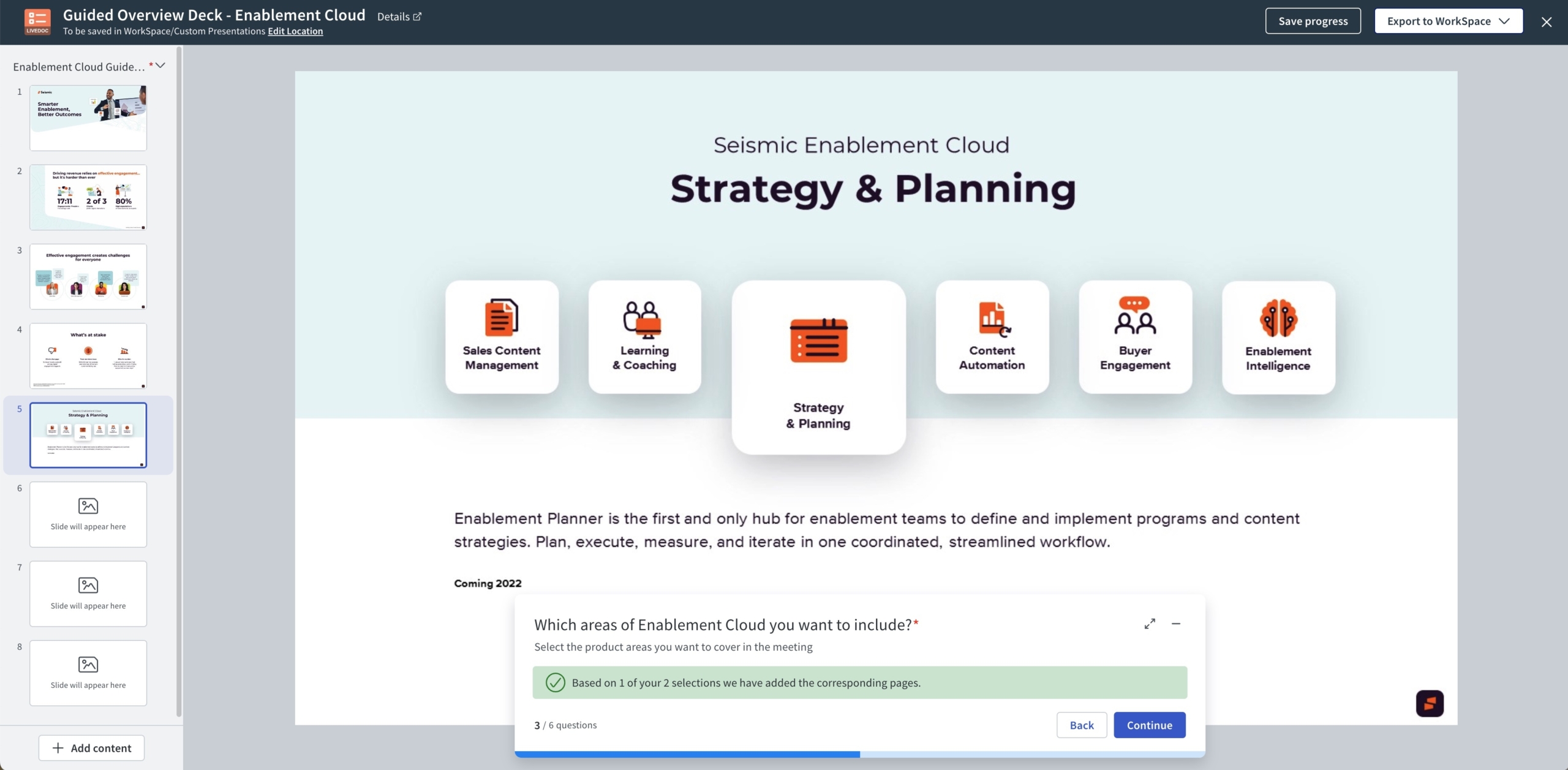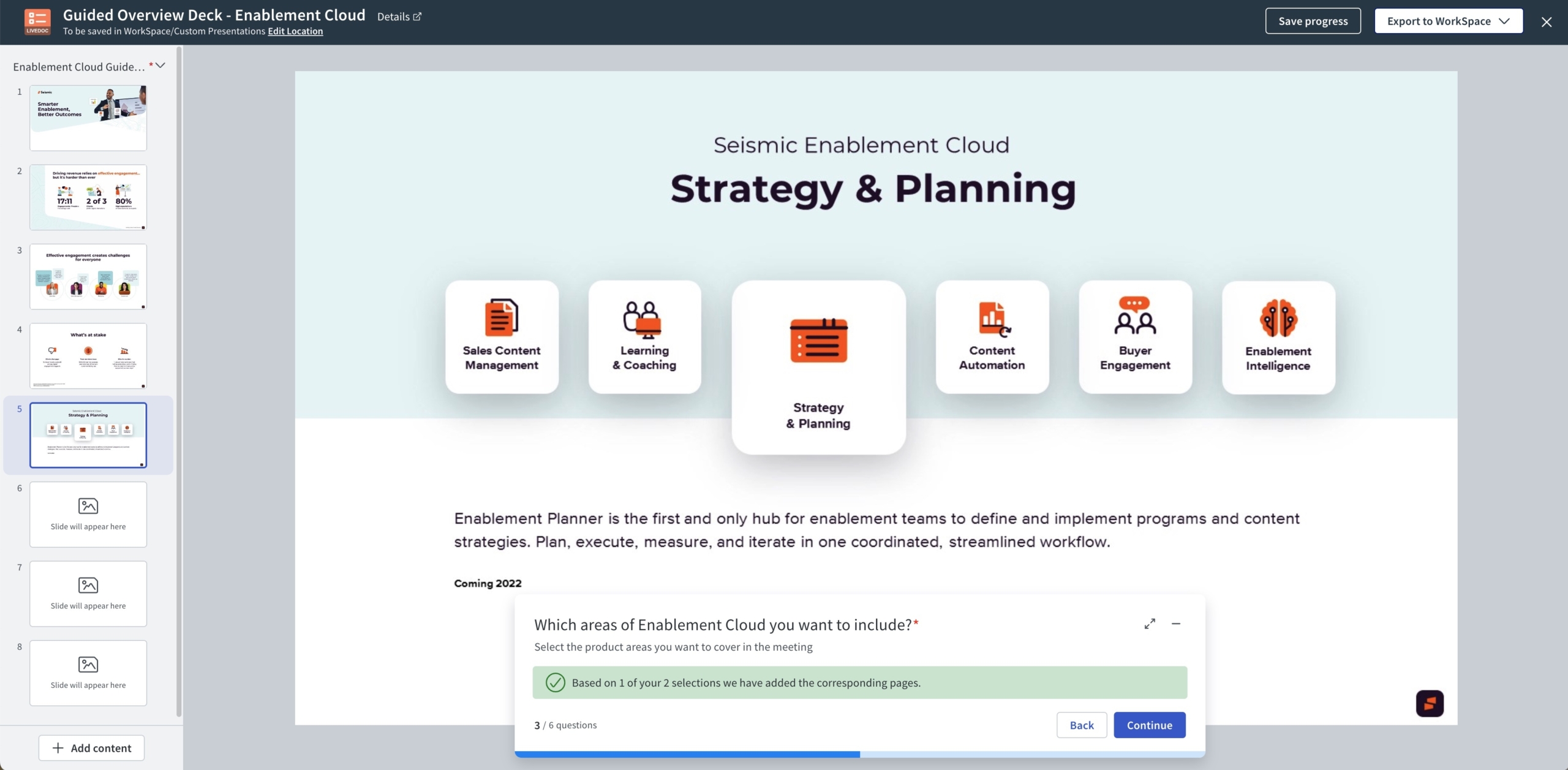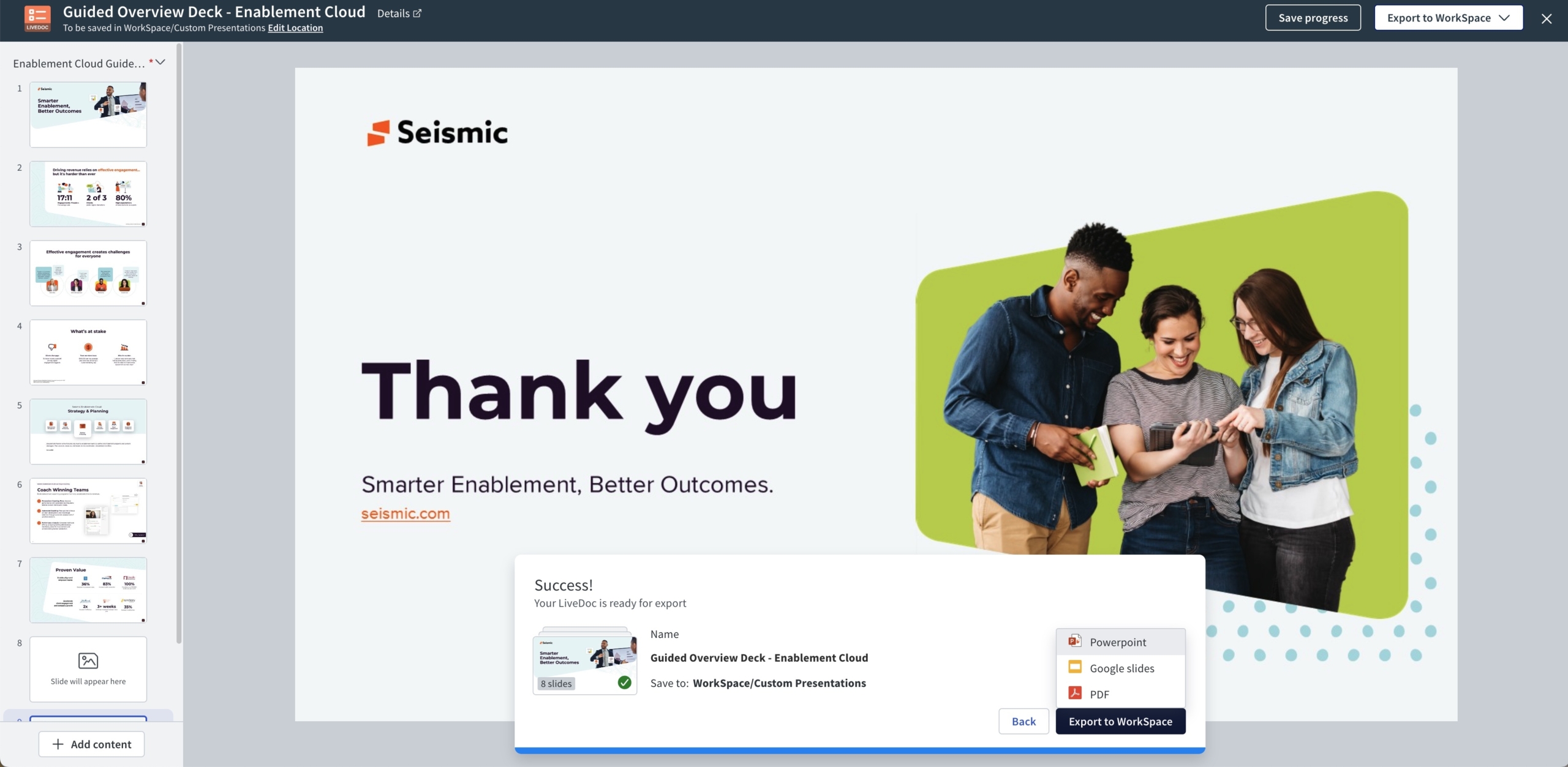 Seismic for PowerPoint is a PowerPoint plug-in that enables sellers to personalize and share slides with ease. Instead of searching for an old pitch deck or pinging a colleague for a great slide they saw, sellers can directly access the slides they need, personalize it with customer data, and deliver it to the customer without ever leaving PowerPoint. Seismic for PowerPoint gives sellers quick access to on-brand, approved content within the PowerPoint sidebar, which ultimately helps eliminate mistakes.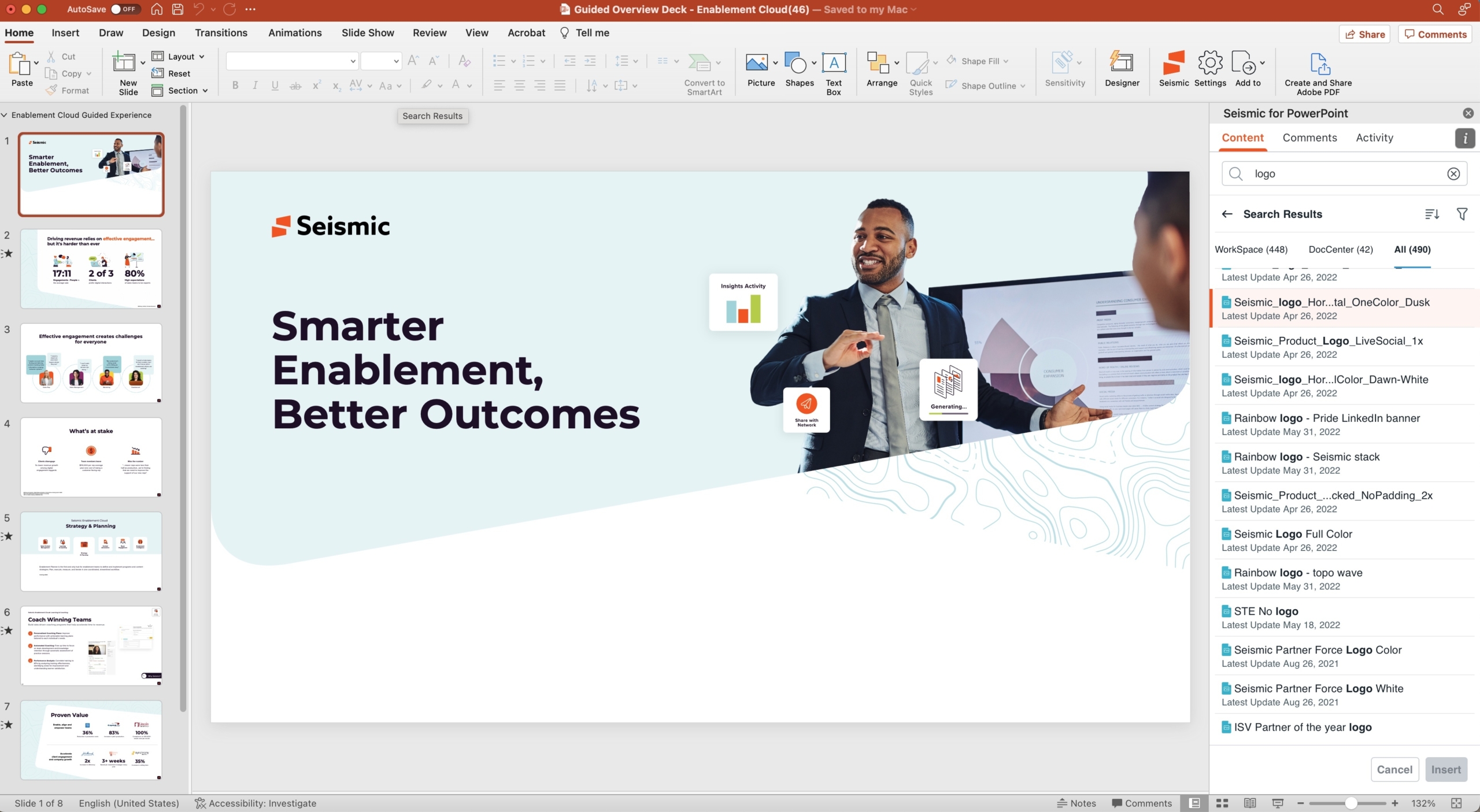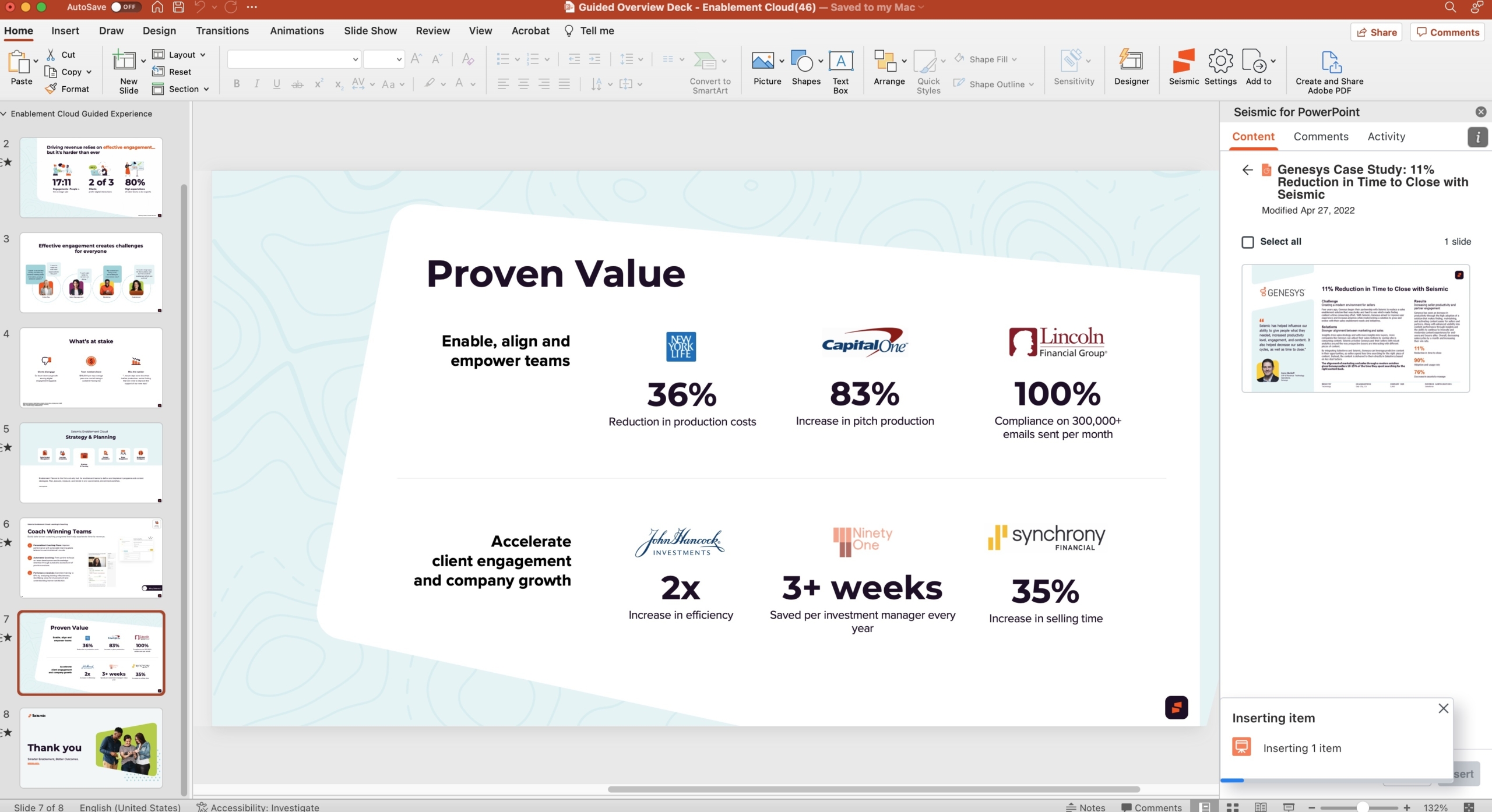 Learn more about the Fall '22 Release
Our Fall '22 Release is packed with a lot of new exciting products and features. If you'd like to learn more about each of the news capabilities, you can visit our Product Innovation hub.
You also have a chance to learn more about these exciting updates directly from Seismic's leaders. This week, we're hosting Seismic Shift and virtual attendees can tune in to Seismic CPO Krish Mantripragada's keynote session that focuses on our product roadmap. Register here!