This week Forrester released The Forrester WaveTM: Sales Content Solutions, Q4 2022 report in which Seismic was named a leader. It is a special time for us here at Seismic – after months of submissions and briefings we got to see how our product and strategy stack up through a rigorous lens of 33 evaluation criteria.
Our team here at Seismic is a competitive bunch. Being a leader is important to us, but even more important is how we scored in criteria that we believe really matter to our customers – mission accomplished! Seismic scored the highest possible rating in 26 of the 33 criteria.
Forrester looks at three major categories – market presence, strategy, and current offering. While the criteria in many of these categories have changed significantly since the 2020 Wave, so have the needs and requirements of most enablement organizations. So let's break it down.
Market Presence
Seismic's years of market leadership and strong financial position have enabled it to build the most comprehensive solution in the marketplace…
The Forrester Wave™: Sales Content Solutions, Q4 2022
It was no surprise to us that we received the highest possible scores across all criteria within the market presence category including revenue, number of customers, and number of users. So, why do we think this matters to our customers and those considering a sales content solution? To us, bigger is only better when you reinvest in the areas that matter like innovation and customer experience. We have kept that focus at Seismic by investing over $200 million in R&D and customer success in the past 2 years.
Strategy
Seismic augments its formidable presence with the Seismic Enablement Cloud…Reference customers loved Seismic's capabilities, integrations, and capacious roadmap…
The Forrester Wave™: Sales Content Solutions, Q4 2022
Since 2016, Forrester has been covering sales enablement technology through the Forrester Wave process under various category names. The landscape has certainly changed, with only 3 providers still standing as independent entities from 2016 to this 2022 Wave report. I am extraordinarily proud that Seismic is one of those providers and that we have brought the innovation and strategy that has given us staying power in the market.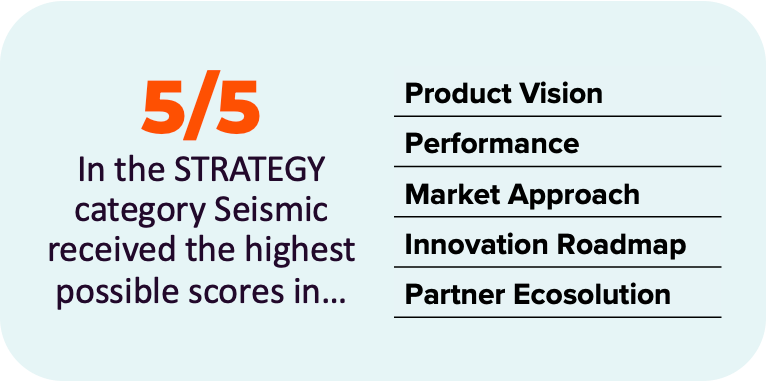 Current Offering
Seismic is a good fit for SMBs to large enterprises that want the most fully featured solution with superior content personalization and library management capabilities, all from a vendor committed to growth and innovation.
The Forrester Wave™: Sales Content Solutions, Q4 2022
The Forrester report tells us that, "features and integrations that were once considered distinctive are now standard" which we believe describes what we have seen over and over again since we opened our doors for business 12 years ago. Enablement has exploded in terms of
Presence in organizations – there are twice as many dedicated enablement functions as there were 7 years ago
Investment – budgets continue to increase every year, even in uncertain times
Scope – almost all enablement organizations have moved beyond enabling just direct sales
Outcomes – high expectations are driven by a need for measurable productivity – doing more with less or often doing more with more due to expanding charters
The enablement tech stack is keeping pace with these demands and Seismic received the highest possible ratings in the following Current Offering criteria.
So what is next…
I mentioned that the criteria changed dramatically from the last SCS Wave to this version, but sales content is only part of what is needed for great enablement.  At Seismic, we embrace content as the fuel for the enablement engine, but we also understand that truly transformational enablement requires that we take a more holistic view. 
We are constantly asking ourselves what more is needed to make it easier for all customer-facing roles to get and keep customers – and how our platform can help them do it better and faster. This mission means providing reliable ways to enable in the moment, whether that means just-in-time Knowledge for quick answers or AI that becomes your sidekick in Meetings by pulling up just the right content and resources in real time based on the conversation.
Leaving buyer engagement to chance is not an option when buyer journeys are more convoluted and complex than ever. Maximizing every touchpoint is a requirement – helping facilitate more personalized, effective, and frictionless interactions is key whether it is better social posts, email, text messages, or personalized digital sales room microsites.  
I'm proud that the Forrester report recognized that "Seismic's years of market leadership and strong financial position have enabled it to build the most comprehensive solution in the marketplace…" I am even more excited for the next chapter in enablement evolution. We're excited. We're ready. And we can't wait to enter the new phase of transformational enablement with our customers, partners, and the enablement industry.
To learn more, download a full copy of The Forrester Wave™: Sales Content Solutions, Q4 2022 report.