People managers—let's be honest. On a scale from 1-10, how engaged are your teammates at work? Are they eager to log on in the mornings and get their jobs done, or do they seem complacent? Have you lost any key players over the past several months? Are you sick of navigating those archaic employee onboarding systems for your new hires in a remote environment?
If you answered "yes" to any of those questions, then this blog post (and two more that we'll release over the next couple Mondays) are for you. Welcome to our three-part series on a hot button issue: The Great Resignation. Our goal with this series is to show you how to practically get The Great Resignation to put in its two week's notice at your company. In this first part, we'll talk about stopping resignations before they start with digital employee onboarding.
Let's start with some context
The Great Resignation is an interesting, yet predictable after effect of COVID-19. It's late 2021 as I'm writing this, and this movement is tangible in my professional circles. Globally, people are leaving their jobs faster than any of us can say "You can't fire me; I quit." In the United States alone, four million Americans quit their jobs in July 2021. Think about that—one in every 40 working adults in the U.S. (2.5% of employed people) left their jobs in just July.
But as I mentioned earlier, this makes sense. After a 2020 that was ripe with fear of COVID-19, a "hold onto your source of income if you're lucky enough to have one" mentality, and just general restlessness at work and in life, employees naturally wanted a change of pace. The Great Resignation's writing was on the wall, and now that our world is a little more stable, people are rightfully leaving jobs they've felt stuck or stagnant in for 18+ months now.
As an organization though, a mass exodus of employees hurts. High turnover leads to understaffed teams, overworked hiring managers, less satisfied customers, less revenue, and the list goes on. Without people—and well-trained people at that—companies won't thrive. The whole world (see the Google Trends chart below) is talking about The Great Resignation, and here's the good news: We think we hold a piece of the solution. What is that solution, you ask? It's delivering a world-class onboarding experience using the best onboarding software on the market.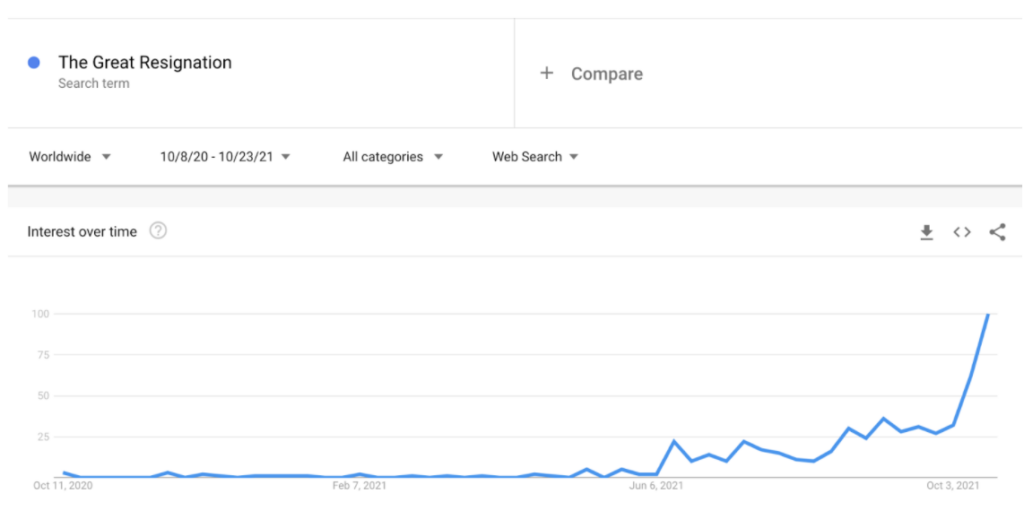 Great retention starts on (or before) day 1
The title of this blog post is about kissing retention woes goodbye, so pucker up and get ready for the first thing you should do to tackle any attrition issues in your org: Implement better ​​employee onboarding solutions.
Employees tend to stay at places where they feel a sense of belonging on their team and ownership of their work. Those two things can't happen unless new teammates are brought into the fold immediately and given proper enablement on how the organization works—both broadly and down to their specific department and team. Unfortunately, free employee onboarding software rarely can deliver all of this at the scale and speed that you need it.
Most HR onboarding software is dry, dated, and filled with videos that were made in 2005. With Lessonly by Seismic's employee onboarding software, bringing on new teammates and engaging them from day 1 (or even before that) with interactive learning, videos, flip cards, knowledge checks, and certifications is legitimately simple for both the new hire and the hiring manager. An employee onboarding app is not really a nice-to-have piece of tech in today's global work environment anymore—it's a must-have. Companies that will win and continue to evade The Great Resignation from sweeping through their organization will have SaaS onboarding software that meets their learners and employees where they're at, whether that's at home or in the office.
What's to come?
Okay, so we've established that providing online employee onboarding and creating a delightful new hire experience makes it so new teammates get comfortable quickly and stay onboard. But a group we haven't addressed yet are the employees who've already been around the block at your organization. How do we keep tenured teammates engaged and learning? Study after study proves that the best teammates (the kinds of people you want to keep) require learning and development at work, and if they don't find those things at your company, they'll find those growth opportunities somewhere else.
Are you shopping for the best employee onboarding software?
Well, shop no more because you've found it! Get a demo with us, and we'll show you how teams deliver better onboarding with Lessonly by Seismic.