Seismic Shift is the company's sixth annual customer conference which will take place on November 5-7 at the Omni La Costa in Carlsbad, CA. The event is full of success sharing, in-depth product training, collaborative workshops, industry break-out sessions and plenty of networking opportunities.
The Seismic Shift Awards program honors the people who champion the ideals of sales enablement and sales and marketing alignment within their organizations; the teams and programs that have upended the idea of what a sales enablement process should look like and what it can accomplish; and those that have taken the Seismic product to innovative new heights.
And, new to this year, the Seismic Shift Awards is honoring an individual pioneer who has helped spearhead the entire sales enablement movement through a relentless drive and series of achievements over the course of their career.
The winners of this year's awards truly exemplify customers who are Shifting Beyond and driving the sales enablement industry forward. We will be profiling some of this year's winners on our blog, showcasing their thoughts on the current state of sales enablement, winning a Shift Award, and a few decidedly non-sales enablement questions!
Next up is Cathy Rowell, VP of Channel and Sales Enablement at Nectar Services Corp who is one of this year's Shift People Award Winners. Cathy is truly one of the foremost luminaries in sales enablement, having founded and scaled programs at both large international institutions and smaller fast-growing companies. You can get to know Cathy by reading more below and attending her presentation on Day 2 at Shift where she'll discuss their channel enablement strategy at Nectar.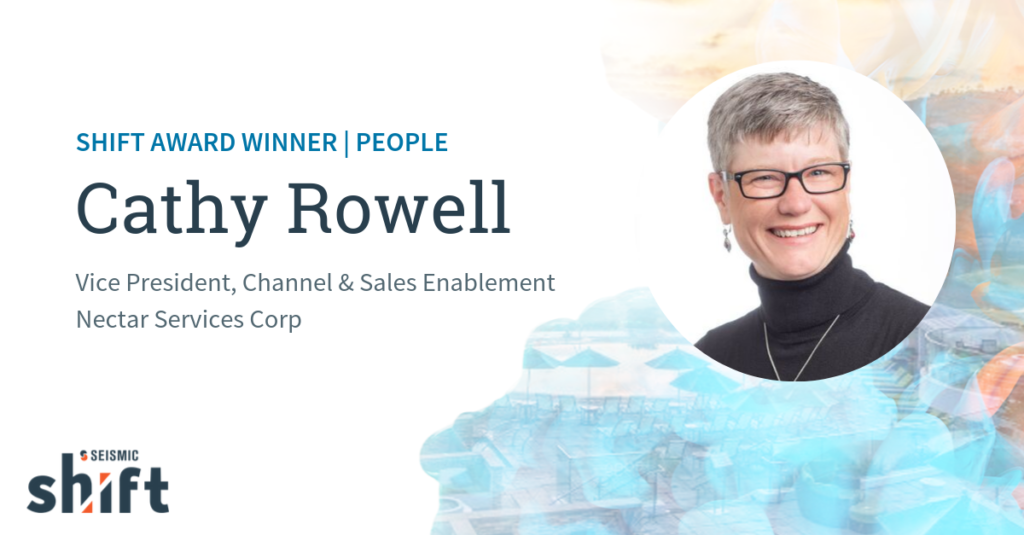 What does this Seismic Shift Award mean to your organization? How did you feel being named a Seismic Shift Award winner?
I am both honored and humbled to be recognized by Seismic as a champion of sales enablement. Our Nectar team has accomplished some amazing things and this award speaks to our amazing people, culture, technology and innovation. Enabling our partners and customers with best-in-class tools, solutions and services is job one!
Any advice you would share with other organizations looking to build out a sales enablement program?
First, remember that enablement should be viewed as a strategic function. Begin by defining what it is that you will do (and won't do), and then build the program/structure/organization from there.
Second, LISTEN. Listen to what it is that your sellers need and want. Simply building things you think they need results in a waste of time, resources and $$. Structure your enablement offerings around their real needs, and constantly revisit their needs and whether they are still aligned to your program.
What is the biggest problem for your business that Seismic has solved?
Nectar had a real issue with our internal and partner/customer portals. Because they were not user friendly and people couldn't find the information they were looking for, they didn't get used. Content was shared by email, and it was whatever a rep or someone else had on their desk.
Seismic provides an easy to use interface for our direct and indirect sales teams as well as our customers. Adoption has significantly increased, and we can now control the content that is being used in the field. We are also able to see what content we need, and to align it to our sales process and the buyer's journey.
What is your favorite part about Seismic Shift?
Seismic Shift is an excellent opportunity to network with enablement peers and come away with tangible ideas that can be applied to your organization.
Where do you plan to keep your trophy?
In my office 😊
Fun fact about yourself.
I am a competitive cyclist in various disciplines and this summer competed in the Master's World Mountain Bike Championships in Quebec, where I finished 7th in my age category (and no, I'm not telling you what that is!). I have also competed at both Canadian and US National championships for cyclocross and mountain bike.
Click here to learn more about this year's winners. Register today to attend the sales enablement event of the year!