Seismic Shift is the company's sixth annual customer conference which will take place on November 5-7 at the Omni La Costa in Carlsbad, CA. The event is full of success sharing, in-depth product training, collaborative workshops, industry break-out sessions and plenty of networking opportunities.
The Seismic Shift Awards program honors the people who champion the ideals of sales enablement and sales and marketing alignment within their organizations; the teams and programs that have upended the idea of what a sales enablement process should look like and what it can accomplish; and those that have taken the Seismic product to innovative new heights.
And, new to this year, the Seismic Shift Awards is honoring the pioneers who have helped spearhead the entire sales enablement movement through a relentless drive and series of achievements over the course of their career.
The winners of this year's awards truly exemplify customers who are driving the sales enablement industry forward. We will be profiling some of this year's winners on our blog, showcasing their thoughts on the current state of sales enablement, winning a Shift Award, and a few decidedly non-sales enablement questions!
Meet Renée Baker, Head of Advisor Inclusion Networks at Raymond James, who is one of this year's Shift People Award Winners. She is a champion for sales enablement as well as a trailblazer for bringing positive change to workplace cultures. Renée believes that inclusion has become a business imperative that every industry can act on. You can get to know Renée by reading more below and attending her talk on Day 1 at Shift about how leaders can create more inclusive workplace cultures.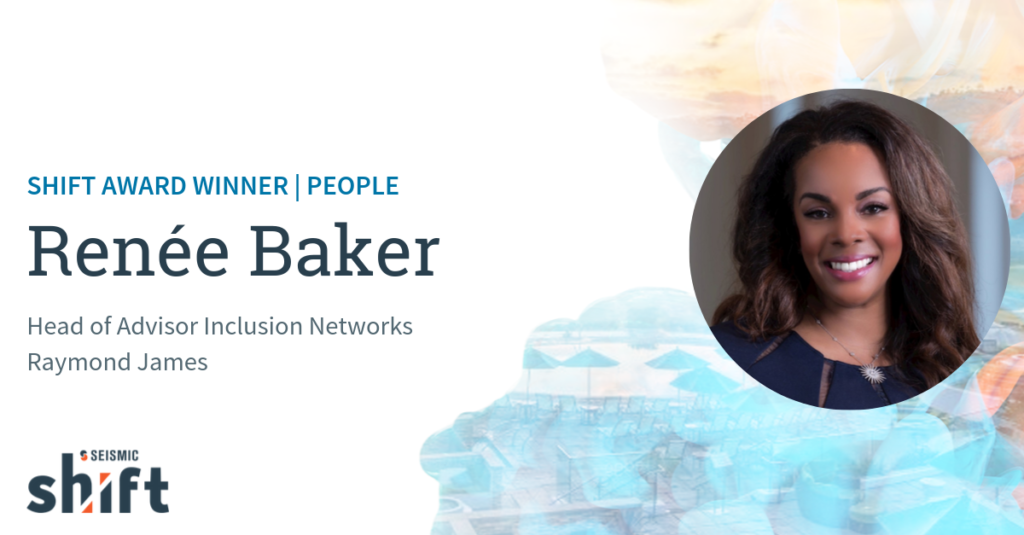 How do you feel about being named a Seismic Shift Award winner?
I am humbled and honored to receive this award from a company that I have deeply admired over the years. The partnership with Seismic goes back many years so I am appreciative for the opportunity to be recognized for this People award which is an area I believe in and I am passionate about.
In your opinion, why is building out a robust sales enablement program significant to driving success?
As a marketer, I see the world through the lens of the customer. I am strategic in my approach in figuring out the best way to accomplish goals that further the business objectives within my organization. While different companies and sales teams have different objectives, the common themes I see are to improve the customer experience and to increase revenue. Therefore, it's essential to have robust tools like sales enablement to help accomplish those objectives. There are many other ways, but sales enablement is one approach. Companies need both sales and marketing to be successful; therefore, both departments need to be aligned.
Research shows that nearly 70% of marketing content is not used. Given how much effort goes into the creation of content, that is a staggering number. Successful marketers will need to align with their sales partners to optimize content and develop the right materials. This content then needs to be delivered to the right customer with a relevant message to drive revenue through condensed sales cycles and create better customer experiences. Furthermore, the ability to leverage data to build top of mind awareness and better relationships with customers/clients in an organic way is another benefit of a robust sales enablement process.
What are you most looking forward to about Seismic Shift?
I am looking forward to so many things. Most importantly the opportunity to connect and learn from leading experts across all industries on the power of sales enablement and why it's important and critical to success. The pre-conference activities are also very exciting, especially having an opportunity to share my experiences through a TED-style talk.
Where do you plan to keep your trophy?
I recently moved into a new office when I assumed the role as Head of Advisor Inclusion Networks and I have a spot all ready for the trophy.
Please tell us a fun fact about yourself.
I recently went to Morocco with 35 friends, successful women from across the U.S. for a vacation and life experience like no other. For this EPIC girl's trip we visited 5 cities starting in Casablanca and ending the trip in Marrakech. It's very powerful to connect with like-minded women and share your life experiences. I am fortunate to be surrounded by such dynamic women in my personal and professional life.
Click here to learn more about this year's winners. Register today to attend the sales enablement event of the year!