"Can I give you a hug?" "It's so great to finally meet you after all those Zoom meetings." These were the lines that were heard over and over again among the throngs of Seismic employees at Petco Park in San Diego.
What a difference three years make. That's how long it had been since we last hosted our all-company get-together, fondly referred to as Activity. This year, we were fortunate to gather our employees from around the world together again in Seismic's HQ city of San Diego, California.
Before we recap the highlights from Activity22, let us first explain what Seismic Activity is. Activity is our largest company meet-up of the year where Seismic employees from all around the world come together to grow, celebrate, learn, and have a little (okay, a lot) of fun!
Our mission — we ignite growth — was the centerpiece of the three-day, company-wide conference. At our first Activity in 2013, our entire company could fit in one limo. Since our last Activity in 2019, the number of Seismic employees has increased by 120%. We needed a bigger limo, which is why we took over Petco Park this year.
Over the course of the week, we heard from Seismic's executive leaders, members of our board of directors, our colleagues, and scientist, teacher, and parent, Angela Duckworth. Each of the speakers focused on the common theme of growth and shared their thoughts on how we enable it as individuals, teammates, and as a company.
In this post, we'll do our best to capture some of the magic from the past week. Here are just a few of the highlights.
"Last week was one of the best weeks of my career. It was really impactful to get to know the people on screen in Zoom calls. It was equally impactful to hear, in person, stories from colleagues across the organization about how they help the company win."

Tony Smith | Manager, Content Strategy
Three years in the making
Over the course of the past two years, we've posted about the impact of COVID-19 on our business and our people. We went from being an organization with 11 global offices, to a mostly remote workforce with hundreds of employees working from home. Overnight, coffee mates and cooler talks were replaced almost entirely by Slack channels and Zoom calls. And while we made do with our digital experiences, Activity22 was a reminder that nothing can replace the power of in-person interaction.
Seismic CEO Doug Winter put it best: It felt like the entire company had a huge collective exhale after holding our breath for three years.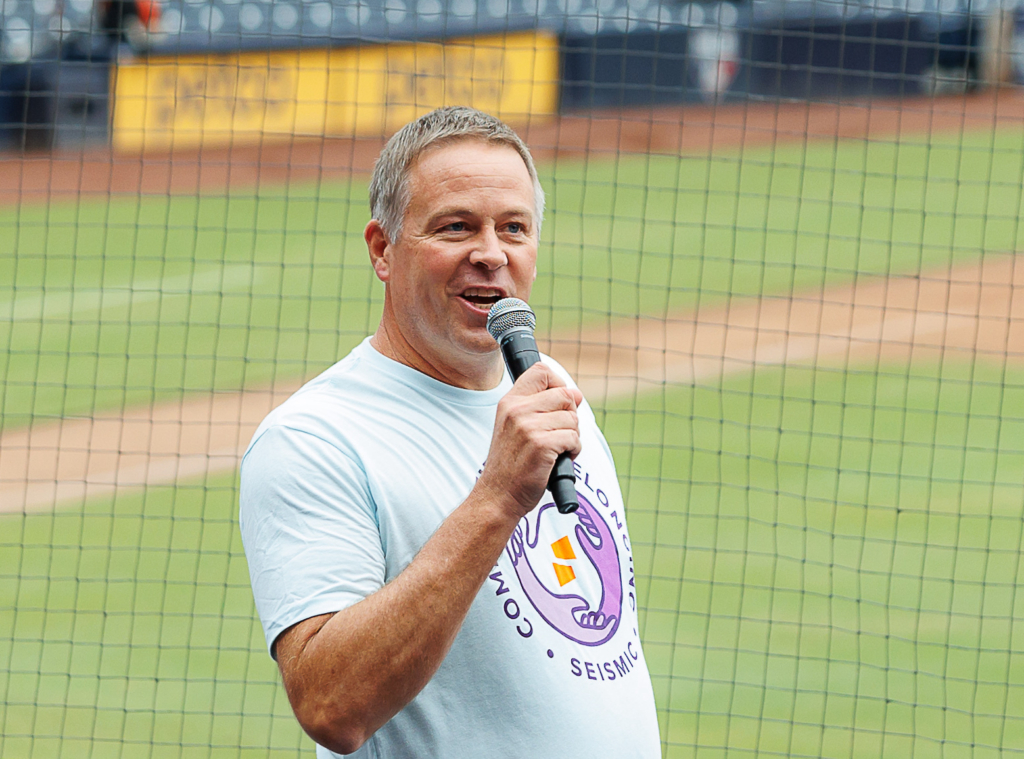 In his keynote address, Doug authentically spoke about the challenges we've faced as a company and as individuals over the past three years. He also celebrated the many victories that we've achieved in that same time span as individuals and a united Seismic team. From our home offices around the world, we came together as One Seismic to drive exceptional growth in revenue, customers, employees, and retention. And, in Doug's words, "we made the most out of the way things turned out. Together."
"There's no way to tangibly measure the impact of bringing Seismic teammates from around the world all to one place. I just know that the next roadblock I face, the next hard conversation I have, and the next ambitious project I propose will be met with a friendlier face on the other end."

Allyson Fowler | Content Manager
A peek at new products
Seismic Chief Product Officer Krish Mantripragada's keynote address gave us a sneak peek at the latest product innovations for the Seismic Enablement Cloud™. Krish's team has been working around the clock to deliver new products and capabilities that will help our customers cultivate smart growth. These features include enhancements to our current offerings and some exciting, brand new products. While we can't unveil too many specifics just yet, you can join our upcoming customer webinars next week to learn about our Fall '22 Release highlights. And of course, join us at Shift to not just see all the new innovation in action, but get a glimpse into where we're heading in the next year. (And, if you can't make it in person, more details about the virtual Shift experience are coming soon!)
Angela Duckworth on the importance of Grit
From 2019 to today, Seismic has been on a meteoric growth trajectory. But growth doesn't happen overnight and it doesn't come easy. It takes grit.
On day two of Seismic Activity, we heard from Angela Duckworth about the power and importance of grit. In her keynote speech, she discussed how high performers and world-class achievers share passion and perseverance for long-term goals. She also emphasized the importance of deliberate practice:
Decide on a small sub-skill to practice
Practice with 100% focus
Get feedback and reflect
She challenged the crowd of Seismic employees to embrace a growth mindset and to own our growth at Seismic. Her words inspired us all and will reverberate as we continue to grow over the course of the next year.
"One of my favorite quotes from Activity is 'this is the best week of my professional career.' I'm thrilled with how Activity turned out. I think we accomplished what we set out to do, which is to align everyone on the go-forward path for Seismic and build and strengthen connections so we can win as #OneSeismic – all while celebrating our achievements to date. For me, the fuel that runs all great companies are the meaningful and personal connections that ensure alignment and purpose. After last week, our tank runneth over. This is exactly what we needed after the last few years of isolation and disruption. While I believe the future of work is hybrid and remote, human connection is still important and can carry us from grind to grit."

Linda Ho | Chief People Officer
Extracurricular Activity
The keynote speakers and panel discussions were incredible. But they weren't the only items on the agenda. After all, we were in sunny San Diego. So, in addition to discussions that encouraged growth, we also engaged in activities that sparked growth in our professional relationships.
Between sessions, Petco Park's lower-level concourse was transformed into a playground where our employees took batting practice, threw a few pitches, or competed in arcade games like Pop A Shot, air hockey, and ping-pong. But no trip to the ballpark is complete without concessions. Our teams feasted on everything from nachos and burritos to hot dogs and garlic fries. Salads were also served!
The food and festivities continued well into the evenings. Dinner, drinks, and dancing were hosted at the Western Metal Supply Co. building and the evening was capped off with a beautiful fireworks display. If you listen closely, there's a chance you can still hear the band singing TLC's "No Scrubs."
Tuesday night, we could be found at San Diego's historic oceanfront amusement park, Belmont Park. And if we're being honest, nothing brings you closer to your colleagues than shouting at the top of your lungs from the Giant Dipper, a wooden roller coaster that first opened to the public in 1925.
Wednesday evening, we hosted a Walk-off Winner Dinner, where our teams had one last outing together and shared our goodbyes.
"There is nothing better than the energy and power of truly being one team – together, in person, and in such an amazing venue. There is no doubt that pulling Activity off was a big investment of time and money. Still, the payoff is something that is tacit, immeasurable, and most certainly beneficial to our company and as individuals. There is something powerful about the human connection – a connection that cannot be realized over a monitor or phone call. With so many new people at the company (myself included), we made connections and memories that will last us for many months to come. Our theme was growth and that is indeed what we did as a collective group of people. We grew as a team and as a company – all rallying behind the theme of being #OneSeismic. Collectively being in it to win it, together!"

Hayden Stafford | President and Chief Revenue Officer
Seismic Activity22 was one for the record books. It was a much-needed opportunity for our team to get together in person and celebrate our success. We're also very much looking forward to Seismic Shift, where we can also celebrate success together with our customers and prospects. If you'd like to learn more, visit our Shift22 page.