Digital transformation is modernizing the way businesses manage day-to-day operations. Across every industry, companies are rethinking their business processes and entire segments are reorganizing to break down silos and improve productivity. As sellers prepare to win new business in a digital-first world, they need solutions designed for modern buying experiences.
Microsoft and Seismic are helping sales teams achieve success by unifying the power of relationship management, social engagement, and personalized buyer experiences. Microsoft Relationship Sales solution (MRSs), Seismic LiveSocial, and the Seismic platform bring together robust business intelligence and analytics to help your organization focus on smart moves that generate revenue.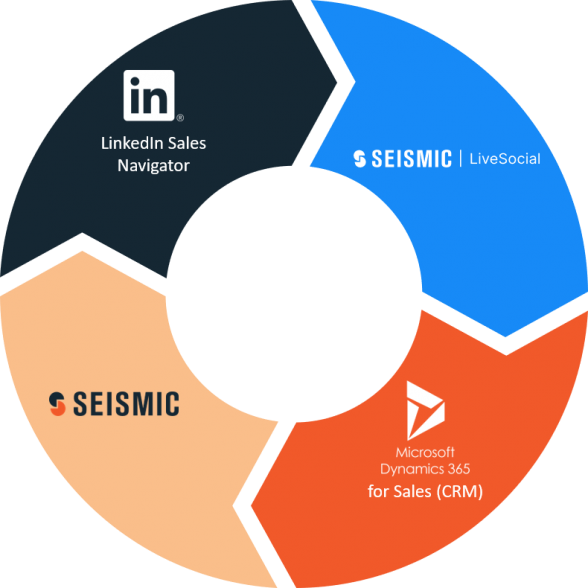 The integration features give sellers resources to build trust and relationships with buyers—at scale. MRSs combines Dynamics 365's intuitive ease-of-use with LinkedIn Sales Navigator to identify qualified buyers and deliver valuable insights to nurture prospects. Seismic LiveSocial gives sellers a social engagement platform to build influence and authority with prospective buyers. Seismic's sales enablement platform allows sellers to tailor content and presentations to specific audiences while ensuring they always have the latest and greatest content available.
Identify qualified buyers in digital channels with Sales Navigator
With fewer face-to-face meetings, digital-first experiences are driving buyer/seller relationships. Sellers who excel in digital-first selling find greater success, because they take the time to build authentic relationships with buyers.
Social media plays an increased role in relationship-building for buyers and sellers. Tools like LinkedIn Sales Navigator support sellers by identifying qualified buyers. Sales teams that leverage LinkedIn Sales Navigator have access to tools that:
Find the right customers and prospects
Reveal the best path to reach buyers
Gain key insights on new opportunities.
In addition to identifying prospects, sellers leverage channels like LinkedIn to build trust and authority with their audiences.
Build meaningful connections with LiveSocial
Sellers that use LinkedIn Sales Navigator also need a strategic path to influence potential buyers. Digital-first buyers are more likely to do business with sellers who understand their unique needs and create personalized content experiences. Buyers are also more likely to purchase from sellers who've built influence and expertise in their field.
Social engagement tools give sellers a platform to build digital-first relationships at scale. Platforms like LiveSocial go beyond corporate-sponsored content and equip sellers with highly relevant third-party content. Sellers use LiveSocial to deliver authentic, compelling content directly to buyers identified through LinkedIn Sales Navigator. The platform allows sellers to:
Search and curate across thousands of content pieces
Match content that resonates with prospects preferences
Identify and engage with the right materials for prospective buyers.
Understand what matters most to every buyer with Dynamics 365
Nurturing relationships with prospects extends beyond social engagement. Sellers who use Dynamics 365 can leverage platform insights to build a comprehensive picture of their prospects and deepen relationships. The customer data captured in Dynamics 365 gives sellers a 360-degree view of customers, along with contextual insights to create highly personalized content experiences for buyers that will:
Recommend next best actions
Track buyer engagement, activity, and needs
Streamline the sales process.
Deliver the right message at the right time with Sales Enablement
When content is made simple, sellers spend less time searching for content and more time interacting with buyers. The Seismic platform integrates with Microsoft Dynamics 365 to help sellers do just that. By making your company's content library accessible within Dynamics 365, your sellers can make intelligent content decisions without ever leaving their CRM environment. Seismic's sales enablement solution empowers sellers to:
Engage buyers with personalized content
Increase productivity
Orchestrate great buyer experiences.
Selling in the digital age requires go-to-market teams to be more efficient. Tools that support targeted outreach and personalization give organizations a competitive advantage. Seismic's integration with Microsoft MRSs equips sellers with capabilities that maximize impact at every stage of the digital buying cycle.
If you'd like to learn more about the integration, please visit our Microsoft partner page.