What a difference three years make. We just wrapped up day one of Seismic Shift and it was well worth the wait. Today, in-person attendees from around the world joined us in downtown San Diego, CA at the Marriott Marquis. The sun was shining and temperatures were just right outside – but the brightest moments took place inside the Pacific Ballroom.
Today's keynote stage featured exciting and inspiring presentations from Seismic Chief Executive Officer Doug Winter, Seismic Chief Product Officer Krish Mantripragada, and 3 X Paralympic Medalist Amy Purdy. Attendees also had the chance to participate in a number of breakout sessions featuring Seismic staff and customers. Read on for more in-depth highlights from the day's events!
Cultivate smarter growth with Seismic
It's worth repeating: a lot has changed in three years. That's where Seismic CEO Doug Winter began his keynote. He spoke about the many changes he's experienced over the past three years – everything from learning to cut his own hair to meeting with customers and colleagues from his home office.
He also spoke about doing business in a digital-first environment. He noted that 40% of sellers say that they've closed deals worth $500,000 or more, without ever shaking hands with prospects.
Over the last three years, Seismic has undergone changes of its own. We've made significant investments in innovation to our product and in our commitment to improving customer experience. We've documented nearly 500 new product capabilities and nearly 60% were driven by our customers in the Voice of the Customer program. As a result, Seismic has continued to grow — and higher retention rates mean that our customers are also growing with us.
And there's no better time to build on this momentum with us than right now. Doug noted that there's never been a greater demand for enablement. The industry is experiencing unprecedented growth in its presence, profession, investment, and interest. "Enablement is the how of changes delivered. When the rubber hits the road, it's all of you who will make the changes happen."
"Enablement is the how of changes delivered."
Doug Winter
Chief Executive Officer | Seismic
And that matters today, more than ever before. In just the past year, we've seen changes in the economy and that impacts the way sellers need to engage buyers. There's also a war for talent which means that organizations need to effectively onboard more reps, faster. Doug added that "enablement is what drives the change and transformation that your organization is asking you to make."
He then welcomed Seismic CPO Krish Mantripragada to share how the Seismic Enablement Cloud has evolved to help our customers adapt to this evolving landscape.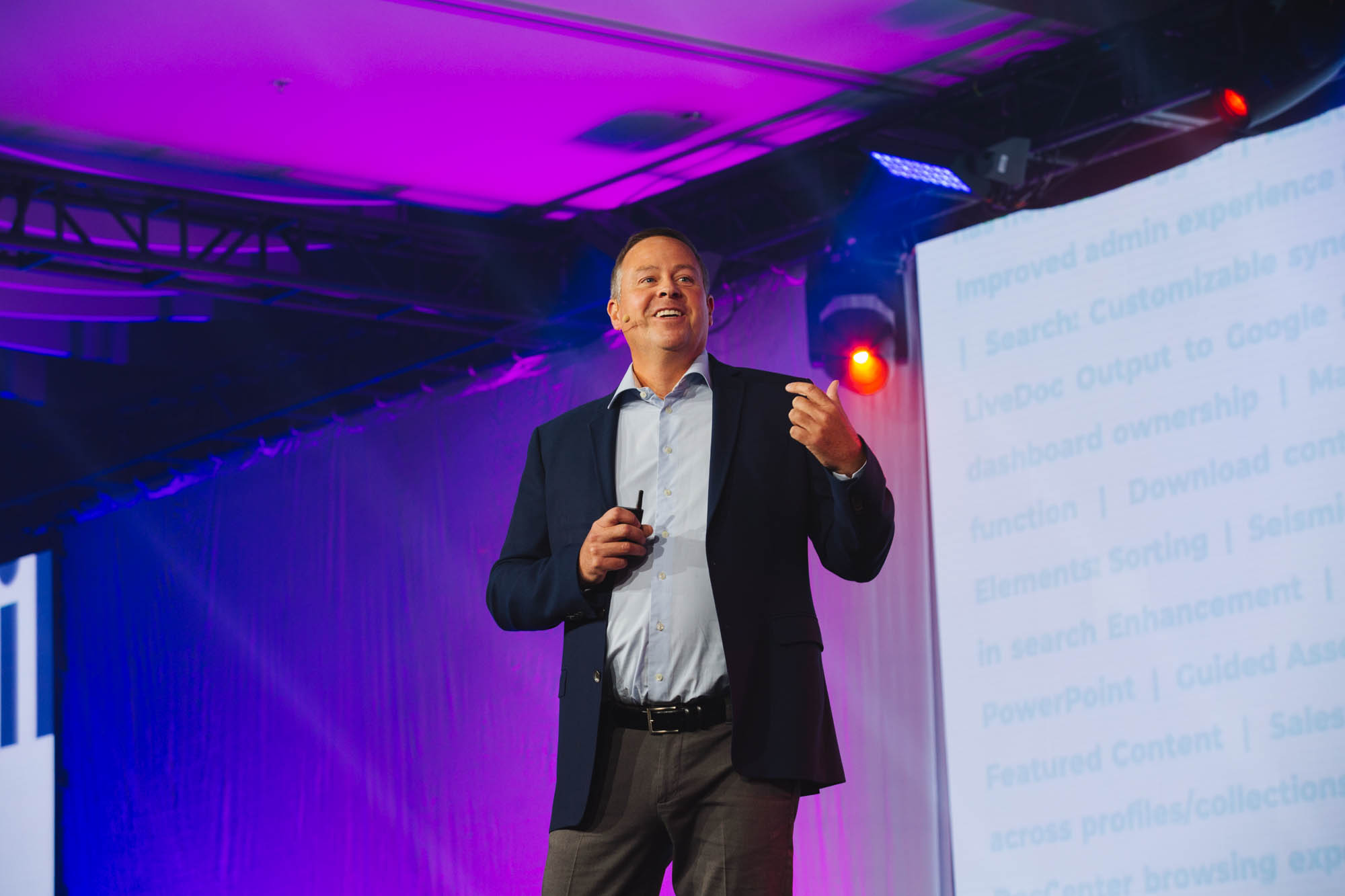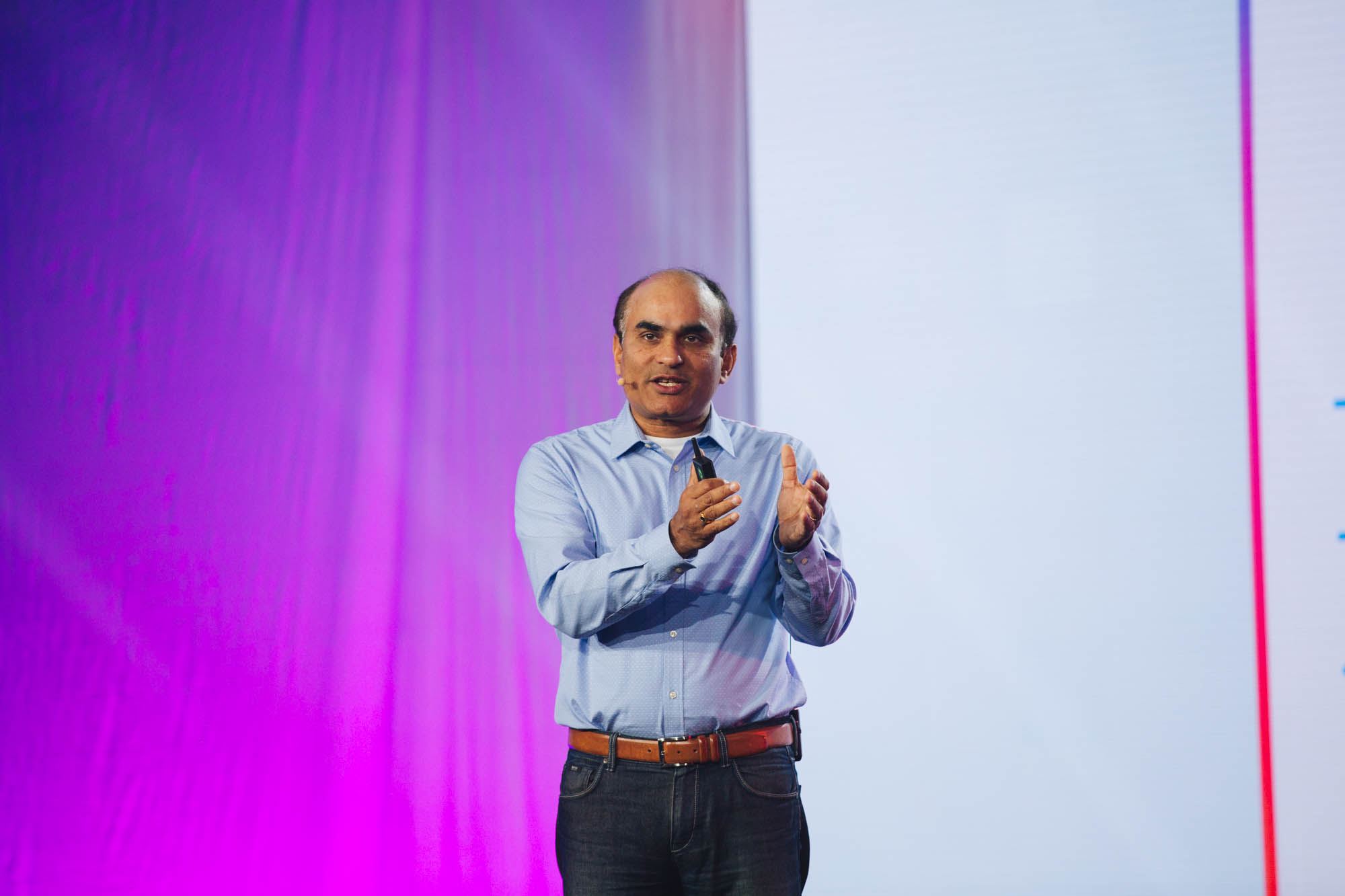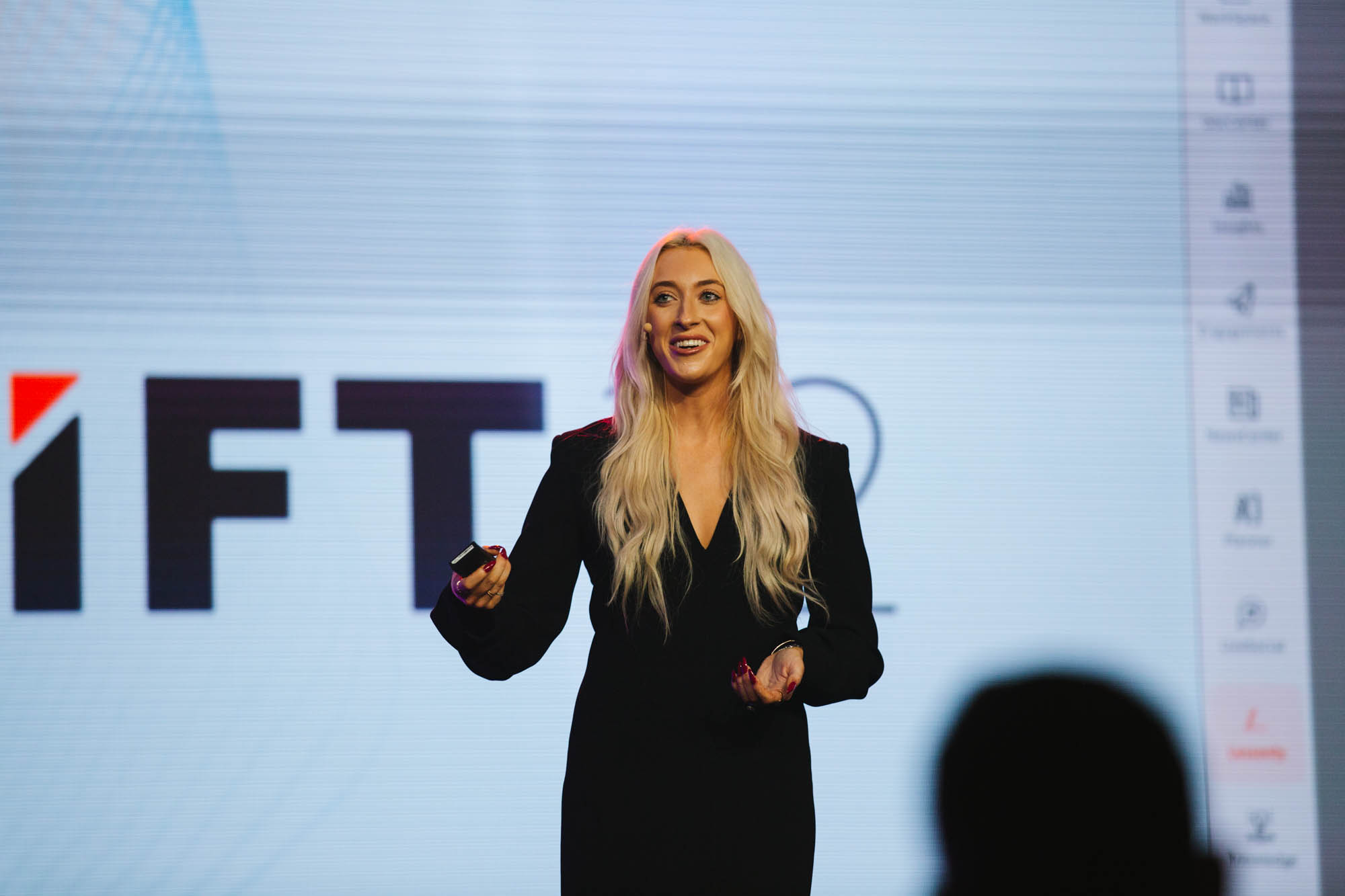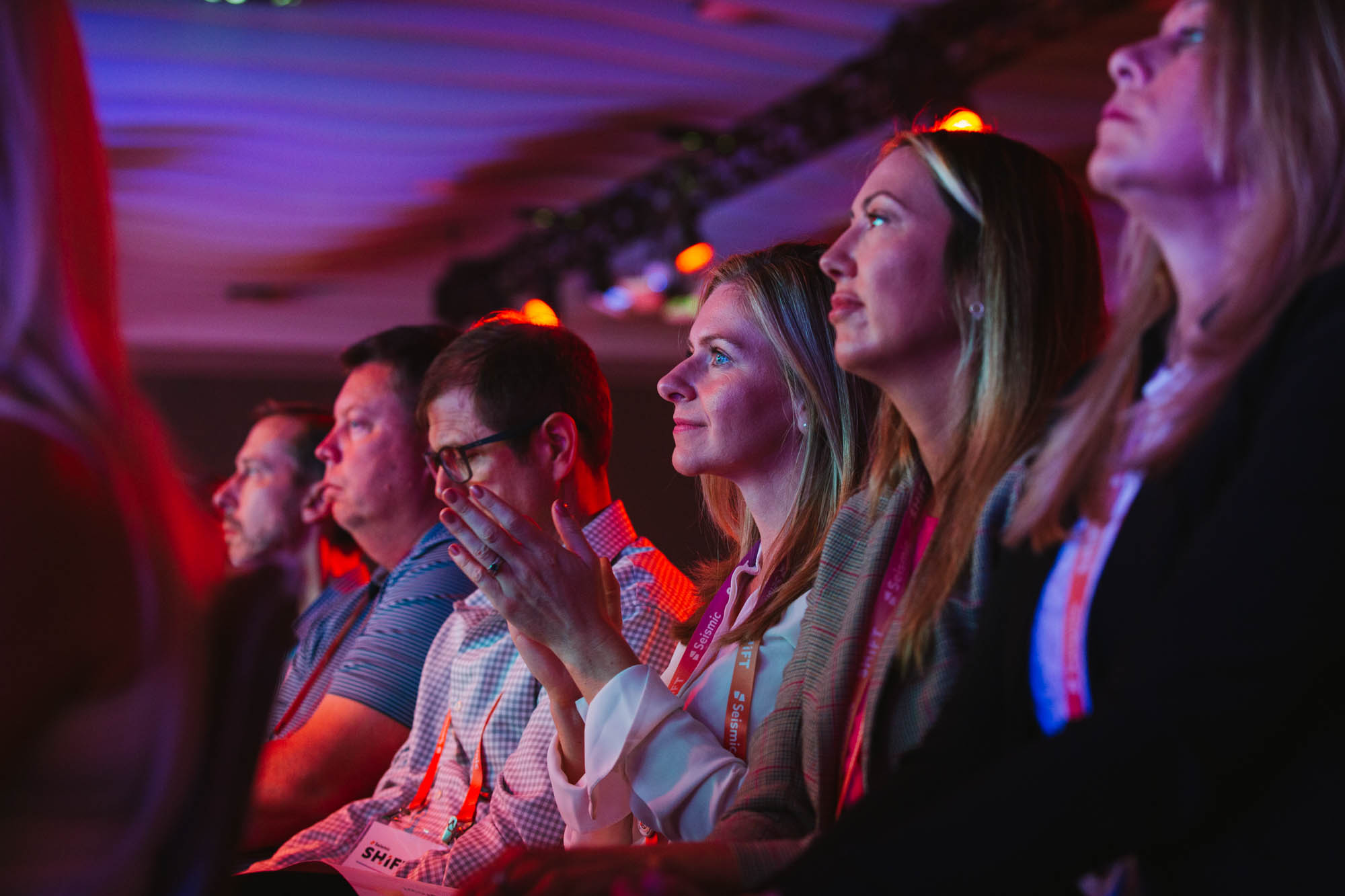 Wherever you are, we can help
"Enablement is now strategic." Those were his opening words when Seismic CPO Krish Mantripragada took the stage. And just as enablement has become more strategic, so have the features and capabilities of the Seismic Enablement Cloud™.
Yesterday, we announced the latest products and capabilities in our Fall 2022 Release. And today, Krish gave an in-depth look at how the growth within the Enablement Cloud stems from this evolution within enablement.
Last year we defined the three requirements for effective enablement, and Krish noted that we've now added a fourth pillar to reflect the importance of strategy and planning. In order to achieve effective enablement, organizations need the ability to plan, enable, engage, and improve.
Krish highlighted how the Enablement Cloud's features and capabilities help our customers bring these pillars to life.
Plan
To achieve their goals, enablers have an ongoing set of initiatives that need to align with their larger go-to-market strategy. There's sales plays, product launches, and changes in messaging or pricing. And, in order to effectively deliver on these initiatives, enablers need to develop a tightly aligned strategy and plan. However, enablement teams lack the tools to do this both effectively and efficiently.
That's where Seismic Enablement Planner comes in. Enablement Planner is the latest capability within the Enablement Cloud, and it's purpose-built to define, implement, and optimize an effective enablement strategy – all in a single, unified workflow.
"What's missing today are tools to tie enablement initiatives on one side to measurable outcomes on the other side. That's exactly why we built Enablement Planner – to elevate the role of enablement teams to be much more strategic. It's the next evolution in enablement." 
Krish Mantripragada
Chief Product Officer | Seismic
Enable
Krish then shared how Seismic helps enable frontline teams, including sales, advisors, customer success, and partners. He noted that Seismic thinks about this area in two categories: content and learning.
Enablement is the heart of what we do and content is the centerpiece. And in order to effectively enable go-to-market teams, organizations need seamless content flows and effortless discovery. This is why we're so excited to share the availability of real-time sync to Seismic Library and Workspace from Google Drive and Adobe Experience Manager. These integrations ensure users always have the latest versions of content and remove steps from the collaboration process to save time. We're also looking forward to the option of real-time syncing from Microsoft OneDrive and SharePoint which are coming soon!
Learning and Coaching are also the foundation for effective enablement. But regardless of the quality of materials or how thorough the lessons are, people still look for questions during a critical moment of need. They may ask their peers, experts, or whoever can answer their questions over Slack, email, or in person. But these methods don't always provide the verifiable answers that employees need to confidently deliver effective engagements.
Seismic Knowledge is just-in-time enablement, designed to solve just that. It is a self-service enablement solution that provides teams with faster access to answers, documentation, and assets right within the flow of work and the tools they already use, including Seismic, Lessonly, Slack, and Chrome.
Engage
Customers expect personalized content more than ever before. In order to effectively engage buyers, sellers need tools that enable personalization at scale – without having to leave the tools they already use.
PowerPoint is one of the most powerful tools that sellers have in their quiver, and it's used for everything from pitch decks to proposals. Seismic for PowerPoint and Guided Assembly are two new capabilities that empower our customers to solve the challenge of personalization.
Guided Assembly enables sellers to answer a few questions that capture context and within a few clicks, they can create a highly engaging deck. Seismic for PowerPoint allows users to search their Seismic Library or Workspace directly from PowerPoint to quickly customize and assemble slides.
Sellers also use countless tools in their daily work but are challenged with bringing together the bigger picture across meetings, email, chat, and CRM. Seismic is proud to partner with Microsoft for Viva Sales, an experience designed to streamline the buyer engagement experience for relationship-based sales teams and increase productivity through preparation, automation, and intelligence.
Improve
The final pillar of effective engagement is the ability to improve. By creating a system that gets smarter over time, enablers can learn from every interaction or engagement and use it to make informed decisions. Krish added that, with more than 300 TB of data, Seismic has the largest enablement dataset in the industry, and with purpose-built artificial intelligence (AI) and machine learning (ML), teams benefit from insights and real-time recommendations. And when all of this data comes together, teams can gather a holistic view of their enablement initiative outcomes.
Word on the street: Shift '22 breakout sessions
Following the morning keynote and lunch, our customers set out for different breakout sessions. Seismic team members partnered with customers and partners to lead sessions on a variety of topics from "Ending content chaos" to "Powering better engagements."
With 40 total breakout sessions, there was something for everyone to enjoy. I couldn't be everywhere at once, so I checked in with Shift attendees to learn more about their experiences. Here's what one panelist had to say about the importance of adoption in the financial services industry:
"Identify those people who are daring on your teams – they give you feedback, aren't afraid to fail, and make small mistakes. What we learn from those small areas drives us to do the bigger ones."
James Ilsley
Vice President of Marketing Technology Solutions & Innovation | Fidelity
In another session about adoption, one Seismic customer spoke about the office hour sessions they host for their sellers.
We hold weekly office hours and sometimes sellers will call without a question and just ask if we can show them what's cool in Seismic.
Megan Friedrich
Executive Director of Revenue Enablement | Deluxe
Living beyond limits with Amy Purdy
In her keynote, three-time Paralympic medalist Amy Purdy embodied the Seismic value "we are vulnerable." She opened with the story of how a rare infection caused her to lose both her legs at age 19 and eventually need a kidney transplant.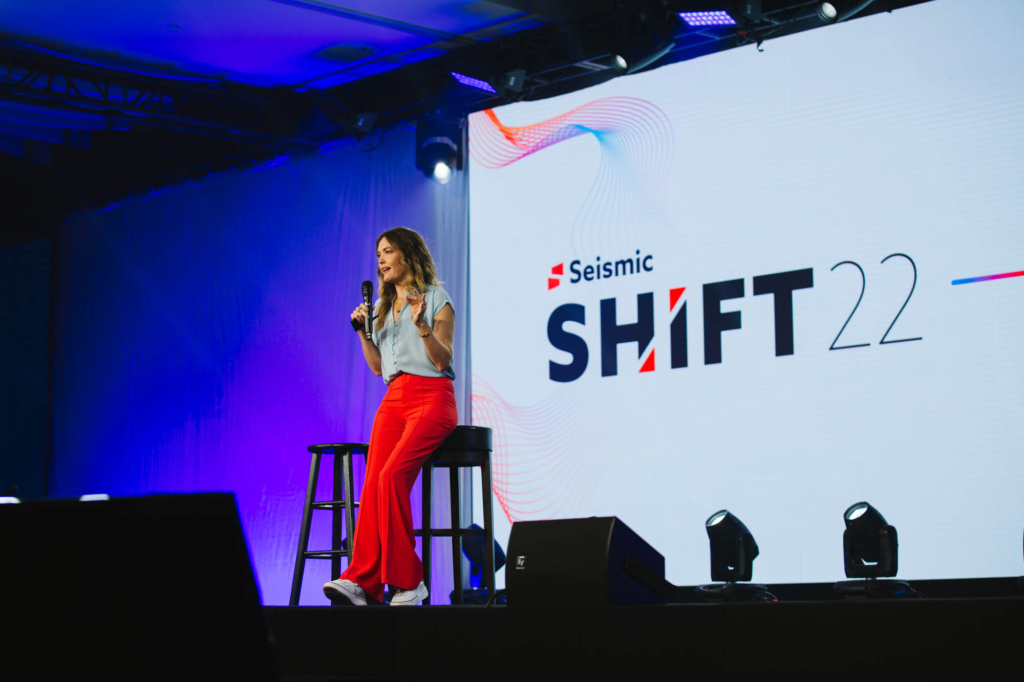 She shared how in her darkest days she always found silver linings. Even as she became accustomed to her new body and life, she always had a mountain to come. Amy said, "The challenges and obstacles in our lives can only do two things – stop us dead in our tracks or force us to get creative."
She added that in her darkest moments – those where she had no control – she asked herself a question. "If my life was a book and I was the author, how would I want my story to go? It allowed me to think of what I didn't want – and I didn't want people feeling sorry for me. So I thought about what I do want. I saw myself walking gracefully, somehow helping other people through my journey, and I saw myself snowboarding again."
Her ability to embrace challenges with creativity helped her return to snowboarding. She worked tirelessly to have snowboarding included in the 2014 Paralympic Games – and she did it. Then, she competed and won a bronze medal. She came back in 2018 and added bronze and silver medals to her mantle.
She closed by answering a question: how do we never stop growing? "We stay flexible to change and we adapt to the challenges that come our way by being creative and focusing on the things we can do."
See you again tomorrow!
If you've made it this far, we hope to see you tomorrow – you can still register to attend virtually. And we have several sessions you won't want to miss!
Tomorrow we'll hear from Seismic President and Chief Revenue Officer Hayden Stafford, Innovation Keynote Speaker and Creativity Consultant Duncan Wardle, and five-time NBA champion and Chairman and CEO of Magic Johnson Enterprises, Magic Johnson.
That's a wrap for today! We're off to happy hour and a taste of San Diego. We'll be back tomorrow!