We're thrilled to announce this year's Seismic Shift Award winners! Now in its fourth year, the Seismic Shift Awards honor the people who champion the ideals of sales enablement and sales and marketing alignment within their organizations, the teams and programs that have upended the idea of what a sales enablement process should look like and what it can accomplish, and those that have taken the Seismic product to innovative new heights.
This year's winners are:
People
Taryn Reed, Director of Commercial Enablement at Quest Diagnostics
Steve Borsje, Co-head of Marketing and Messaging at Brown Advisory
Programs
Cox Automotive
Brinker Capital
Product
Investec
Refinitiv – Thomson Reuters
All award winners will be presenting at this year's Seismic Shift, the company's fifth annual customer conference.  Over the course of three days—November 7-9 at the Pendry San Diego— Seismic Shift 2018 will boast a speaker lineup of 14 customers, industry thought leaders, and Seismic executives.  We'll be sharing sales enablement tips and some fun personal facts from our Shift Award winners, both from a sales enablement perspective and a personal perspective. You can get to know them in person at Seismic Shift, where they'll be speaking as well as receiving Shift awards.
---
We will be profiling some of this year's winners on our blog, showcasing their thoughts on the current state of sales enablement, sales and marketing alignment, and a few decidedly non-sales enablement questions!
The Winner: Ali McCarthy, National Marketing Director at Brinker Capital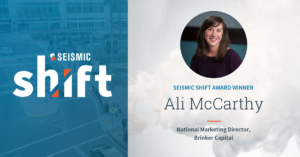 What does Seismic enable you to do that you couldn't before?
Seismic now enables us to provide real-time analytics to our sales team on who's viewing our marketing material.
What is the importance of sales enablement to you/your business?
The engagement between our team and our clients has improved because our sales team can access and customize the most current marketing material from any device.
What would you say to people considering implementing Seismic?
Why are you waiting?! You will only regret you didn't make the move sooner.
Best concert you've seen?
Prince, in my hometown of Chicago.
Go-to drink or cocktail?
Moscow Mule
What would surprise people most about you?
I'm terrified of heights and when I was in Hawaii I went on a helicopter ride to see the volcanos and waterfalls and crashed. Still getting over the fear of heights…and flying now!