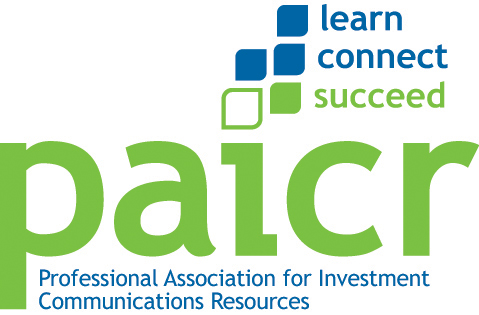 At PAICR's Annual Conference in New York this week, the focal point was the changing nature of the marketing function within asset management firms.
From the keynotes to panels to breakout sessions, presenters and attendees all agreed on one thing: the fact that marketing, which for decades operated essentially as a sales support function, has grown into a truly strategic role. Marketing has earned a seat at the management table and is now critically important to the growth and success of asset managers' businesses.
Speakers from a range of functional areas addressed how a range of factors, including evolving customer needs, changing regulatory requirements, and increasing product complexity have prompted them to change the ways they approach their jobs. One of the biggest changes is that they're forging new partnerships with other functions within their organizations, including distribution, compliance, IT, and corporate communications.
Through these new working relationships, marketers are gaining a better understanding of the challenges their colleagues face, and putting themselves in a position to collaborate more effectively with their colleagues. That means rather than fighting useless turf battles, marketers are being more strategic and helping to solve real issues that are holding their firms back.
Day One Keynote – A Glimpse of the Future
Setting the tone for the two-day event, author, innovator and futurist Michael Rogers' keynote speech addressed the virtual future of financial services. He vividly described the emergence of a virtual layer – a mobile-friendly, internet enabled, and information-intensive slice of reality that floats above the physical world of financial services. This parallel world is where an increasing amount of financial services marketing, education, and decision-making is being conducted.
Mr. Rogers also pointed out that this virtual world has opened up opportunities for disruptors who are challenging incumbents in sectors ranging from consumer loans and currency exchange to automated investment advice. Given that the next generation of clients has grown up with one foot in the virtual world, asset managers must recognize this and adjust their activities and programs accordingly. Rogers added that the winning firms will be the ones that strike the best balance between what they do virtually and what they keep in the real world.
Standout Conference Sessions
In another highlight from Day One, Mark McKenna, Global Head of Marketing for Putnam Investments, addressed how today's mobile and connected clients have changed what's required of asset management marketers. His presentation also touched on and what marketers need to do inside and outside their organizations today in order to succeed.
Mr. McKenna pointed out how investors, conditioned by their experiences with ecommerce vendors like Amazon and Netflix, now expect a similar level of personalization, relevance, and timeliness in their interactions with asset managers. He also described how top asset managers including Putnam have recognized these requirements, and adapted their marketing strategies and capabilities to meet them. With many compelling observations and illustrative examples, Mr. McKenna made it clear that firms that are making these changes are rapidly setting themselves apart from their competitors.
Another session that spotlighted big changes in the industry was entitled Best Practices for Partnering with Compliance. Just the title of the session alone speaks to how much the relationship between asset managers' marketing and compliance teams has changed lately.
In the bad old days, compliance viewed marketing as a source of risk that needed to be managed.  Conversely, marketing viewed compliance as the "No" department – much more of a hindrance than a help. As a result, many working relationships between compliance and marketing teams tended to get frayed. In this workshop led by senior marketers and compliance leaders from Allianz, Principal, and Invesco, both sides shared their best practices for building and maintaining productive working arrangements.
The focus was on how each side can gain a more thorough understanding of their counterparts' roles – and what's required to do their jobs. One suggestion was for marketers to attend a compliance conference and vice versa. Instead of work-arounds and brow-beating, panelists strongly suggested changing to an approach focused on find connections and common ground – a change that'll no doubt be welcomed by both camps!
Overall, this year's PAICR Annual Conference brought into focus how much change is underway right now with asset management marketing. Change always brings both opportunities and challenges, and that's certainly the case with asset management marketing. But by listening to and learning from industry experts like those on the PAICR Conference speaker roster, marketers can make these changes, overcome the challenges and make major contributions at their firms.
In other words, there's never been a better or more exciting time to be an asset management marketer!