According to Forrester, we are in the age of the customer.  "Customers are the new market-makers, reshaping industries and changing how businesses compete and win. Success depends on how well and how fast you respond."  In the recent Top 20 B2B Marketing Charts of 2016 deck released by MarketingCharts, it's apparent that B2B marketers share that same view point.  Investigating your buyers and their journey through the purchase process allows for a better understanding of how your buyers seek information, identify their own needs, and make decisions.  Let's look at a sampling of the charts in the deck to explore how this is top of mind for modern marketers and how to succeed in the age of the customer.
Understanding the Customer Buying Journey
Regalix, a digital marketing company specializing in tailor-made solutions to aid in customer acquisition and retention, surveyed over 700 senior B2B marketing executives and asked what will be important for their digital marketing initiatives over the next three years.  A staggering 78% responded with "understanding the customer buying journey" followed by 77% citing "educating and influencing purchase by mapping right content assets and distribution channels to key stages in the customer buying journey."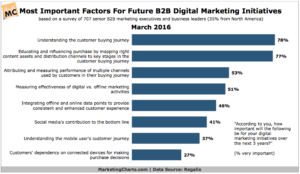 The customer buying journey was clearly one of the most important factors driving content creation, content delivery, and content measurement for B2B marketers in early 2016.  Mapping your content to the stages in your customer buying journey is the tangible, do-able approach to enhancing every buying interaction.
Improving the Customer Experience Through Value and Personalization
Improving the customer experience remained a high priority throughout the year.  In November 2016, a survey conducted by Econsultancy and Adobe showed B2B marketers citing value and personalization as the two highest considerations in improving the interactions their customers have with their brand.
Although becoming more customer-obsessed with marketing strategies and content deliverables is top priority, oftentimes it can be easier said than done.  That coveted one-to-one personalized customer interaction across all stages of the buyers' journey requires data; customer demographic and firmographic data, content consumption data, and sales effectiveness data.
Content Effectiveness Insights from First Touch to Close
In a survey conducted by Seismic and MarketingProfs, B2B content marketers were asked which metrics would be most important in proving content effectiveness throughout the lifecycle of a closed-won deal.  From first touch to close through all stages of the buying journey, the most important insights cited were "which pieces of content were the source of the opportunity" and "how soon after a piece of content was consumed did the opportunity stage advance."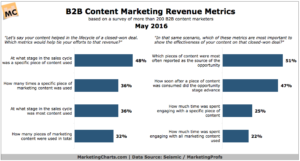 Mapping content creation to the stages of your buyer's journey, then having the ability to measure how that content is consumed at each stage will drive valuable improvements in your customer experience and ultimately increase win rates.