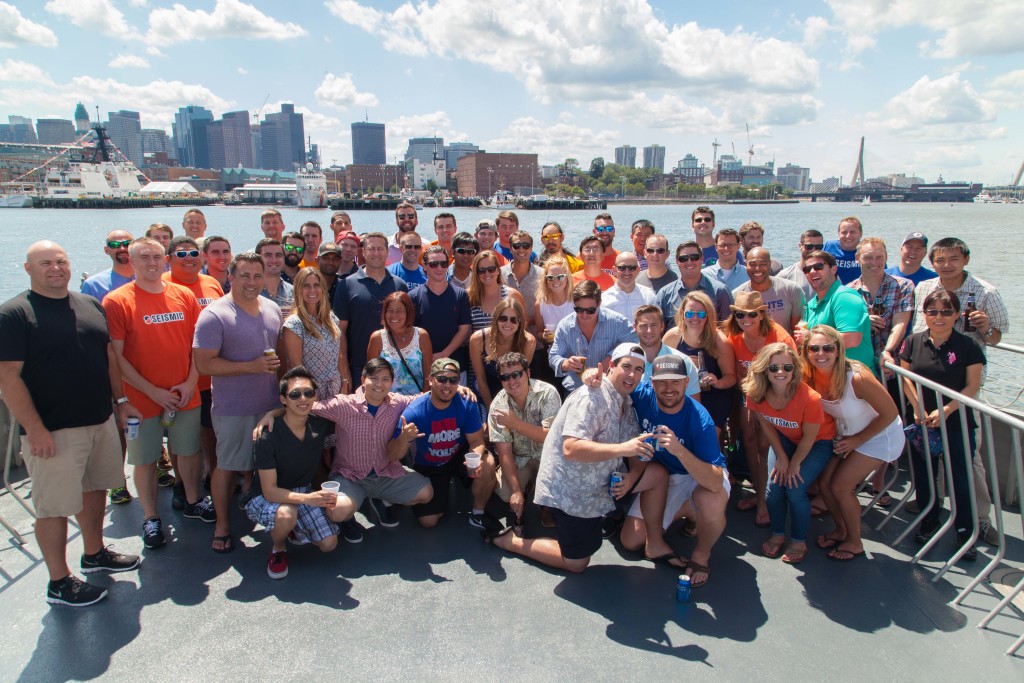 The first Seismic Boston office started in my attic at the end of 2010. When we launched, the other founders were 3,000 miles away in San Diego, so I bought a puppy to keep me company. Pudge is 5 years old now and it's been cool to see him grow with us. The team doubled in 2012 as I hired my college roommate, our first sales rep. Next up, were two more close friends who also happened to be my two top sales reps at EMC. We ended 2012 with a ton of great customers, 4 people and 1 dog in the attic.
Late in 2013, we moved into our first office, a 1,100 square foot space at 164 Canal Street, above The Fours across from the Garden. At this point there were 6 of us plus The Intern. There is something magical about your first real office, the late nights, the dice games, the clutter, the loud music and the camaraderie. We learned a lot about ourselves, the company that we are building, and each other. It was a special place that we will never forget.
During the second half of 2014, the team started to explode. Everyday people were building new desks, making calls in the hallways, giving demos from closets and operating at a crazy pace. Our constant rounds of interviews were done at the coffee shop across the street. We were growing so quickly, that our marketing team had to move to a temporary space around the corner. Already during 2015, our Boston headcount has more than tripled and it doesn't show much sign of slowing down.
We recently moved into office #3 at 239 Causeway Street. We have almost 10x the room from our original space, the team is growing daily, and while many things have changed, much has stayed the same. Virtually every person on the Seismic Boston team has a personal connection to the company.
We've hired childhood friends, former co-workers, current roommates, ex-teammates and even siblings. Cultural fit carries more weight on the hiring scorecard here than it does at many companies; if you're smart and you care about the people around you, odds are you will do whatever it takes to help them succeed.
Seismic recently won the Boston Business Journal's Best Places to Work award in our size category. I'm not the type of person that typically gets excited about awards, but this one is different, because our people are the reason why we won. In the BBJ survey, 100% of Seismic Boston employees reported they feel engaged in the workplace and intend to stay long-term. 100% see professional growth and career development opportunities for themselves at Seismic. 100% feel valued by the leadership team. Every single person feels like they matter, because they do.
It's easy to create a great place to work when you're in a small office with only a few people. When you're growing quickly, it gets harder and harder. I've been lucky enough to be a part of a few successful software companies that grew incredibly fast and I've seen/made my share of mistakes. We remind the team daily that they are the next generation of team leaders at Seismic. It's their responsibility to make sure that everyone feels just as special as they did when they were employee number 6, 15, 47, 92 or 105.
It's their job to build the same bond when we hire employee number 1,005. It's been amazing to watch them rise up and lead one another. I've seen it get a lot harder as companies grow, but if we do that part right, I bet we will see more 100% scores in our future. Rapid growth is tough, nobody can predict the future, but I know this team and I like our chances.