The Importance of an Effective Sales Enablement Strategy
Sales and Marketing teams must have a close working relationship and the right training in order to succeed; Sales primary concern is to fulfill demand while Marketing strives to create it. To build an effective sales engine, salespeople, marketers, facilitators, need to understand how they work together to generate revenue while meeting customers' expectations. Sales enablement is the nexus of all these operations collaborating and the impact on the customer.
This synergy is not easy to achieve because both departments have different goals, metrics, definitions, strategies. Many salespeople struggle with these drains to productivity: not enough time, not enough just-in-time expertise, and not enough differentiation. This occurs when sellers lack easy access to the resources they need for client meetings and spend a majority of time searching for or creating their own product sheets, presentations, competitive profiles, and pitch decks. On the flip side, much of marketing content goes unused and becomes outdated or irrelevant.
This is where sales enablement comes into play.
As defined in an earlier blog post, sales enablement is a strategic approach to increasing sales productivity by arming reps with the content and coaching during the right time in the sales cycle to improve sales engagements and foster client relationships.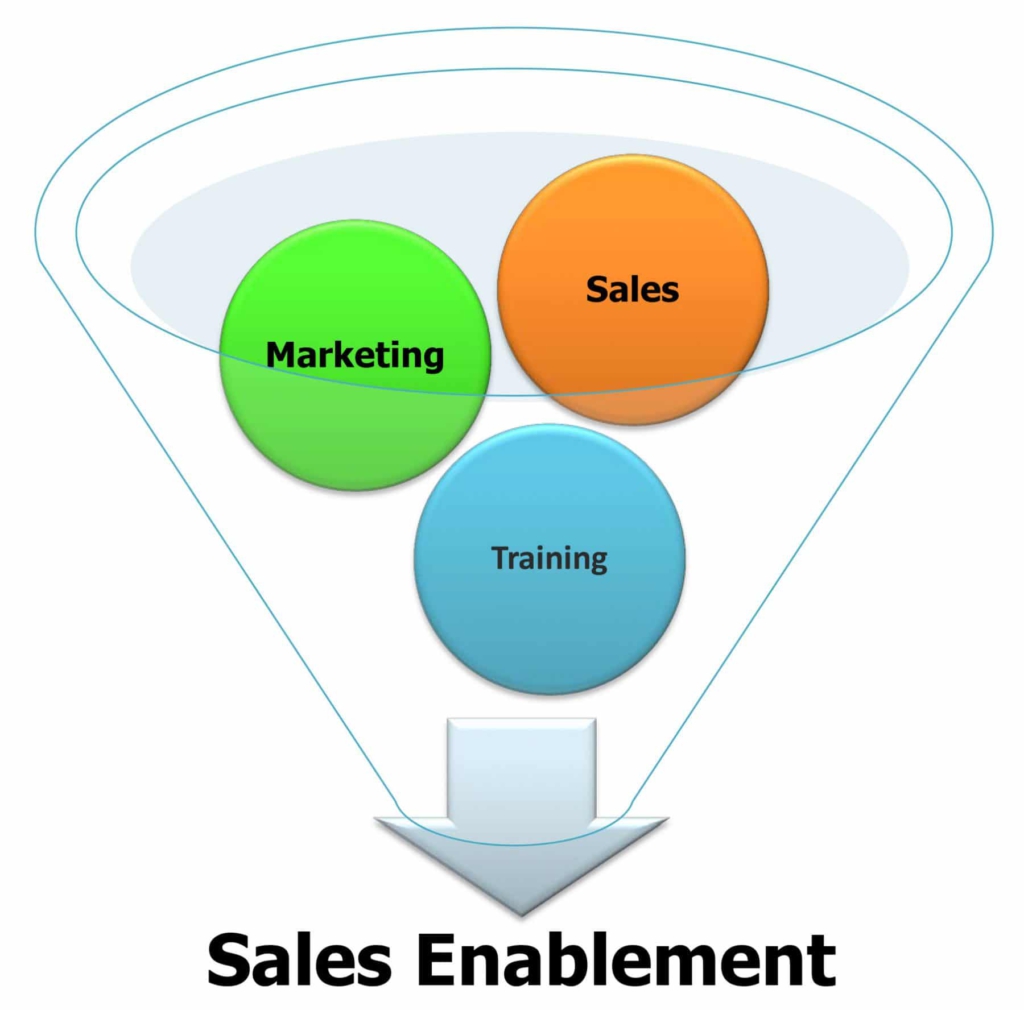 In today's fast paced world, salespeople do not have time to create new materials, redefine guidelines, and research best practices… especially when marketing is already tasked to provide these resources for them.
Unlike other well-known business functions such as human resources or accounting, sales enablement is an emerging role in today's global business world.  Sales enablement's reporting and responsibilities vary in every organization, but the root of all sales enablement is to integrate marketing and sales, along with other departments, to improve an organization's sales productivity. This function does not need to be a separate business unit, as sales productivity it is everyone's responsibility.  However, some organizations create a permanent role to ensure that sales enablement initiatives can be planned, managed, and tracked effectively.
Regardless of where the sales enablement function sits inside an organization, effective sales enablement leaders can become superstars within an organization. They help bridge the gap between departments and put employees on the same path towards success.  They work with sales and marketing to manage content and assets, update guidelines and best practices, assist with sales onboarding and product training and much more. Sales Enablement makes it easier for salespeople to sell and buyers to buy
Sales enablement strengthens the link between sales and marketing to increase sales effectiveness, and generate a higher return on ROI – all superstar outcomes worthy of consideration and prioritization.
Does your company prioritize its sales enablement strategy? Do you have a defined sales enablement function, or are there plans for one in the future?