The Challenge
Kiavi, America's largest fix-and-flip lender, is revolutionizing the world of mortgage loans. By combining innovative technology with an experienced team, Kiavi provides borrowers with a seamless, transparent lending experience from end to end.
In the fintech industry, there are loads of complex documents, acronyms, products, and mortgage topics for employees to understand. "Given that we're basically a bank, a lender, and a tech company, we have really, really deep documentation that we have to train on," explains Spencer Hilligoss, Senior Director of Enablement. And to keep up with continuous industry changes and product updates, Kiavi needed a way to keep 200 employees aligned and on the same page.
In the early days, Kiavi used a combination of slides, spreadsheets, and docs for training. But for a company focused on simplifying complex processes, that system didn't provide great consistency or visibility. Spencer reflects, "If there's a skill that employees are trying to practice, how do you make sure that they've actually retained the knowledge?" That's when Kiavi decided to find a better way to provide learning and practice opportunities that would help employees develop skills they need to succeed.
Lessonly gave us a way to build more lessons and the understanding that we can actually break complex mortgage topics down to a very simple format."
Matt Murray
Manager of Professional Development
The Solution
With the help of Lessonly, Kiavi transformed the way they deliver dense training material into a more modern, learner-friendly format. And partnering with Lessonly's Services team, Kiavi translated a dry, complex 18-page document into three different lessons that employees now read—and understand. "Within a matter of weeks, people are able to learn stuff that otherwise would have taken a month," notes Spencer.
Transitioning to Lessonly also allowed Kiavi to review employees' top searches, helping identify the most accessed content and where more training was needed. These insights have helped the team regularly update training content so that it continually helps improve rep performance. "You're not going to find an easier LMS platform to actually deploy, to implement, and to get people to use," Spencer shares.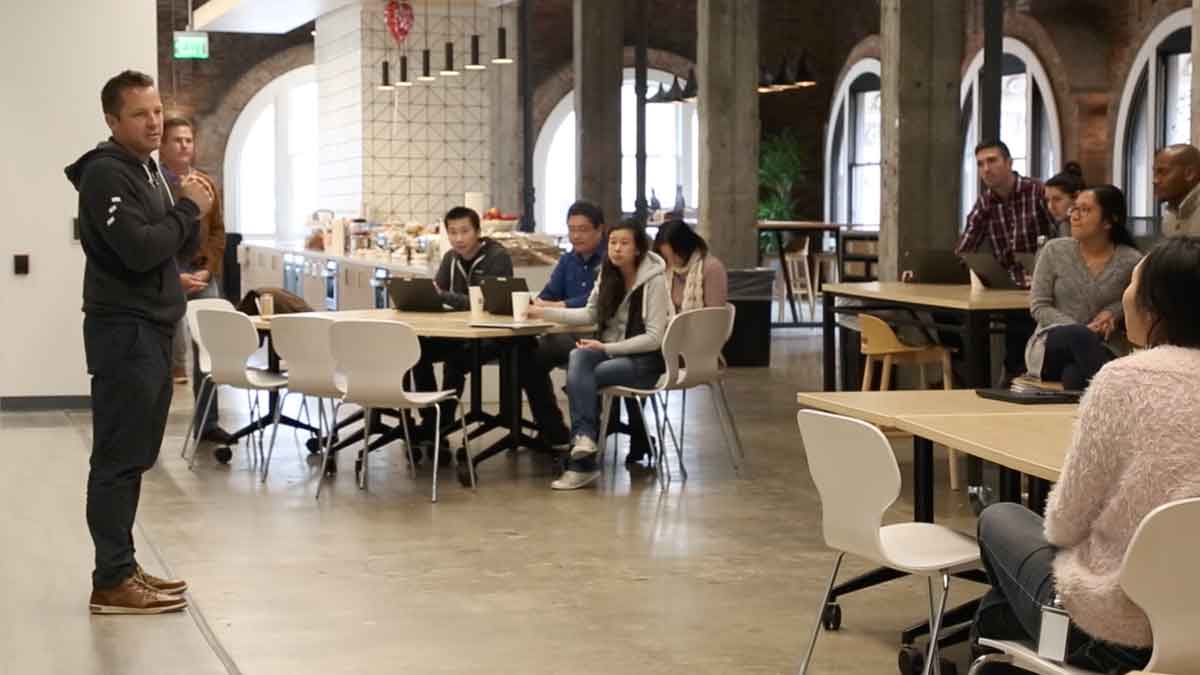 And Kiavi employees agree. "The first time we got into a lesson, it was just very clear and very concise," notes Denise Tuesta, Professional Development Lead. "At the end, I was like, 'Oh, I finally understand these updates.' It was kind of life-changing in that way."
Asked about their favorite Lessonly feature, the team overwhelmingly agrees that Lessonly practice tools are game-changers. With Lessonly, employees practice their sales pitches and receive feedback based on a consistent evaluation rubric. Now everyone has the same definition for a five-star pitch. "The practice [tool] is amazing," exclaimed Emily Krauss, Professional Development Specialist. "The customer experience teams are going to get huge value from practicing and performing our Kiavi pitch."
The practice feature was something I got really excited about. One of the hardest parts of ramping up a sales organization is getting the best version of a pitch that everyone can easily see and refer to. We just launched a clear, consistent, and crystallized pitch."
Spencer Hilligoss
Senior Director of Enablement
The Results
The Kiavi team initially rolled Lessonly out to a cohort of 60 employees and then expanded it to the larger team due to its overwhelming success. And by regularly tapping into Lessonly insights, company leaders easily see the impact it's making. "It's so much easier to have that discussion with the executive team when you say, 'Look how many are using this,'" shares Spencer.
Matt Murray, Manager of Professional Development, also appreciates Lessonly's reporting and insights. "If you're ever in a situation where you need to actually see what people have been learning and reviewing, Lessonly is a great platform for that."
Kiavi's growing team has also found success using Lessonly as part of their blended learning approach for both onboarding new hires and the ongoing training of veteran employees. Through Lessonly lessons, LendingHome employees get introduced to new content and pre-read it before live workshops, which serve to reinforce and expand on the lesson content. "We'll push e-learning out to the entire production team, we'll assess them, get the results, and then come back with a live debrief to make sure that all of the areas of uncertainty and confusion are fleshed out," explains Matt.
Kiavi isn't stopping there. With ongoing growth in a constantly changing industry, they're excited about continuing to partner with Lessonly on the path to Better Work. "Our account manager Pierre is always available and highly responsive," notes Spencer. "The Lessonly team has been awesome the whole way."