The Challenge
U.S. Cellular, the nation's fifth-largest full-service wireless carrier, is committed to delivering industry-leading innovations and an amazing customer experience. With over 6,000 sales associates and customer service reps—and rapidly changing campaigns and initiatives—U.S. Cellular needed an efficient way to drive consistency and manage change at scale.
For years, store and call center leaders used 10 to 15-page, text-filled documents to conduct training. Lindsay Young, an Intranet Manager at U.S. Cellular noted, "It took so much time for our leaders to learn the information, distribute it out to their teams, and compete with different schedules—especially in our care centers and with frontline sales associates in store environments."
Reading or presenting these documents in team meetings wasn't working; it was inefficient and inconsistent.
Jason Sweis, the Sr. Manager of Frontline Communications at U.S. Cellular added, "For a long time, we did a lot of text communications—emails, documents, things like that. We needed to modernize the way we communicate. And we needed to start communicating the way people habitually get their information today." That's when U.S. Cellular turned to Lessonly.
Lessonly has been one of the best vendors for us to work with. What's incredible about our relationship is we have such a great dialogue. We love meeting with Lessonly, we have our llamas everywhere in our office."
Lindsay Young
Intranet Manager
The Solution
U.S. Cellular wanted to bring a total paradigm shift to driving training at scale. "One of the things I set out to do was to find a better way. To take our leaders out of the facilitation role, and allow them to have deeper conversations with their associates. I really wanted something more engaging," noted Roberta Winger, Sr. Director of MCSO Enablement and Initiatives. Lessonly's online training software—focused on simple, powerful, bite-sized learning—was the perfect fit.
"For associates and leaders, Lessonly has removed a lot of distraction…they are no longer trying to sift through tons of information. It allows them to quickly and conveniently access information, test their knowledge on it, and then go out and deliver," notes Mike Margowski, Frontline Communication Manager.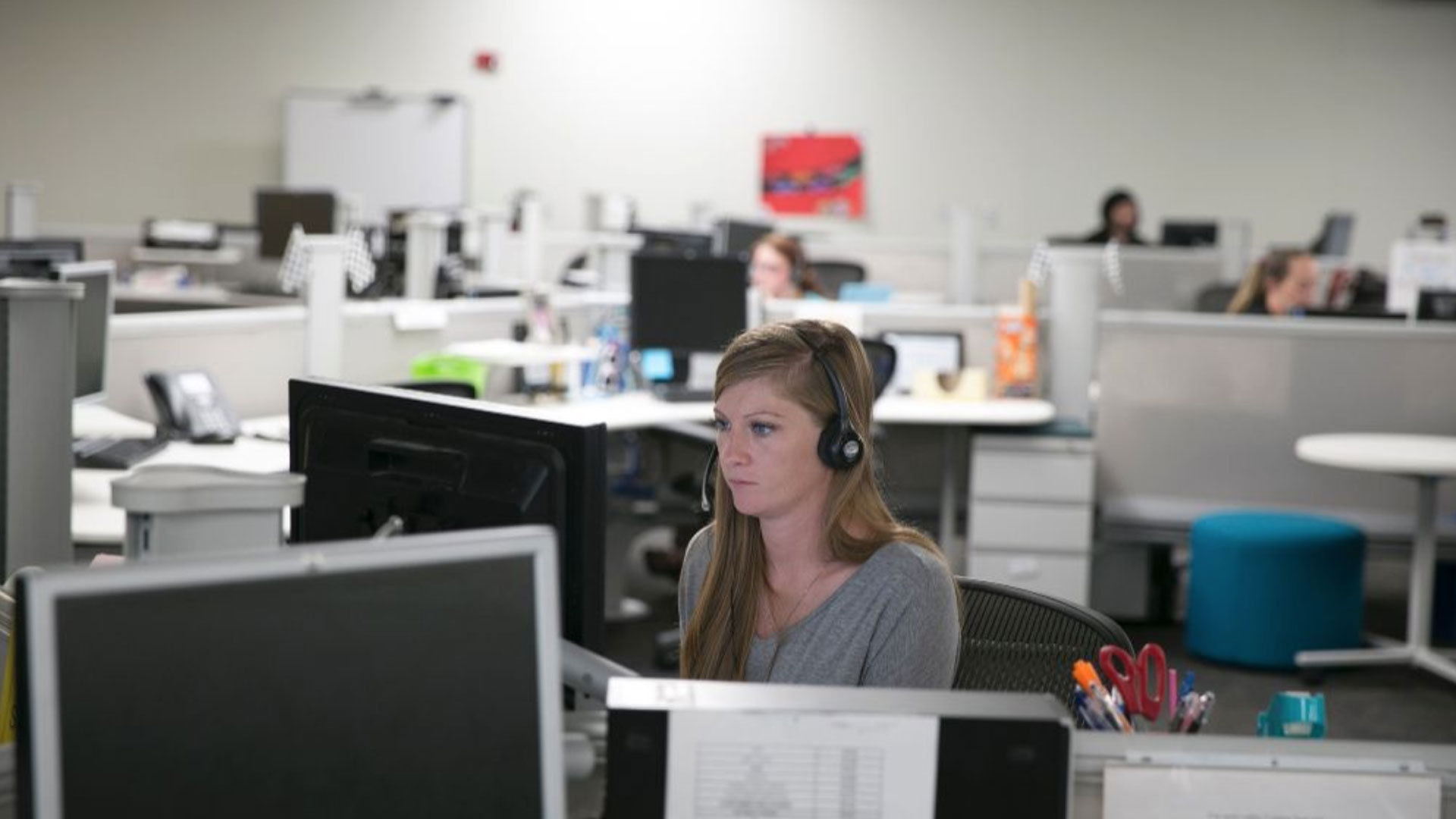 Lessonly's easy-to-use lesson builder also took the stress out of creating content.
Rather than offering extended documents full of what Lindsay labels, "everything but the kitchen sink", now U.S. Cellular's content creators use images, videos, GIFs, flipcards, and quizzes to meaningfully engage their associates. She adds, "We're really focusing on the small things, like, 'Do I have to scroll down a long page?', 'Is content engaging and fun?', 'Does it make me laugh?' We're also arming associates with what they need to know to serve our customers."
With these tools, the U.S. Cellular team began transforming 10-15 page training documents into modern, bite-sized, 15-minute lessons. The impact on their global team was almost instantaneous. Team leaders began to save thousands of man-hours by holding more efficient meetings. Jason adds that Lessonly is invaluable as a tool for delivering scalable change management, "For every one of these frontline associates—we're talking over 6,000—to see the same message is very beneficial for us."
But U.S. Cellular didn't just want to produce and deliver content. Roberta adds, "It was important, too, to have some kind of reporting. We had no idea whether the content was resonating with our associates and how well they understood it." Now with Lessonly, leaders across the entire organization—from frontline managers to seasoned executives—are able to view and measure the progress of learning through Lessonly's Gradebook.
This concept of data-driven feedback has become integral to how U.S. Cellular delivers training. "We build hierarchies into the system based off our organizational structure. We encouraged our leaders…to go in and review the scores and see if there's a particular question that their team struggled with," Roberta adds. This changes the game for leaders, who are no longer professors lecturing their pupils, but rather coaches helping their teams win.
We had some other companies that were willing to help us, but it took six to eight weeks to develop something before we could roll it out. We don't have six to eight days to do this—much less six to eight weeks. The people at Lessonly got that, and the product supports that kind of environment."
Roberta Winger
Sr. Director of MCSO Enablement and Initiatives
The Results
In addition to better clarity in communication, greater feedback loops in training, and tens of thousands of hours saved in meetings, U.S. Cellular has tangibly improved the employee experience of their frontline associates by empowering them to learn what they want, when they want. "It has really empowered them to take control of their learning, much different than sitting in a weekly meeting where somebody is literally reading to you. It's a wholly different learning experience," Roberta commented.
U.S. Cellular's organizational metrics only reinforce Lessonly's success. Roberta continues, "We initially set targets for an 80% completion rate with an 80% pass rate on the quizzes. Now, we're at a 99% completion rate with a 95% pass rate on quizzes. Associates appreciate the learning and the delivery method because it is so much more engaging."
And U.S. Cellular isn't stopping there—they're also evaluating the effectiveness of the learning itself. Mike notes, "I love the feedback mechanism we have on the lessons, so associates can give a thumbs up or a thumbs down. Our stakeholders crave that information. It's real-time feedback, and that's something we've never had before." So far, U.S. Cellular's lessons receive a 90% positive rating from employees—and the team only wants to keep improving their learning content.
Lessonly is making waves across the entire U.S. Cellular organization. Every year, the executive team at U.S. Cellular reviews internal initiatives that had a significant impact on the business. Due to radical improvements in training and ensuing cost-savings for the company—U.S. Cellular's Lessonly initiative was an honorable mention in 2017!
But more so than just receiving recognition, Lessonly has been a catalyst for thinking differently about training in a large organization.
Jason noted, "The methodology Lessonly teaches its clients is very important…they taught us about the bite-sized chunk approach. Give the associate or whoever you're training what they need, but then reiterate where they can find more information and resources." This strategy, paired with Lessonly's focus on speed, access to information, and detailed analytics is helping to keep U.S. Cellular nimble with whatever changes come their way.
Jason concluded, "That way of thinking is not just important in the wireless industry, which is dynamic and changing all the time—it's important for all organizations."