The Challenge
Today, your sales and marketing teams face an efficiency issue.
Teams are spread out, communication and disparate tools are inefficient, and migrating back and forth between tools take time away from driving strategic initiatives.
Sales is searching for the right information they need to move deals forward, and marketing is not aligned to sales needs, creating materials without the knowledge of knowing what helps to drive revenue in the sales process.
You're losing hours of strategic work that drives revenue into the business.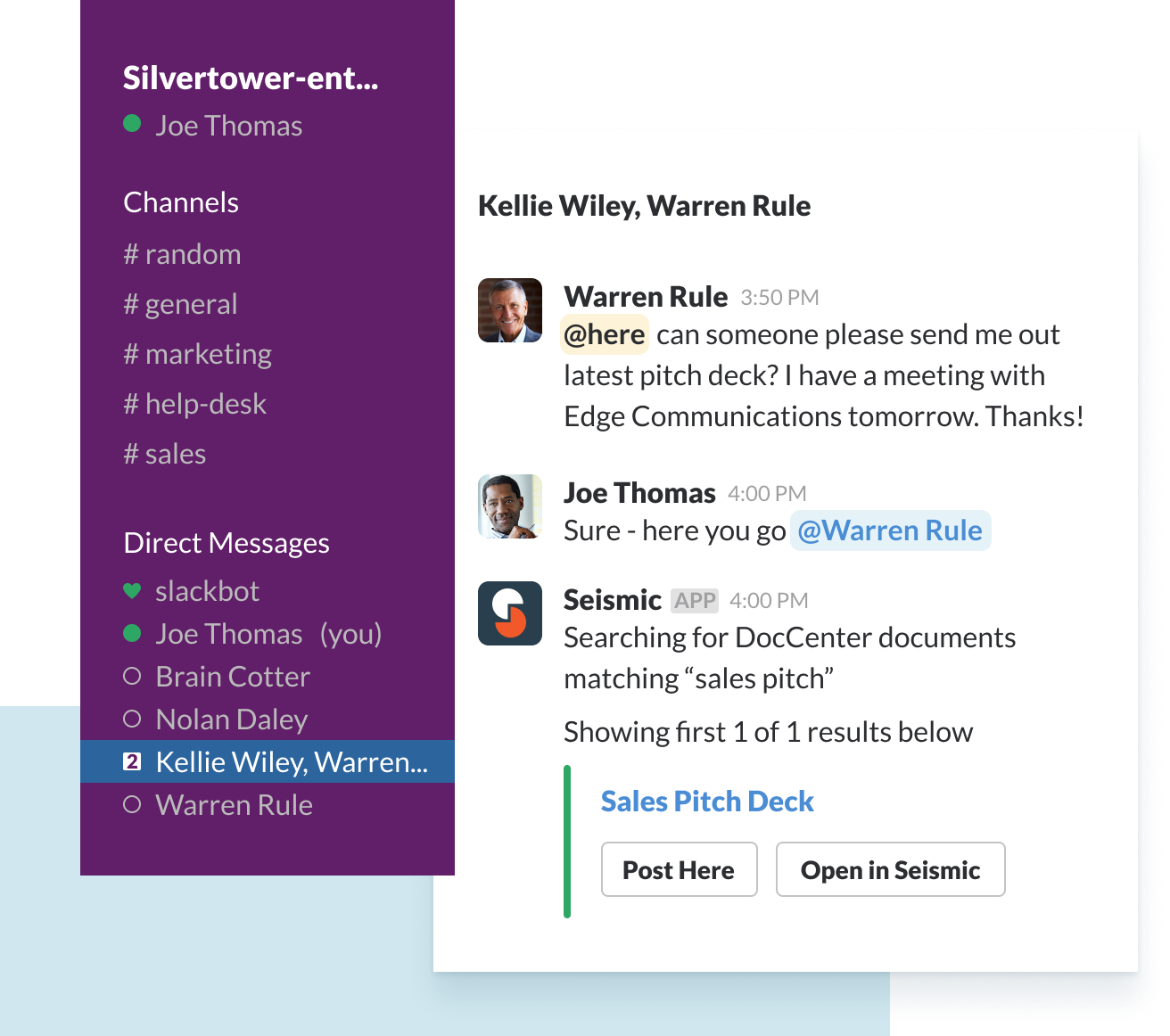 The joint integration is a complete solution to align your teams, ensure that sales has access to the content, information, and peer insights they need at their fingertips where they are working. Marketing receives insights on what content is being used to ensure that their actions are helping teams drive revenue.
Key Slack & Seismic Capabilities

Organizational Alignment
Unify teams around key initiatives and priorities no matter where they work, allowing teams to respond quickly.

Increase Productivity
Increase agility with fast access to information and more efficient communication across teams and external partners, reducing the need for meetings, and reducing administrative workload.

Workflow Organization
Integrates everyday tools and data into the team's workflow to reduce context switching, without compromising Enterprise security standards.

Increase Efficiency
Single location to store, find, and deliver the targeted materials sales needs to effectively move deals forward.

Build Trusted Advisors
Surface relevant content and information to sellers based on their selling situation to increase knowledge and deliver a consultative selling experience.

Close Deals Faster
Know what content resonates with prospects and create more tailored discussions.