"With Seismic, we've been able to calculate a huge return on time, $340,000 a year."
Read case study
Sales & Customer Service
In many B2B enterprises, end of quarter means the dreaded scramble to prepare for Quarterly Business Reviews (QBRs). QBRs have the potential to drive substantial value for enterprises, customers, and sales reps, or to waste a tremendous amount of time and resources with little or no payoff.
Internal Sales
QBR data provides the basis for sales reps to communicate with sales managers about projected sales, actual results, quotas, pipelines, and forecasts. Similar data aggregated across multiple reps or teams provides the basis for sales managers to communicate with executive leadership about projected revenue growth and the resources necessary to meet enterprise goals.
External Customers
The QBR process provides an opportunity to build and strengthen the customer relationship. Customer service managers can build the QBR conversation around data, showing value to the customer quarter after quarter, while moving the account toward strategic goals.
The problem is, preparing for QBRs can be such an onerous process and a productivity drain that business reviews are often performed only for the most important clients, or for new or struggling sales reps, and on an erratic schedule at best. If business reviews are not performed at a regular cadence, and if expectations on all sides are not clearly understood, accountability and responsiveness suffer. Under these conditions, QBRs decrease organizational productivity with very little potential to deliver real value in terms of revenue or retention.
Standardized QBRs that measure meaningful metrics could be performed efforlessly every quarter without exception… for every sales rep, every sales team, and every customer?
QBR data could help sales managers better support sales rep development and the opportunities in each rep's portfolio, and better marshal resources to achieve enterprise revenue goals?
QBRs could enable the customer service team to demonstrate ROI and reinforce value so effectively that renewals are taken for granted, and QBRs become prime opportunities for upsells and expansions?
Document Automation
Seismic provides an automated Quarterly Business Review solution with applications for internal sales teams and for external customers. With Seismic proprietary LiveDocs® technology, Seismic enables Sales and Customer Service teams to automatically import the latest sales or account performance data from any system and integrate it seamlessly into approved QBR templates. These templates are designed to capture the metrics that matter most and provide data-backed structure for the review, based on QBR best practices.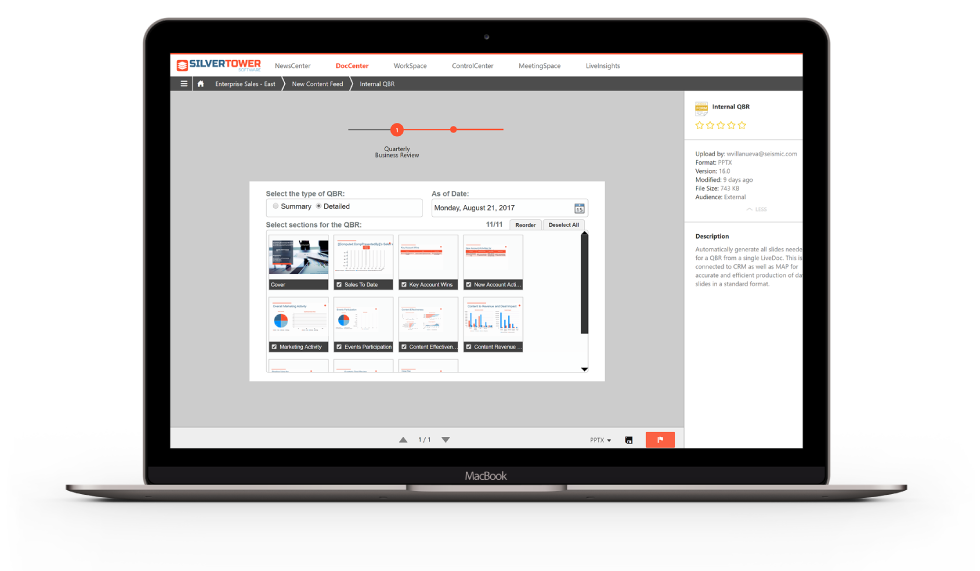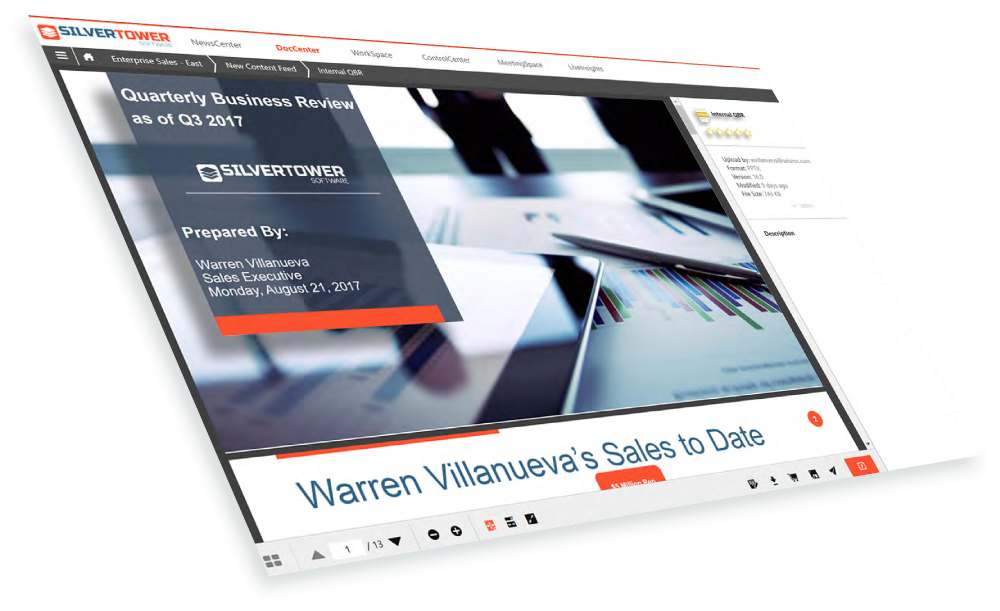 Reduce Time & Strengthen Performance
With LiveDocs technology, gathering data from multiple sources and aggregating it in a single document takes seconds, rather than days or weeks. Formatting is effortless and flawless. With the ability to automatically generate data-rich QBR presentations at the press of a button, sales reps, sales managers, and customer service managers can confidently schedule QBRs at a regular cadence. Utilization of a consistent QBR format from one quarter to the next ensures that all participants know exactly what to expect and strengthens commitment, focus, and performance to reach goals.
Value
With Seismic, Sales and Customer Service teams can build consistency, accountability, and responsiveness into QBR processes, ultimately driving value across high-level enterprise objectives.
Automating the QBR process with LiveDocs technology produces immediate and dramatic time savings, delivering an instant return on investment through increased productivity. ROI continues to increase overtime as enterprises reap the value of QBRs, including revenue growth, client retention, and account expansion.
Get 100% of the results for 10% of the human effort, with Seismic for Quarterly Business Reviews.
Case Study
Before partnering with Seismic, the sales reps at Applied Systems were spending 8 hours per quarter building Quarterly Business Review presentations. Automating the QBR process with Seismic's LiveDocs technology enabled each sales rep to cut 8 hours of preparation time down to just 1 hour.
32 hours saved each year per rep