SEISMIC FOR TECHNOLOGY
High tech enablement. Accelerated sales.
Engage the right buyers at the right time across all channels. Adapt messaging quickly and easily when business needs change.
Over 2000 customers and millions of users
AI-guided selling
Turn engagement and performance data into meaningful AI-guided insights for sellers, making it easy for them to find, tailor, and deliver the right content.
Time-saving benefits
Consolidated platform
Manage sales-related tasks in one place, saving time and money.
Personalized content
Produce, relevant, interactive content with the push of a button.
Automated documents
Generate accurate proposals and account reviews in minutes instead of days.
We are fortunate to have integrated with Salesforce and Salesloft, which allows us to take leading indicators and figure out how our reps are moving from one stage to the next.
A smarter way to sell
Sales enablement
Increase productivity by surfacing contextual, AI-driven recommendations, insights, coaching, and communications to sellers.
Digital selling
Engage buyers across digital channels with interactive content. Queue up messaging to keep social selling on-brand.
Automation
Automate routine documents like proposals by pulling in live data from Salesforce or other data source, saving time.
Data-driven decisions
Understand how buyers are engaging with content across the buying cycle. Use insights to accelerate sales.
Seamless integrations
Seismic integrates with thousands of providers out of the box, fitting seamlessly within any tech stack. Leverage public APIs to extend Seismic and customize the platform to address unique business needs.
Tech leaders increase sales
By integrating Salesforce and Salesloft with Seismic, sellers became more effective.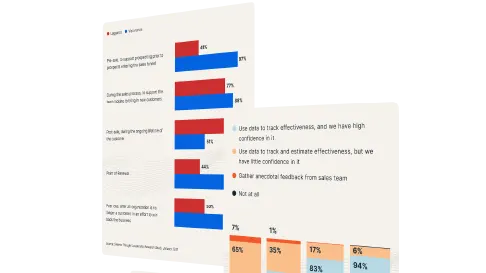 See why visionaries get superior business outcomes from sales enablement.