Discover What's Uniquely Seismic
Our unmatched approach brings our customers unmatched successes.
Superior Technology
Seismic is the only enablement solution built from the start with the enterprise in mind. There is no other platform that provides a solution for every enablement problem marketing and sales teams face while promoting extreme efficiency gains courtesy of advanced artificial intelligence integrated throughout the platform.
Unbeatable Support
An over 180-person customer success team is here to provide you with continuous and proactive support, including your dedicated four-person customer success team available 24/7. Assistance is always just a quick phone call away.
Innovative Vision
When it comes to sales enablement, Seismic is already paving the path for the future. With a monthly release cycle, we're constantly evolving our product, creating new industry standards and accelerating the growth of our clients' businesses.
See Success
The Seismic Customer Success Team has the experience to address complicated requirements, and provides both continuous and proactive support. Our support is backed by enterprise referenceable customers and boasts satisfaction rates that soar. Plus, the Seismic Community connects customers to each other to share knowledge and promote successes.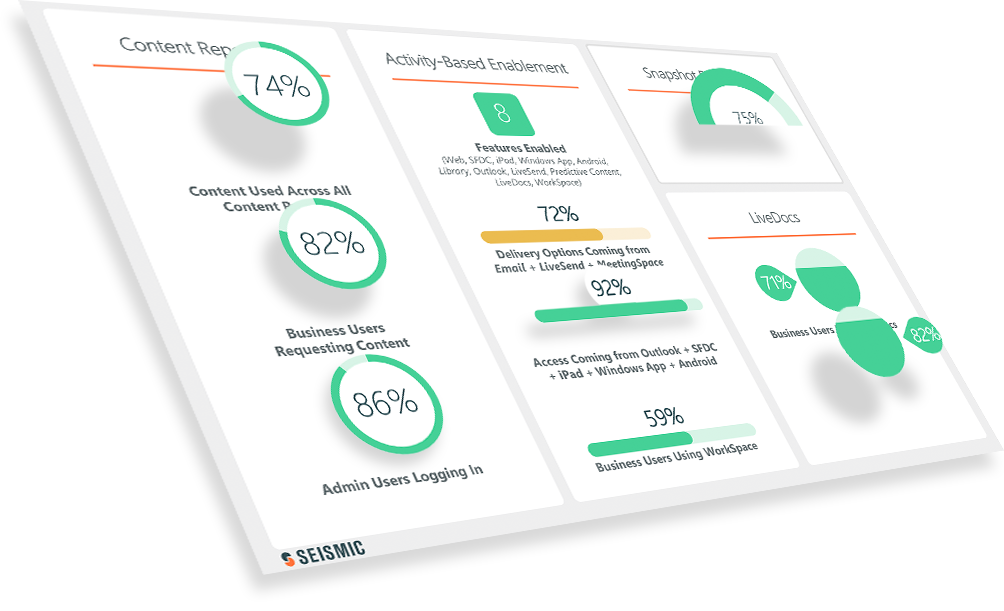 Accelerate Your Onboarding with the Seismic Velocity Program
Our team will have you off the ground within 30 days. We'll seamlessly onboard you, collaborate with you on a growth plan, solve current challenges, and start building a long-term success plan complete with measurable KPIs and monthly status report dashboards – ensuring you'll see an immediate impact.
Or take their word for it, instead.
Our customers speak louder than we can. Hear from them to see why we're trusted by over 600 customers around the globe to support their large sales and marketing teams. [Seismic is] always on the cutting edge, they're looking and being thought leaders in the space. I find they always come to the client and offer new solutions and features because they love to evolve their solutions around what the client really needs.
The phrase I hear over and over (and over!) from colleagues with whom Seismic helps is 'game changer'...it's so gratifying to see the products be so incredibly helpful for my colleagues.
Our decision was as much about platform functionality and Seismic's aspirational roadmap as it was the confidence we have from working with your team throughout the process. Seismic folks are a perfect example of how people can fuel unique differentiation.
Persistent Growth
Seismic maintains multiple years of double-digit growth, and as the 83rd fastest growing tech company in North America, continues to hold an industry-leading position as noted by major analyst firms such as Forrester, Gartner, and others.
Clear Product Roadmaps
We build our roadmaps in close collaboration with you and your teams to deliver on solutions that make your life easier, grow your business, and align with strategic initiatives.
High-Powered Teams
With the largest engineering and development team in the industry, we're always pushing out new products and enhancements. Our monthly major release schedule will ensure you're working with the technology you need to succeed.