Do you struggle to measure marketing's impact?
While a number of marketing and content management solutions claim to offer an all-in-one system, many fail to centralize data and lack critical features that enterprises need. Reporting on marketing's impact is not optional. To avoid budget cuts, demonstrating ROI is critical.
Time for an upgrade.
"It's helping us to streamline our processes and develop workflows that didn't ‪exist‪ before."
Understand marketing's impact
By seamlessly connecting with the rest of the technology stack and offering analytics powered by Domo, Percolate lets teams unlock valuable insights that transform marketing into a revenue generator.
Actionable marketing operational and performance insights.
Analyze performance, operational & spend analytics to determine strategy for upcoming marketing initiatives.
Percolate is equipped to address complex requirements, evolving enterprise needs including supporting a global footprint, platform security and reliability, consistent brand compliance and governance. Centralize work and collaborate in real-time to streamline processes and improve overall efficiency.
Drive executional excellence with collaborative reviews and approvals.
Flexible team hierarchy and extensible metadata model unlocks visibility based on custom attributes and team structures.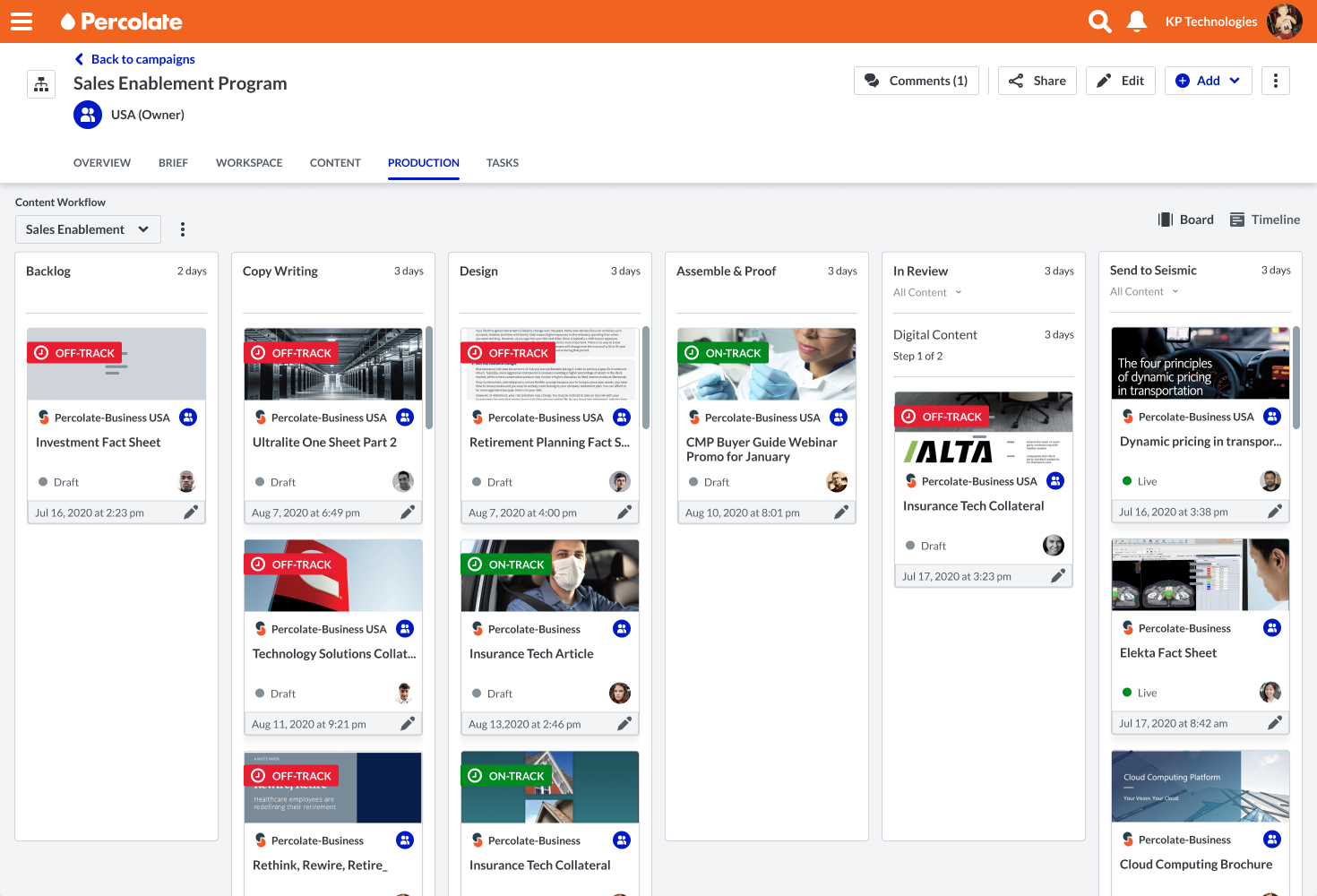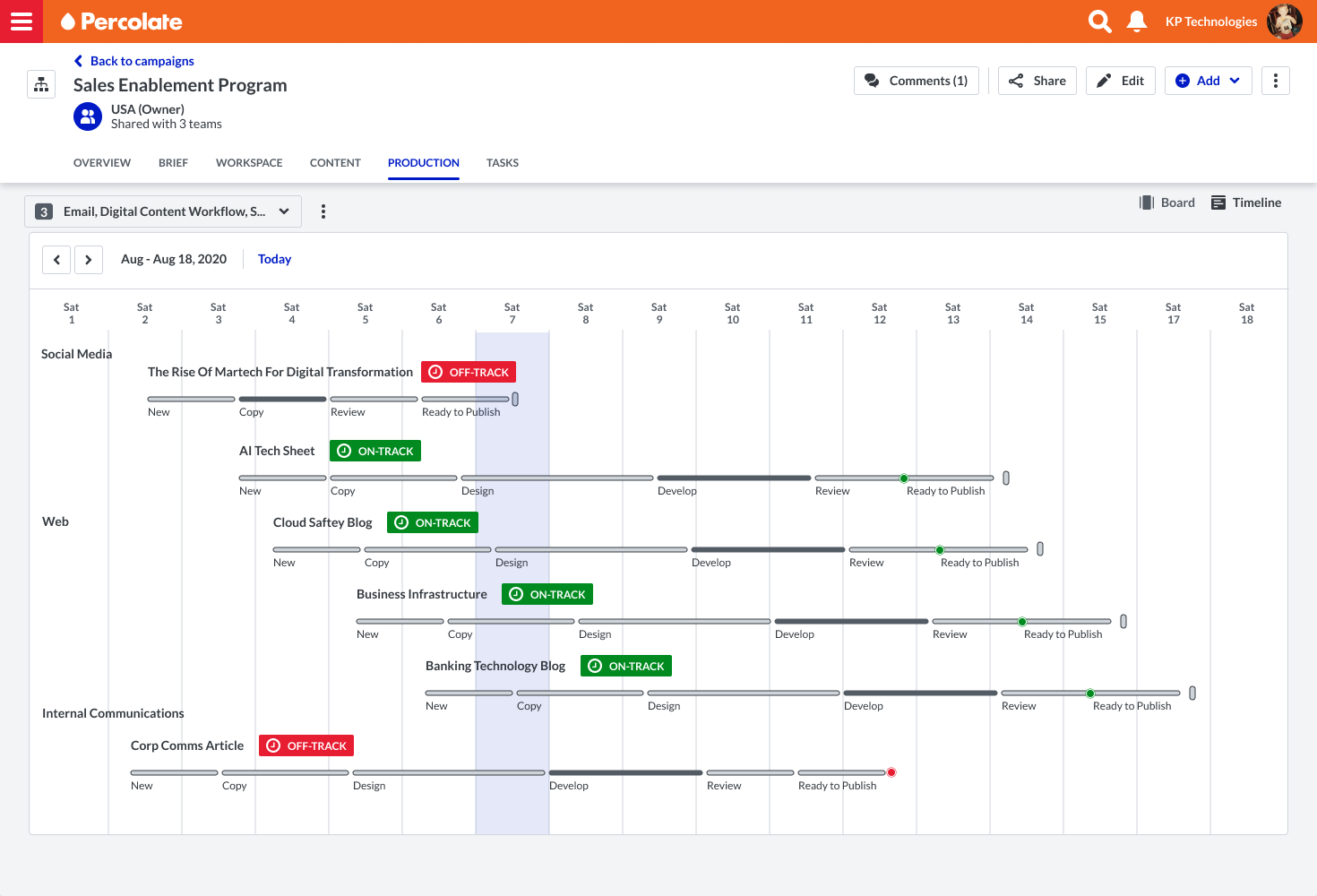 Unite business processes and optimize performance by sharing data across your enterprise resources. Integrate best-in-class tools seamlessly with the flexibility of an open developer platform to connect your marketing stack ecosystem. Future-proof your marketing efforts with a platform that can meet changing business and technology requirements.
GTM planning and execution with advanced workflows, collaboration and campaign planning.
More control for marketers to efficiently manage work and publish omnichannel content.
Collaborate across geographies and functions to deliver coordinated and efficient campaigns and content at scale. Gain visibility into an aspect of operations right down to digital assets and content—all in one place.
Percolate is purpose-built to enable global teams to deliver more orchestrated, effective, and intelligent marketing on a global scale.
Plan omni-channel campaigns in a single view to get the visibility and alignment across your business.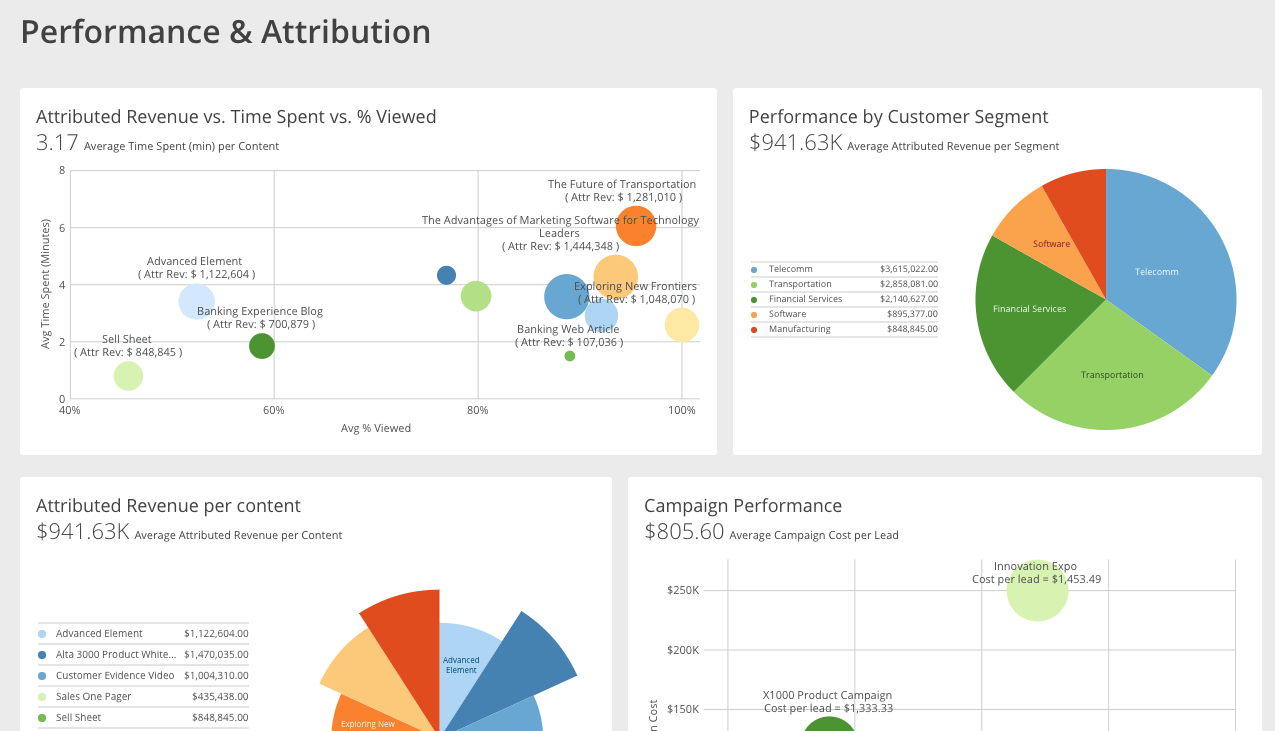 Percolate by Seismic bridges the gap between management of marketing content and sales enablement. Allowing the creation and management of content in Percolate and the ability to pass approved content to sellers within Seismic.
A deeply integrated, end-to-end solution that offers the best of Percolate and Seismic functionality.
Enable marketers to create value along the buyer journey with data-driven planning, production management, distribution, real-time insights.
See How Percolate empowers Marketers
The time to upgrade is now.