INTERACTIVE CONTENT
Accelerating Seller Success
How Training and Coaching Can Reverse the Great Resignation
Browse the Experience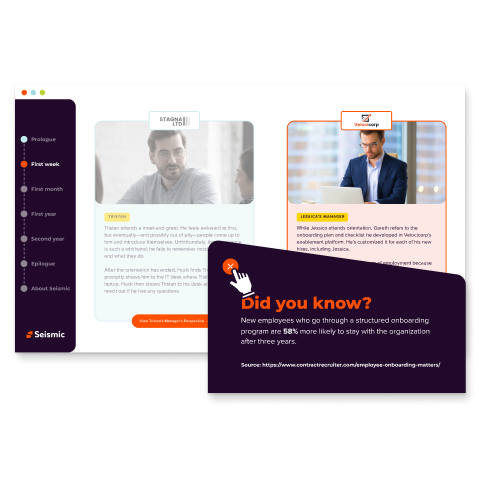 About this Experience
The onboarding process for many organizations is neither sustainable nor impactful. Too often the training is sporadic and un-engaging, while the coaching is canned and tepid — if it exists at all. Yet, training and coaching are crucial components to a successful enablement strategy.
To avoid churn, businesses must get enablement right. And to do so, they need the right technology.
This interactive story compares the experiences of two sellers and their managers at two different companies — one that has training and coaching features integrated into its enablement platform and one that doesn't.
What you'll learn
How two fictional sellers, Jessica and Tristan, experience work radically differently
Why establishing a long-term plan for enablement reduces turnover and drives revenue
How enablement can only go so far without intuitive, scalable technology