REPORT
Research in Action's 2022 Vendor Selection Matrix™
Seismic was named the top vendor for Sales Engagement Management for the third year in a row. Want to see why?
Download the Report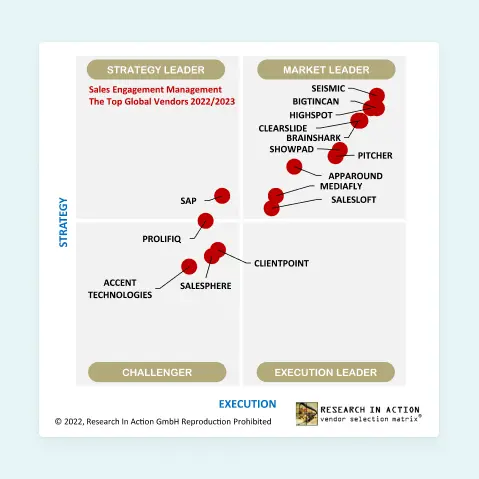 About this Report
Download your free copy of Research in Action's 2022 Vendor Selection Matrix™ to learn more about why Seismic was named the Market Leader, topping the list in both strategy and execution for Sales Engagement Management.
Independent analyst firm, Research in Action, researched the top global vendors of Sales Engagement solutions by interviewing more than 1,500 marketing and business managers worldwide. Seismic received the maximum score for breadth and depth of the Seismic Enablement Cloud™, as well as very high scores for its vision, go-to-market capabilities, and recommendation index.
The full report includes:
An overview of Sales Engagement Management and the maturity curve of go-to-market organizations
Background on the decision making process when organizations consider Sales Engagement Management solutions
A deep dive into the capabilities of the 15 most significant vendors in this space