REPORT
The Aragon Research Globe™ for Sales Enablement Platforms, 2023
There's no longer debate that a sales team must have a sales enablement platform.
Read the Report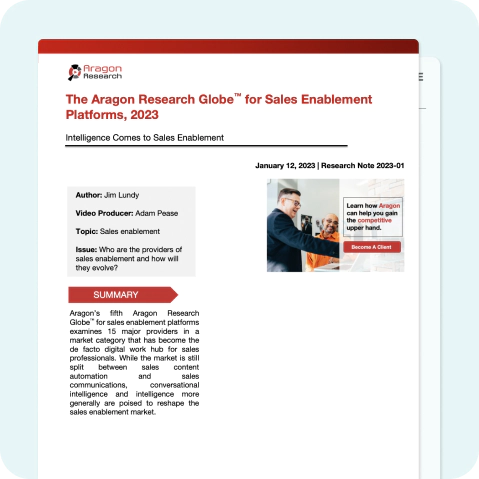 About this report
Aragon Research released its Globe for Sales Enablement Platforms, 2023, and named Seismic a leader.
According to Jim Lundy, Founder and CEO of Aragon Research, "Seismic has continued its strong growth and offers a full sales enablement platform that includes sales content management, sales coaching and learning, and intelligence."
Download the report for an inside look into Aragon's analysis of the 15 top sales enablement vendors across strategy, performance, and reach.
What you'll learn
How the sales enablement market is evolving to feature new capabilities
Why sales enablement is a vital part of any modern sales tech stack
How Seismic differentiates from its sales enablement competitors