If you've recently visited seismic.com, you probably noticed that the site looks a little different. We're not just updating our product and brand – we're reimagining the future of enablement and charting the course for Seismic's next phase of growth.
We've been working hard behind the scenes to make this happen, and I'm excited to share another update – this time to Seismic's mission, vision, and values.
In the time since we founded Seismic, we've always had a great people and powerful company culture. Our employees are passionate about their work, and the way we treat each other and our customers has driven our company's success and growth. Without our people and the culture they created, we wouldn't be the company we are today.
It's worked pretty darn well so far… so why did we decide to update our mission, vision, and values? Several factors went into the decision. First, as we continue to grow – in headcount and geography – we want to be intentional about creating alignment among our people and cultivating culture across the globe. Second, there is an undeniable and irreversible trend toward a flexible workplace. The old ways, heavily dependent on face-to-face interactions, have evolved. We need to be more proactive, thoughtful, and deliberate in how we engage our people no matter where they work.
Lastly, in the past year, I had the unique opportunity to experience how impactful mission, vision, and values can be on culture through the acquisition of Lessonly. Max Yoder, Conner Burt, and the team made this more than "words on the wall" and, instead, how their business operated. It really drove how the entire Lessonly team made decisions, recruited, and worked – so powerful.
With that background, I am excited to share Seismic's mission, vision, and values.
Mission: We ignite growth.
Our mission is our reason for being and it encapsulates what we're trying to accomplish as a company. A lot of thought, debate, and consideration went into selecting these three words. We ultimately selected we because our mission isn't just one person or a faceless organization — it's all of us together. Ignite is a dynamic word that has a cause and effect. And growth spans personal and professional; individual, team, and business; as well as revenue.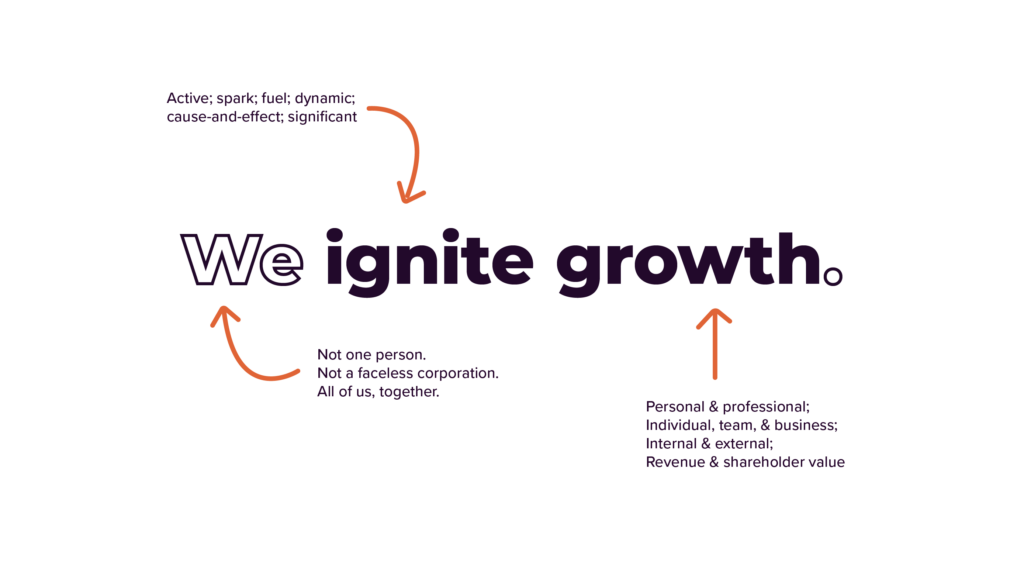 Vision: We empower teams to grow and win.
Our vision is a clear, specific picture of what we want to accomplish as we strive toward our mission. We chose the word empower because we hope to give agency, power, and capability to every person our product touches. And we don't just want individuals to grow – we also want to ensure that teams improve and perform together. And finally, we want to prioritize winning. To win is to find shared success and camaraderie, as well as deepen our trusted partnerships with our customers and their customers.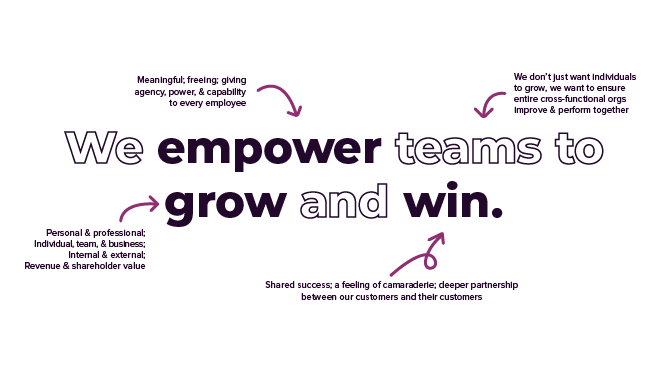 Values: We ignite growth by empowering teams to grow and win.
Our values emerge from our mission and vision, as well as the behaviors we already saw within our organization and knew we wanted to prioritize in order to help us become even better. They define what we stand for and how we act as a company, both internally and with our customers. Each of our values builds upon one another and tells the story of who we are:
We are inclusive
We are vulnerable
We seek to understand
We strive for excellence
We champion the customer
We celebrate success
When these values come together, we ignite growth in ourselves, our customers, and the enablement industry.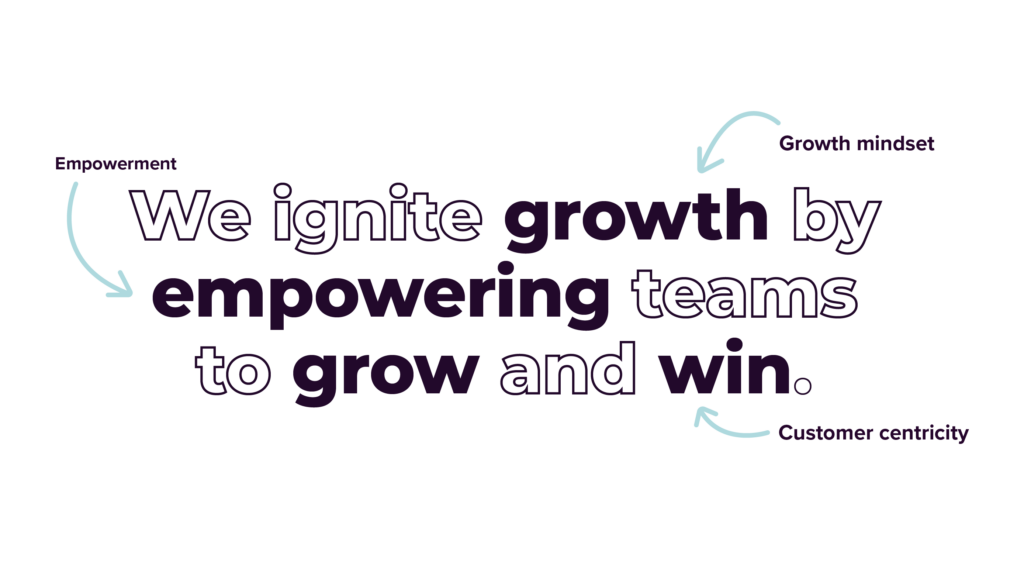 What this all means
When we launched Seismic, the industry was trying to understand what enablement was. Customers felt the pain of too many pitch decks, lagging rep productivity, or off-brand messaging but they struggled to solve it with disparate tools and teams. Our first years were spent largely on education.
Wow, has that changed! Today's most successful companies have elevated enablement to a strategic priority with an equal seat at the go-to-market table. Sales enablement programs have grown 343% over the past five years and CEOs routinely cite enablement as a key factor in the success (or failure) of hitting growth targets.
We are proud of the role that we played in driving that change!
Enablement helps organizations ignite growth and it is my hope that by sharing our mission, vision, and values we will give our customers a glimpse into how we'll work with them, how we will champion their needs, and ask the hard questions that help them to achieve excellence.
I couldn't be more excited about the future of Seismic and the enablement industry. Thank you for joining us on this journey!