Whether you're a CMO, CRO, or boots-on-the-ground storyteller, you've seen it before: the gaping hole at the bottom of the marketing funnel.
Too often, for large global enterprises and small businesses alike, the bottom of the funnel is a black hole: a mysterious place where the science of marketing meets the art of sales to produce deals—and nobody quite knows how.
Enter Seismic's Content Analytics: a suite of data, dashboards, and integrations that offers a 360-degree view of content performance from creation to close that powers revenue teams to accelerate deals and business growth.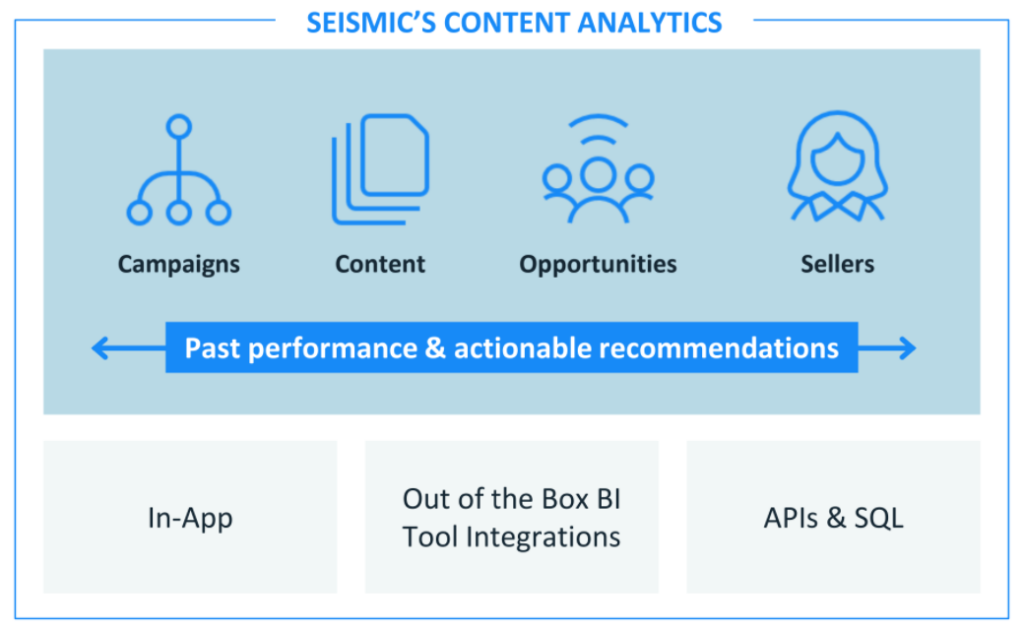 With our Fall '20 Release, Seismic's analytics for marketing, enablement, and sales teams are better than ever—and unlock even more potential for enterprises to uplevel efficiency and effectiveness, streamline go-to-market strategies, and jumpstart revenue.
Let's take a look at Seismic's Content Analytics and what they can do for your business.
Make data-backed decisions that drive your team forward—data science degree not required
If the words "BI Tool Integrations" or "APIs & SQL" in the graphic above left you worried, don't be! You don't need a data science degree to use Content Analytics to uplevel your team's impact. For teams looking for focused insights into metrics they can take action on right away, our new Role-based Dashboards offer just the right balance of context and curation they need to make an impact—fast.
Say you're a sales manager with a dozen young, fast-moving reps to juggle, ever-increasing quotas to hit, and an ever-shifting market to capture. As your sellers fight harder than ever for every demo and deal, you can't simply let them craft pitches using hearsay and tribal knowledge. But you also don't have time to wade through Salesforce, parse spreadsheets of data, or draft a list of everything the marketing team is doing.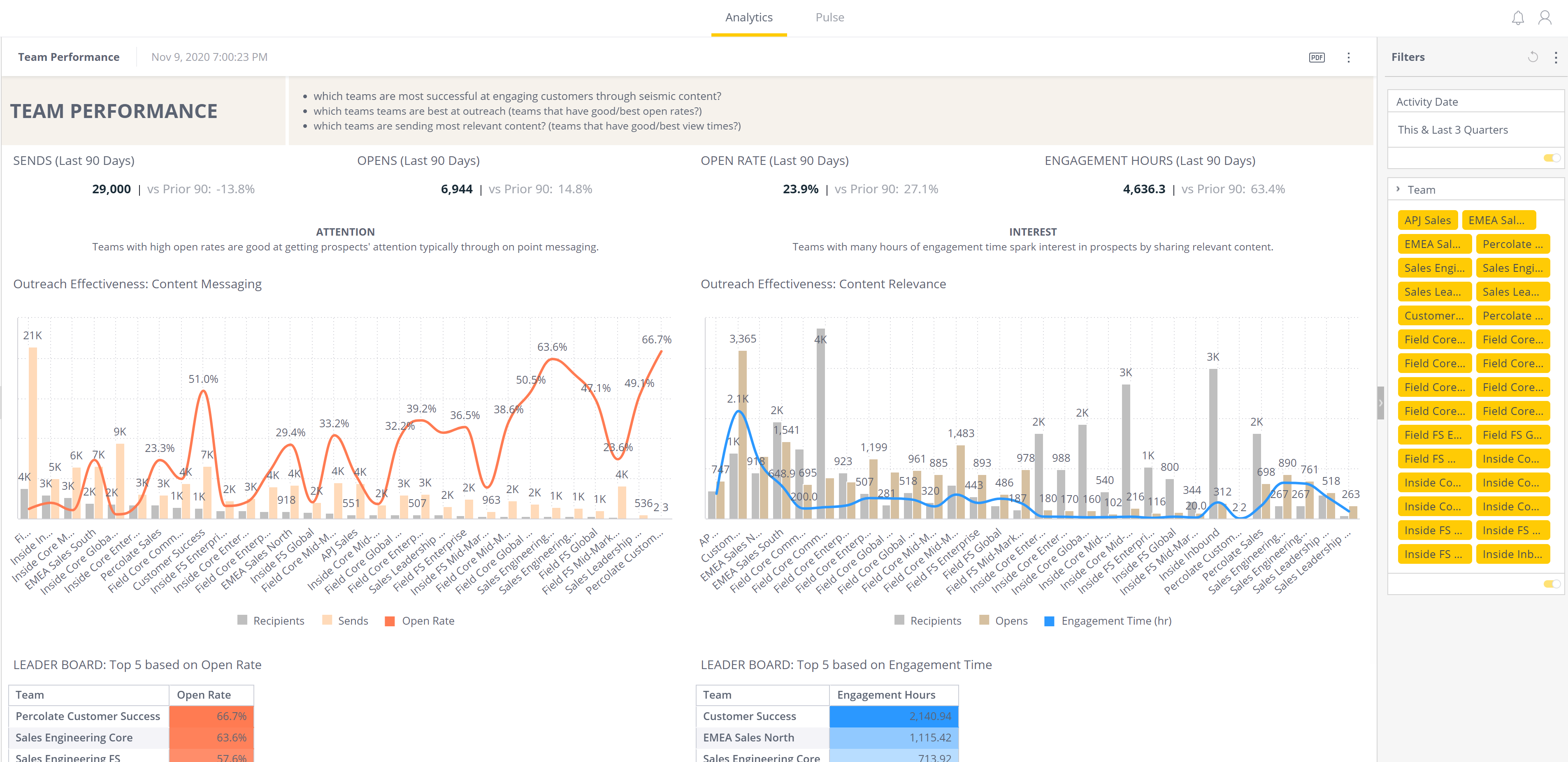 That's where our new Role-based Dashboards come in. From sales managers to content owners, CROs to CMOs to enablement leaders, Seismic's Content Analytics now includes actionable, curated, out-of-the-box reports, and visualizations tailored to the distinct challenges of specific roles.1 No superfluous metrics to distract you or slow you down; just the relevant reports and visualizations you need to understand what's happening and take informed action, leverage your discipline's best practices, and create your own custom reports to go deeper. Whatever the business challenge or your comfort with data analysis, Role-based Dashboards are your ticket to fast-tracking learnings and improvement for yourself and your team.
Explore your data, your way
Love your new Role-based Dashboard, but want more flexibility? If you're working cross-functionally to solve tough business problems, sometimes you need incredibly specific data or filters to get the answers your stakeholders are looking for. That's why we released new LiveInsights Flexible Dashboards this summer to make the Content Analytics dashboards and data as flexible and portable as possible. To get started with custom dashboards, just duplicate and adjust our out-of-the-box managed dashboards so they answer your organization's specific questions. And, using KPI filters and widgets, you can drill down to the granular view you need to answer detailed follow-up questions.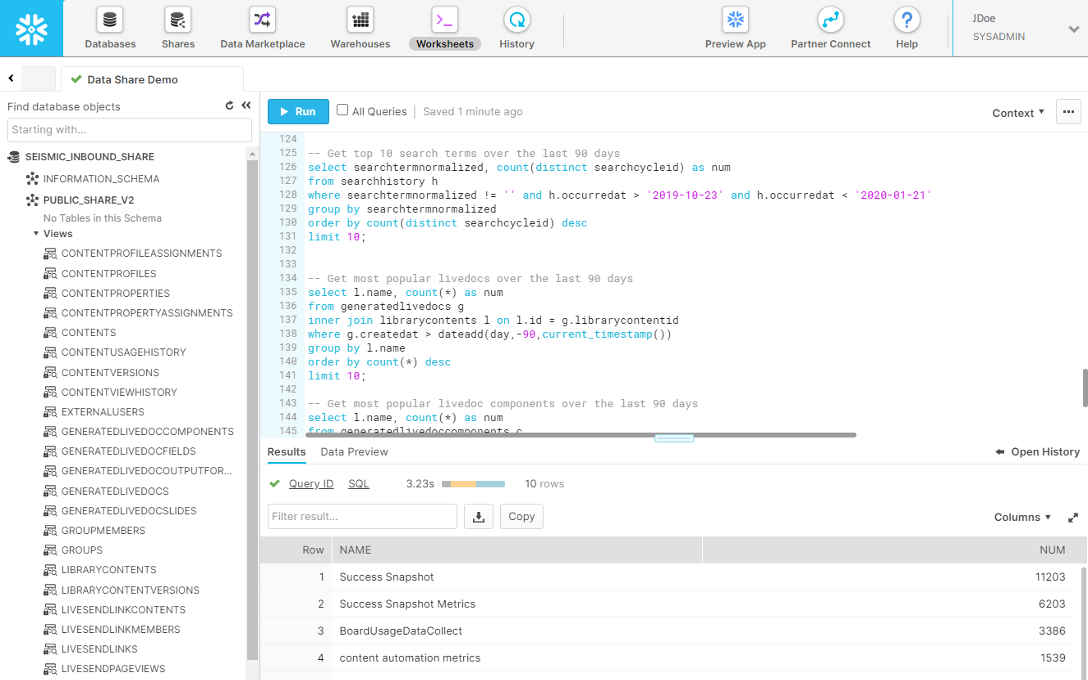 But don't stop there. Connect Seismic with your team's other business intelligence tools via our Snowflake integration, or a custom integration and our reporting APIs. By merging your bottom-of-the-funnel data with other cross-functional data sets such as CRM, HR, and customer success, your go-to-market team will have a holistic, yet singular, source of truth to answer its most challenging business questions. Armed with shared answers, you'll be equipped to build executive alignment, boost confidence in the teams' ability to hit numbers, and scale best practices that truly move the needle.
Discover new, comprehensive insights into the entire buyer journey
Staying focused on needle-moving best practices can be especially challenging and critical for Marketing. Especially when business resources are increasingly tight, CMOs need to quantify every cent spent, but their teams just can't find a way to connect those dollars spent to deals won. Proof of their team's impact on revenue becomes the Holy Grail—the key to justifying headcount and budget. That's why Seismic's Content Analytics provides the rich workflow and content performance insights marketers need to make data-driven decisions about where and how to spend time and resources.
Say your marketing team is orchestrating a new campaign around a unified theme. Percolate by Seismic Analytics' interactive dashboards offer insights into which campaigns and asset types take up Marketing's time; and now with our Fall Release, they also show performance metrics for content published from Percolate to any and all channels—including Seismic, thanks to our new pre-configured dashboard. Now, without leaving the platform, marketers can see how sales is leveraging the assets they've created, helping marketers stay efficient, maximize their effectiveness, and spend their time on assets that actually get used.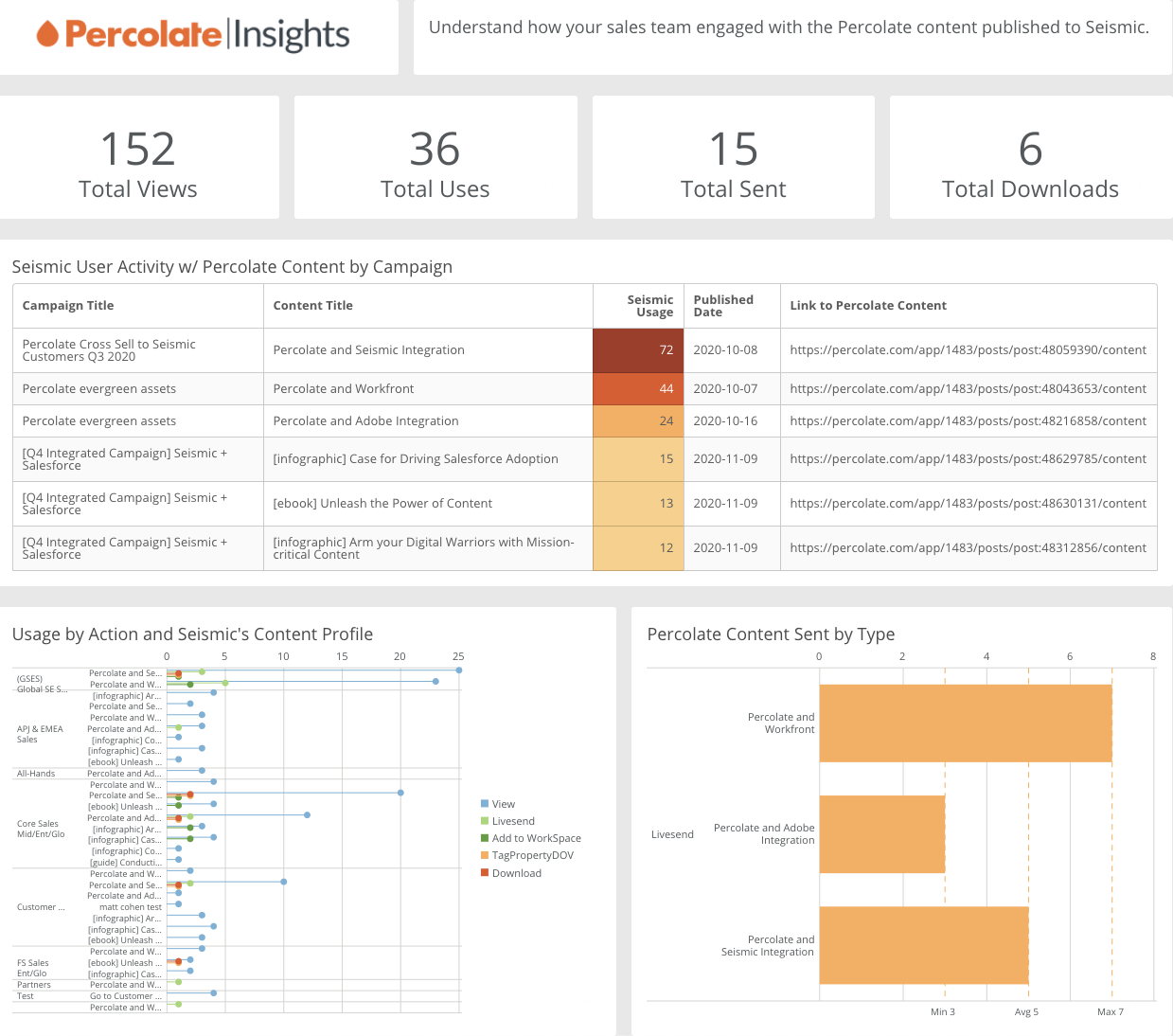 Start here, go everywhere
Here at Seismic, we're passionate about using our own software; and one of the reasons we're excited about Content Analytics is that anyone can start using these tools to drive change for their teams right away. Packed with all these features and more, Seismic's Content Analytics starts by shedding light on content performance from creation to close, but it doesn't stop there. As more and more individuals are empowered with comprehensive, flexible, actionable insights they can actually use, and as enablement teams mature, we're excited to see more and more opportunities open up to build alignment and scale best practices—both for ourselves and our clients.
We'd love for you to join us on this data-powered journey. If you're a customer and would like some help getting started with our new Content Analytics upgrades, reach out to your Customer Success Manager. If you're evaluating Seismic, learn more about Content Analytics and request a demo on our webpage.
1Chief Revenue Officer and Content Owner Role-based Dashboards are available now; Chief Marketing Officer, Sales Manager, and Platform Administrator dashboards are coming soon.