Seismic is committed to helping our customers achieve better outcomes through smarter enablement. In our Fall 2021 release, we've announced several new capabilities that make it easier for sellers to deliver engaging digital experiences to their customers and prospects throughout their buyer journeys.
Sales has always been hard, but over the past eighteen months, it's become even harder. Prospects increasingly rely on digital channels for information gathering, often from multiple sources. Sellers are interacting with customers almost exclusively via digital channels and it's more important than ever to create meaningful interactions that add value to customers.
The modern buyer seeks information from a variety of sources. They engage across a variety of channels, including social media, email, phone, and even text. They browse websites, analyst reports, and review sites to research companies and their products, all before they ever interact with a salesperson. Today, buyers are nearly 50-60% through the buyer's journey before they engage with a sales team.
Sellers need to engage effectively with customers across a variety of channels. Rather than acting as sellers, buyers need sales reps to act as trusted guides who work to understand their unique needs and add value at every touchpoint. That means understanding how and when to engage buyers with content experiences that result in deals won.
Let's get down to the details!
A single location for digital-first engagement
With fewer in-person interactions, sellers need a place to keep in touch with buyers. If a buyer first engages with content on LinkedIn, sellers need to keep them engaged beyond the first touchpoint.
Digital sales rooms provide sellers an environment to recreate the face-to-face experience in a digital channel. For example, after a first call where a prospect expressed interest in learning more about a specific product or service, digital sales rooms give sellers an environment to share additional content and continue the conversation.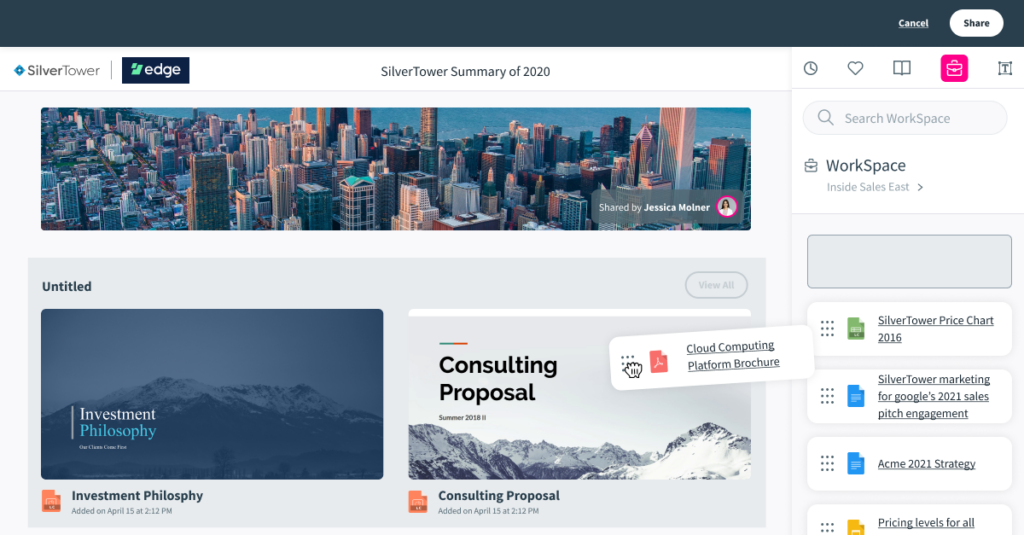 Two-way communication and collaboration features ensure that sellers and prospects remain engaged throughout the buying process. Content analytics give sellers insight into the content that buyers interact with and enable more informed conversations.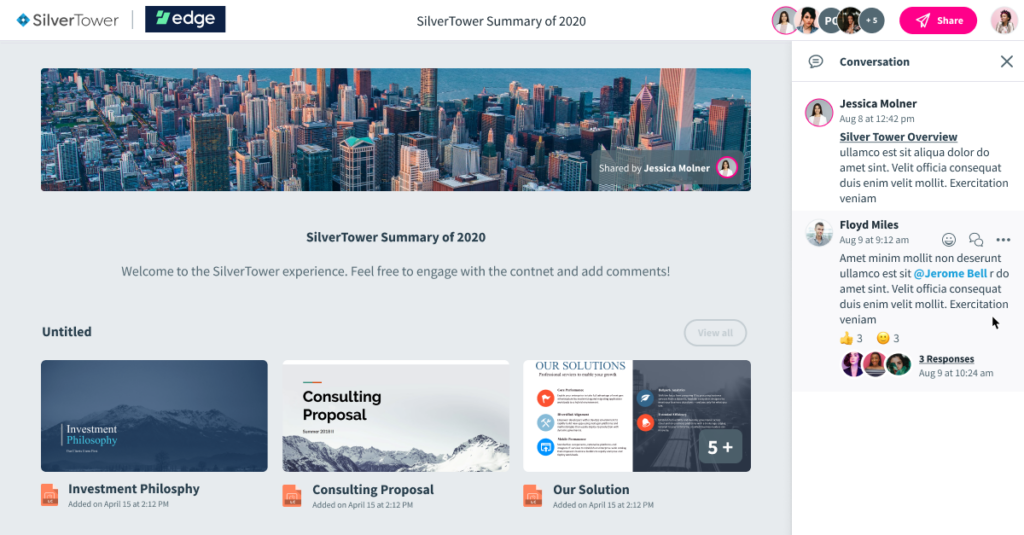 When multiple members of the buying team need role-specific content, sellers can tag content based on specific personas or collaborators to ensure that everyone has access to the content they need to make a purchasing decision.
Delivering differentiated experiences
In addition to digital sales rooms, the Fall 2021 Release includes new capabilities that enable differentiated experiences. Aura, Seismic's AI engine powers the engagement tools that sellers use and ensures that the right content reaches the right buyer, in the right channel.
The following capabilities ensure that sellers have the tools they need to engage buyers on their terms:
SMS – a new 1:1 solution that enables sellers to communicate directly with buyers who prefer to chat by text.
Email blasts – Engage buyers by email through dynamic, customizable email templates that enable contact and personalization at scale.
LiveSocial – Enable sellers with third-party content to build authenticity and engage buyers throughout every stage of the buying journey.
Ensuring that every seller is empowered to use all of the above capabilities just got a lot easier. With Lessonly by Seismic, your enablement team can ensure that sellers have the sales training and coaching they need to make the most out of every buyer engagement.
Seismic integration with HubSpot Sales Hub
Seismic now also integrates with HubSpot Sales Hub. The integration surfaces smart content recommendations and targeted playbooks, using data from HubSpot and Seismic to personalize interactions with customers. Seismic is one of the only sales enablement platforms with an out-of-the-box integration for HubSpot CRM.
Request a Demo
Seismic enables sellers to create memorable and meaningful engagements with their buyers, across all interactions in every channel.
If you'd like to learn more about the new capabilities included in our Fall 2021 Release, please reach out to your account executive or request a demo. You can also visit our Buyer Engagement content hub to see how buyers are rewriting the rules of engagement.