Have you ever thought about how crazy it is that we deliver on-demand training to adult learners in very much the same way as elementary students? Think about it: materials are prepared and delivered to learners who sit back and soak in information.
But you won't believe this…adults and kiddos are biologically and experientially VERY different! In fact…
Adult brains are fully developed by our mid-20s, giving us greater ability to predict outcomes, devise more comprehensive plans, and make better decisions.
Adults and children use different parts of their brains to complete tasks.
Adults have more life experience to pull from than kids.
So, how should we approach adult learners, and how should the adult learning experience factor into the equation?
The adult learning approach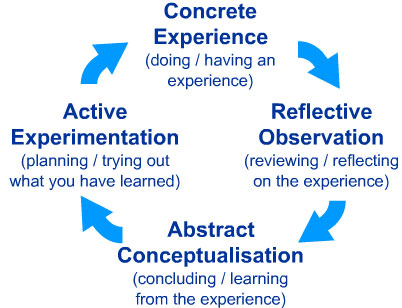 The Experiential Learning Theory states that the essence of adult learning is making sense of experiences. This means that adults learn best when they learn by doing. They understand and retain the most when they are directly involved with, and experiencing, learning instead of memorizing numbers and definitions from books.
In the past few years, online learning has drastically evolved and changed the face of modern education. And, did you know that online learning is actually way cheaper, more effective, and requires less time commitment than traditional education? That explains why more and more organizations are choosing online classroom platforms for training and enablement.
What is online training?
Online training allows employees to learn at their own pace and at a time that's convenient for them. The best online training platform is good for self-directed training and refresher training. Traditionally, training has been conducted through classroom sessions where employees come together in one location for training that's led by an instructor. The problem with this model is it restricts training to a few hours and requires employees to be made free during this time.
Online learning platforms for business, also known as e-learning software or computer-based training software, enables organizations to train and share knowledge with their teams online. Online training software makes it easy to build, deliver, and track training efforts through one easy-to-use online platform.
How to find the best online training platform
First things first: make a plan. In fact, an organized plan is crucial when it comes to training employees. And, one of the biggest mistakes managers make is training reactively instead of proactively. The best online learning platforms make it easy to build and develop a proactive training plan so that employees level up their performance in less time than ever before.
Second things second: make a schedule. It's easy for training plans to fall by the wayside in business. But, when it comes to learning and training, timing is crucial in setting team members—particularly new hires—up for success. Calendar alerts and events ensure team members learn at the desired rate and stay on top of key lessons and assignments, helping them succeed in their day-to-day and long-term responsibilities.
Oh, and make sure you have the ability to measure employee learning. We believe that in order to make true progress, the most successful teams are those that are constantly assessing where they are, where they're going, and tracking key metrics along the way.
So, all in all, here are some of the benefits you can expect training adult learners with different online training platforms and the best online courses:
Increase your profit and growth
Good reputation for your company
Reduced employee turnover rate
Develop skilled workers
Opportunity for career advancement
Help with self-development
Enhance and develop better productivity
Want to see what our online training software is all about? Our one-of-a-kind training software is designed to help you produce elegant, clean lessons that are automatically optimized for mobile. Jump into a free lesson and experience it for yourself.