It's a big day for Seismic. We launched the Seismic Enablement Cloud™, announced our new mission of igniting growth, and, voila, rolled out a new direction for the Seismic brand. We'd love to introduce you to our new look and feel — so buckle in for a quick journey to the epicenter of our new brand identity.
Rebrand for a reason
Marketers love a rebrand, but this new look isn't just for show. We're rolling out an exciting, new brand identity because Seismic is in an exciting, new season. Over the past decade, we pioneered the category of enablement software, launched a wave of new products, completed multiple acquisitions, served thousands of companies, and expanded across the globe — all with the same trusty logo. Thanks to the partnership of our amazing customers, we're lucky to be an industry-leading company on a tremendous growth path. Now with the launch of the world's first enablement cloud and our new company mission, it's time for a brand identity and story that reflects all that energy and possibility.

Our executive and marketing teams landed on three simple words that we want to be true about the next iteration of Seismic's brand:
Dynamic in that our customers and employees are vibrant, moving, growing, and thriving. Approachable in that we're humans helping humans, not a faceless corporation. Confident in that we lead our category and work with thousands of amazing customers and partners.
Six months of hard work later, these guiding principles have led us to the brand we launch today. Without further ado…
Meet the Seismic Stack
Our new logomark is affectionately dubbed the Seismic Stack. The shapes — referencing a screen, a presentation, or a slide — honor our history in content management. They come together dynamically like tectonic plates, and the two trapezoids hold an "S" in the negative space. The overall shape has an upward, growing angle that you'll see mirrored across the entire visual identity. The wordmark was based on Azo Sans and, like the rest of the logo, was thoughtfully crafted by our friends at barrettSF. We're ecstatic about the simplicity and energy that this logo will bring to our global brand.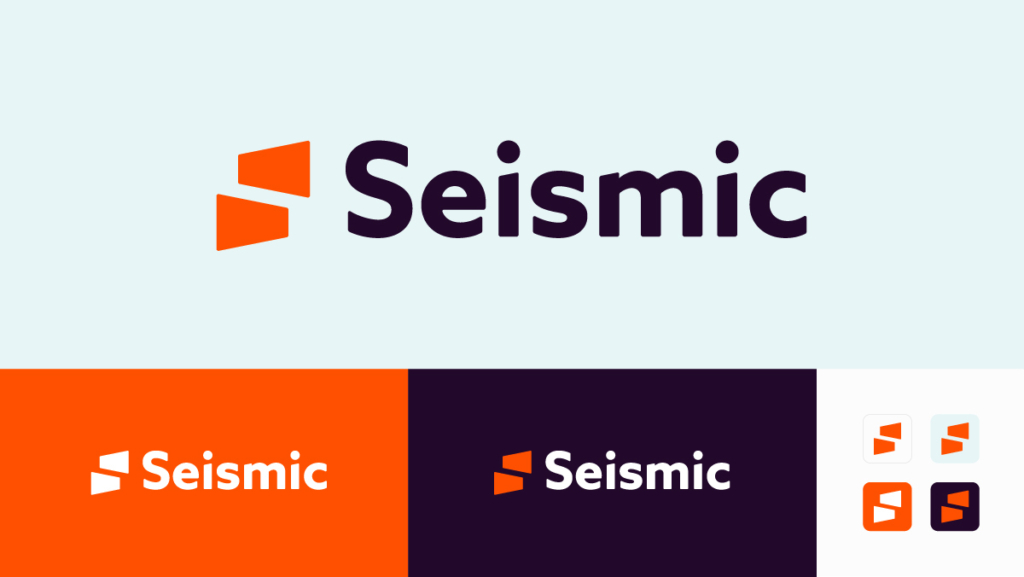 Brighter days ahead
All that orange in our closets isn't going away. We brightened the Seismic orange to our new primary color Dawn, and partnered it with a rich purple (Dusk) and a soft blue (Cloud). But the secondary and tertiary colors are where the fun comes out to play. It's out with the fifty shades of beige that have served us well, and in with four bright new colors that show up across the brand to bring energy and playfulness.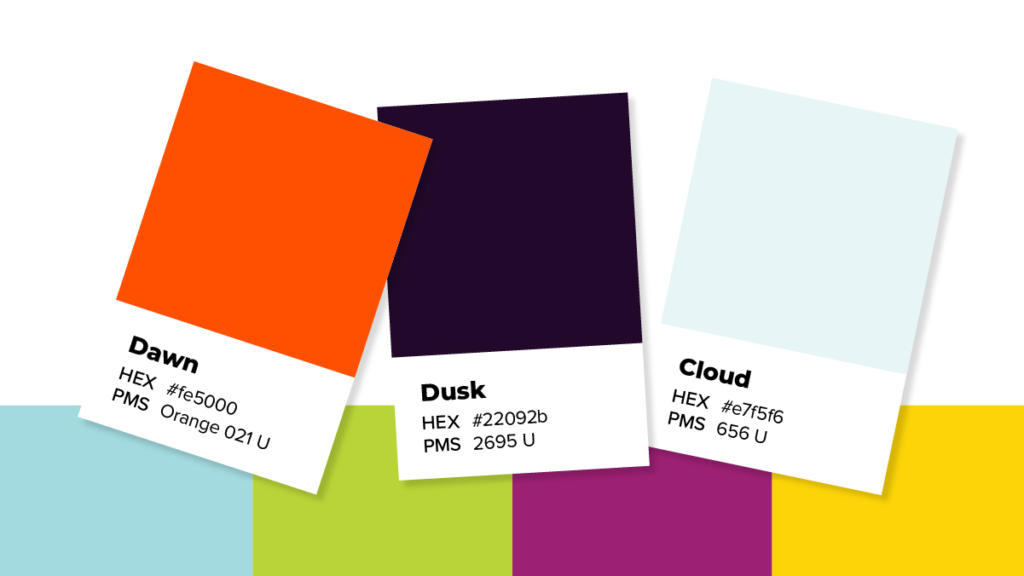 Wave hello to real people
One complaint we heard from customers and employees alike was that we used too much stock photography. So we said goodbye to it. 99% of the photography across the brand is our own, thoughtfully shot by our Design Manager, Jessica Sturgeon. Now you might spot your favorite Seismic employee on the site or in a microapp. We're real people selling to real people, so look for our real faces across the brand.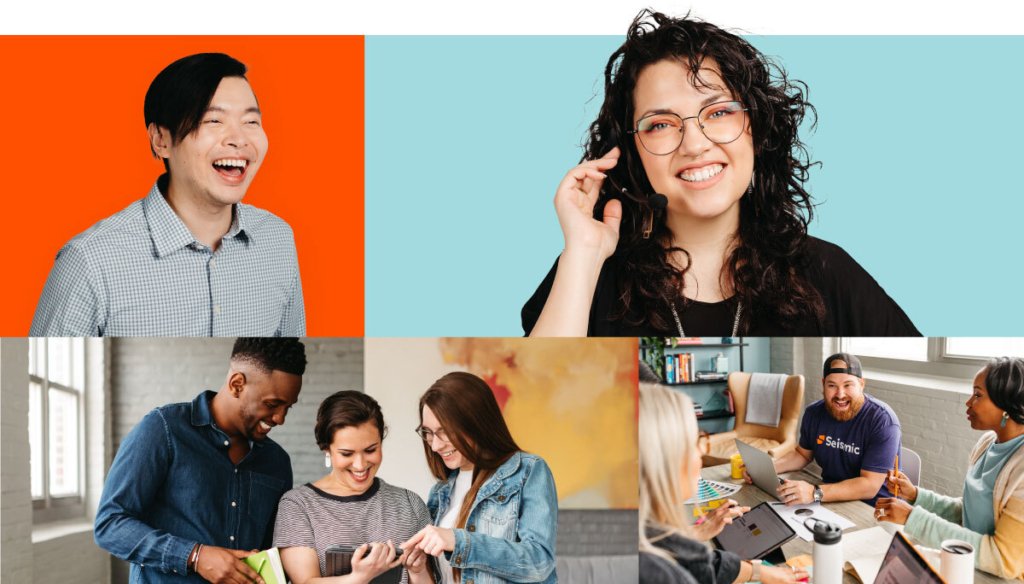 Clear is kind
Brand isn't just about visual identity. We wanted our voice and tone to be dynamic, confident, and approachable, too. We want to write simply and clearly, without relying too much on tech jargon. That led us to a new voice and tone, summarized in four key principles:
Write to an inexperienced you.
Be the guide, not the hero.
Keep it tight and be bright.
Channel moxie, not macho.
You can dive into these principles more in our brand guidelines. But as you read what we write across all our marketing, we hope it feels like the same Seismic hundreds of enterprises trust, but also a little bit more like talking to a friend.
Welcome to the Aftershock
Rebranding is great…but the people want SWAG! So we decided to shake things up with our own e-commerce brand. Meet Aftershock. This online store is available to anyone — from employees to customers to earthquake enthusiasts. In addition to a rotating seasonal lineup, you'll find plenty of everyday Seismic swag and more than a few shocking puns along the way. Keep an eye open for future creative collabs, too.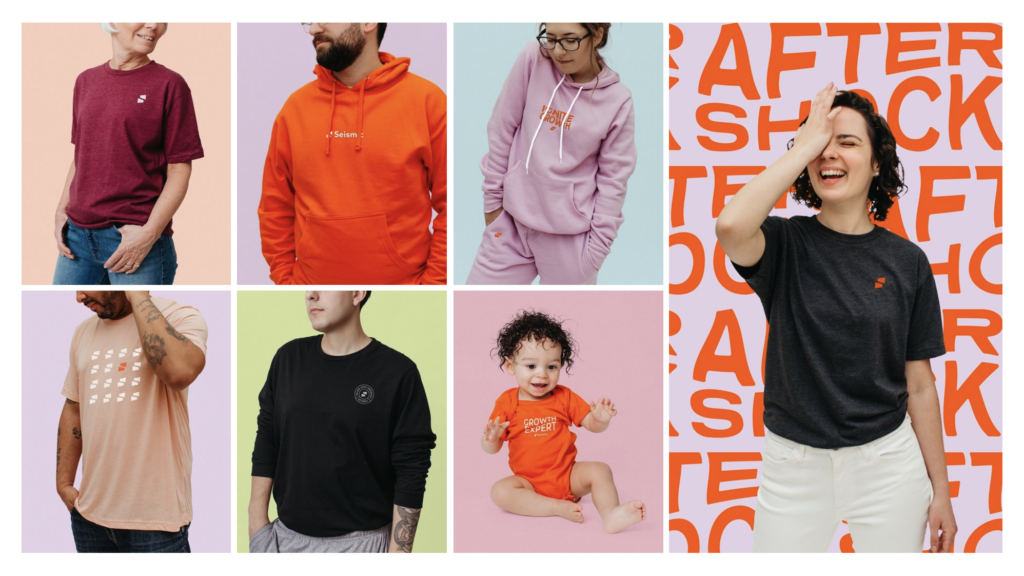 We celebrate success
Many people shared their time and talents to bring this brand refresh to life. One of our new company values is "We celebrate success," so allow me a few lines to live that out and celebrate a few members of the Seismic community who contributed to this project:

The customers who gave hours and hours of helpful feedback
Doug Winter and the Seismic executive team for their time, insight, and trust
Kyle Lacy, SVP of Marketing, who was the champion and visionary for the new brand
Our agency partners at barrettSF who supported us throughout the journey
The Brand and Web & Content teams who brought the new identity to life in so many creative ways
And last but not least, Bridget Conrad and Helen Gardner, who guided this project from start to finish. There are few better brand marketers in the business.
Brand is how you feel
We hope you're as excited about the new look for Seismic as we are; that it's true to where Seismic has been and aspirational about where we're going next. But new logos and colors and tone don't make a brand.
A brand is how we live out our values.
A brand is how we partner with our customers.
A brand is how we enable revenue growth for their companies.
A brand is how our employees talk about our culture.
A brand is every little interaction with Seismic.
A brand is how you feel.
We're grateful for all those teammates, customers, partners, and community members who have made Seismic feel so special over the last ten years. We can't wait to see what excitement and feeling the next decade will bring.
P.S. How do you feel? If you have thoughts, feedback, or questions about our brand, the new identity, the Seismic Enablement Cloud, or what we should work on next — we'd love to hear from you. Drop us a note at design@seismic.com.