As enablement has grown, it has gone from being a nice-to-have to a must-have. Today, many organizations consider enablement a strategic priority. And as enablement continues to prove its impact on business outcomes, enablement teams are tasked with becoming more agile and more strategic. They need to be able to ask the right questions, pivot in the moment, and respond to changes in the market.
However, as enablement teams are tasked with becoming more strategic, 65% of enablement leaders don't feel their tech stack is well integrated. And when tasks, workflows, and data live in different tools, it's challenging for enablement teams to connect the dots and determine the best path forward.
Seismic Enablement Planner is purpose-built to resolve just that. It's designed to help enablement teams define their strategies, plan initiatives, and iterate based on real revenue and efficiency insights. In this post, we'll share the in's and out's of Enablement Planner and how your enablement team can use it to optimize processes and move deals faster.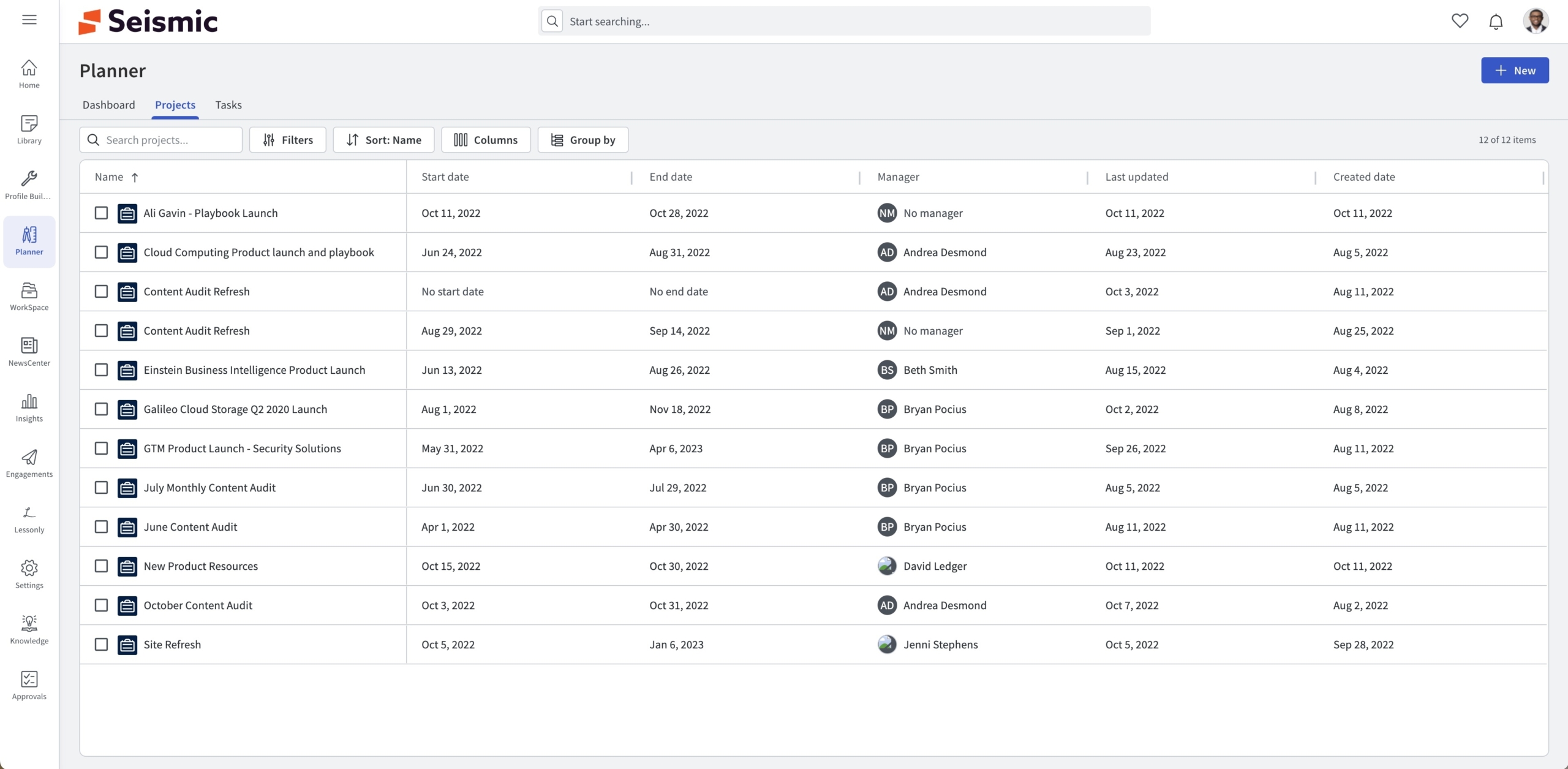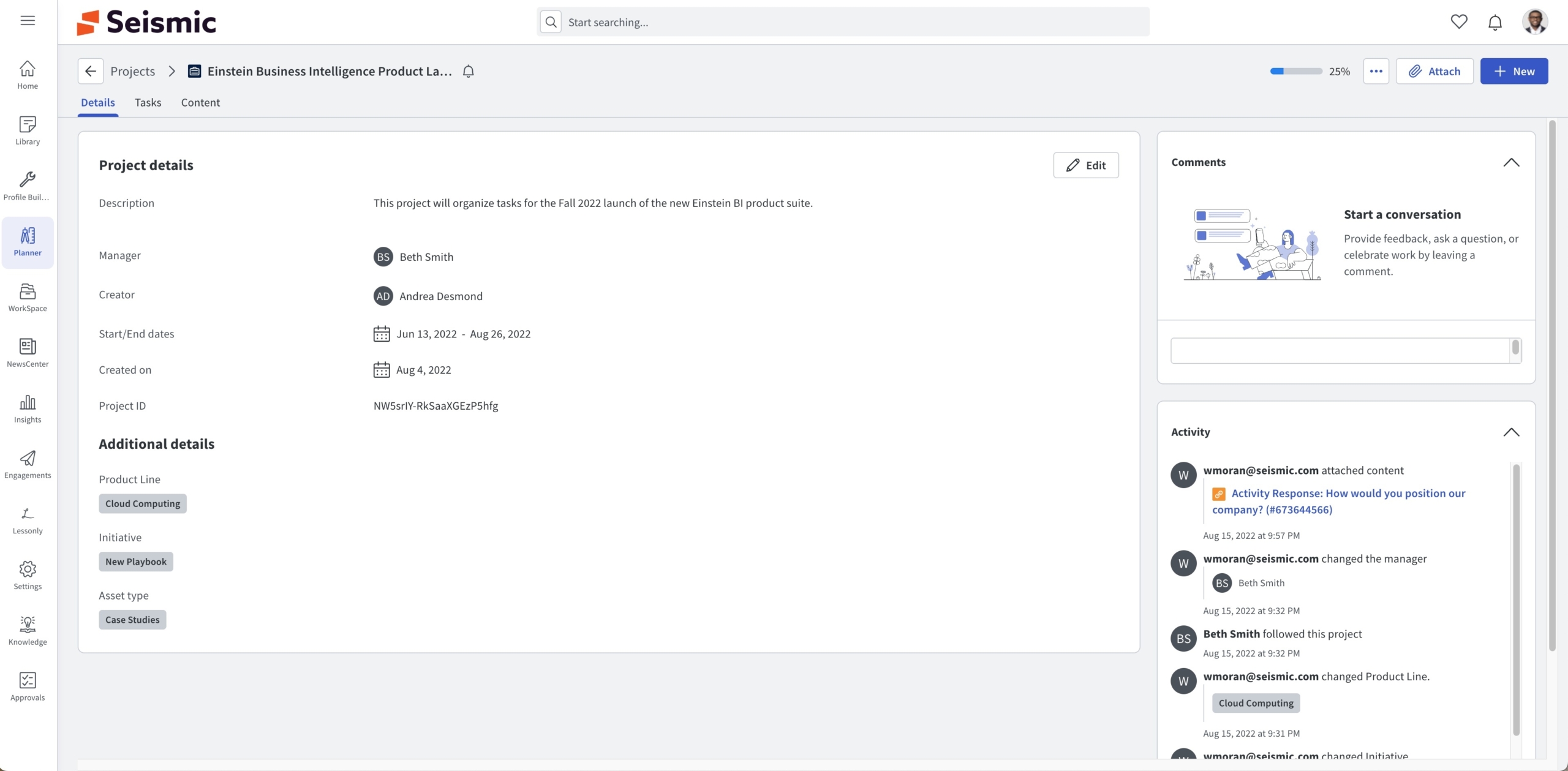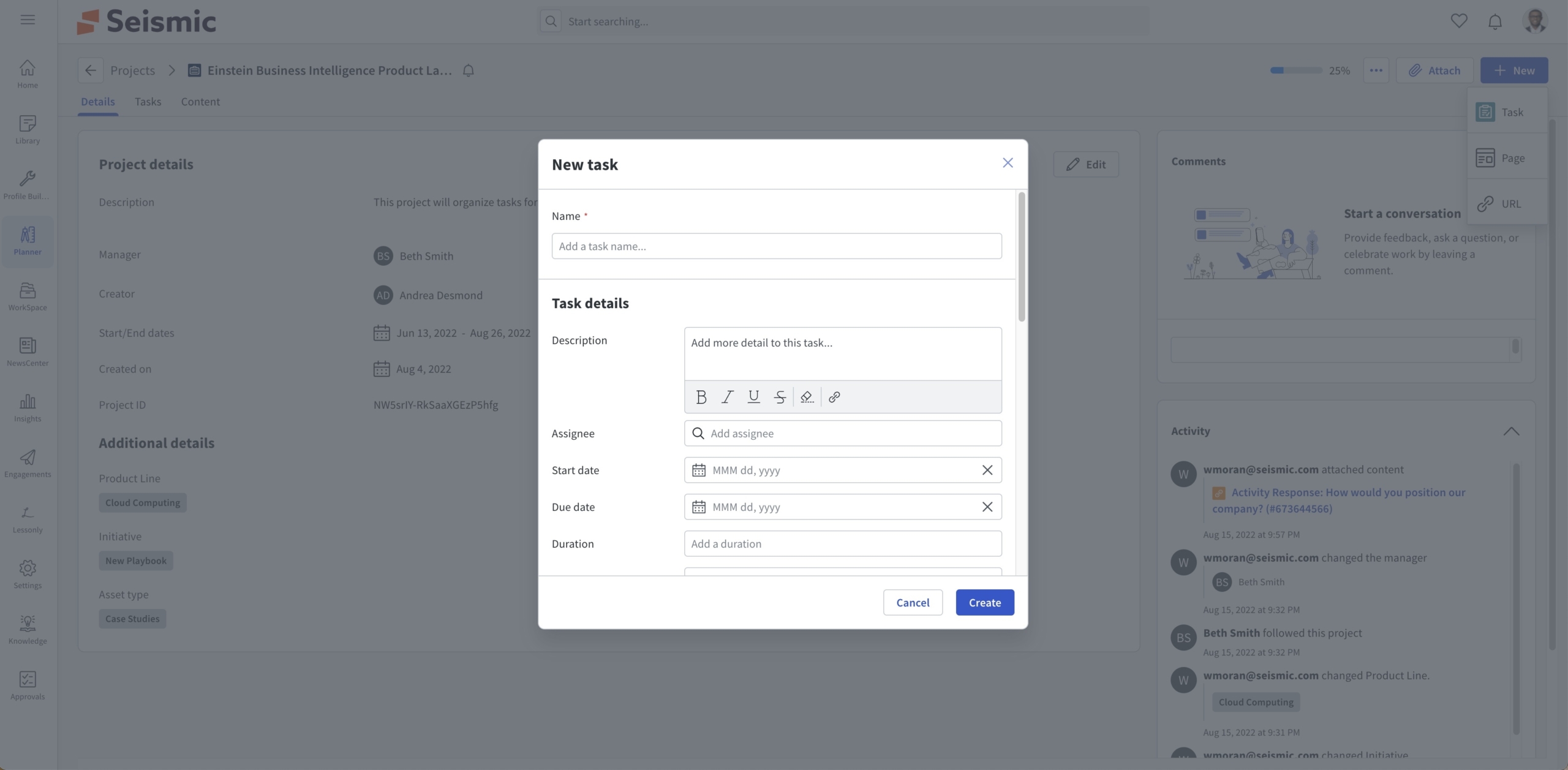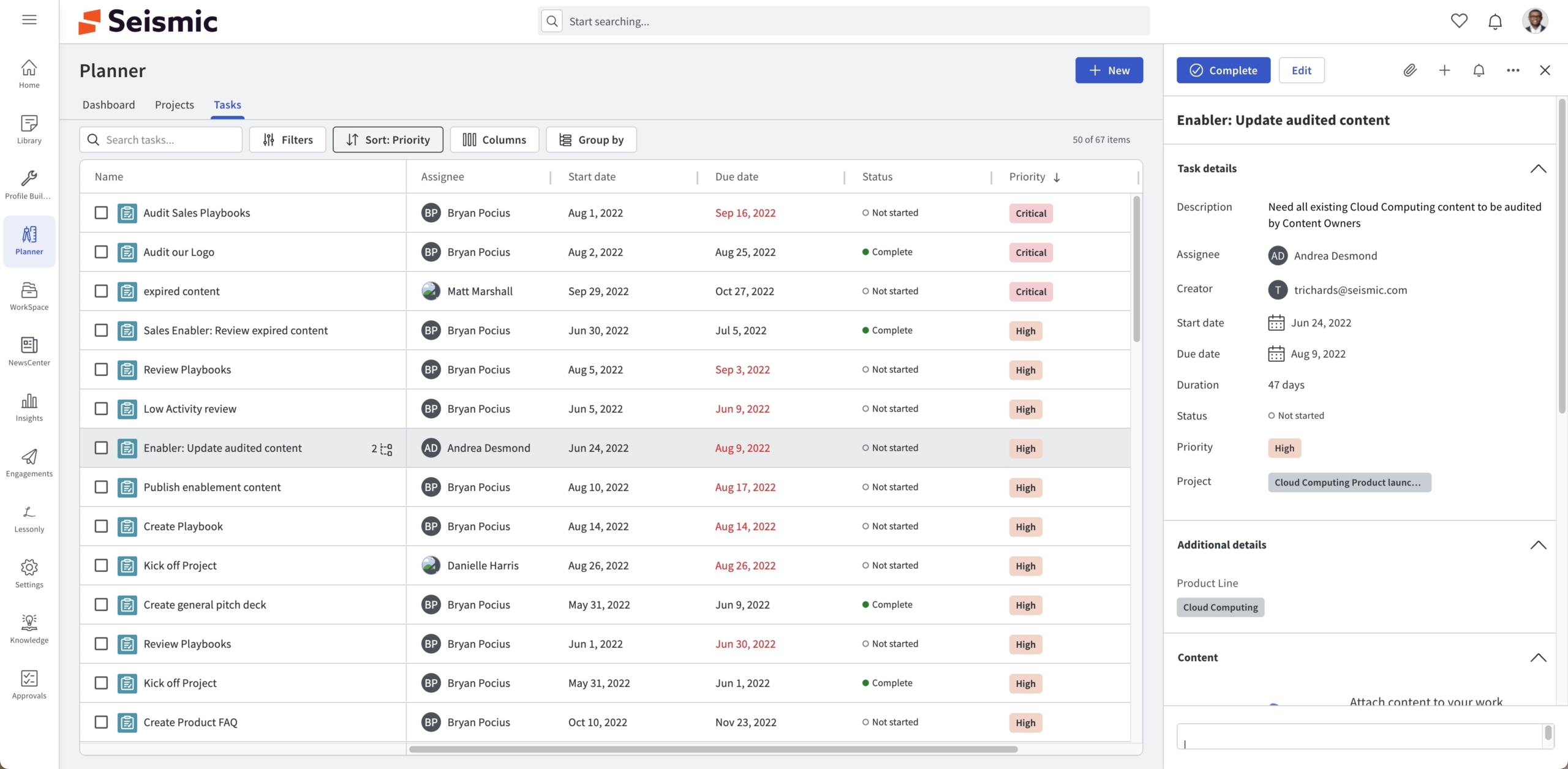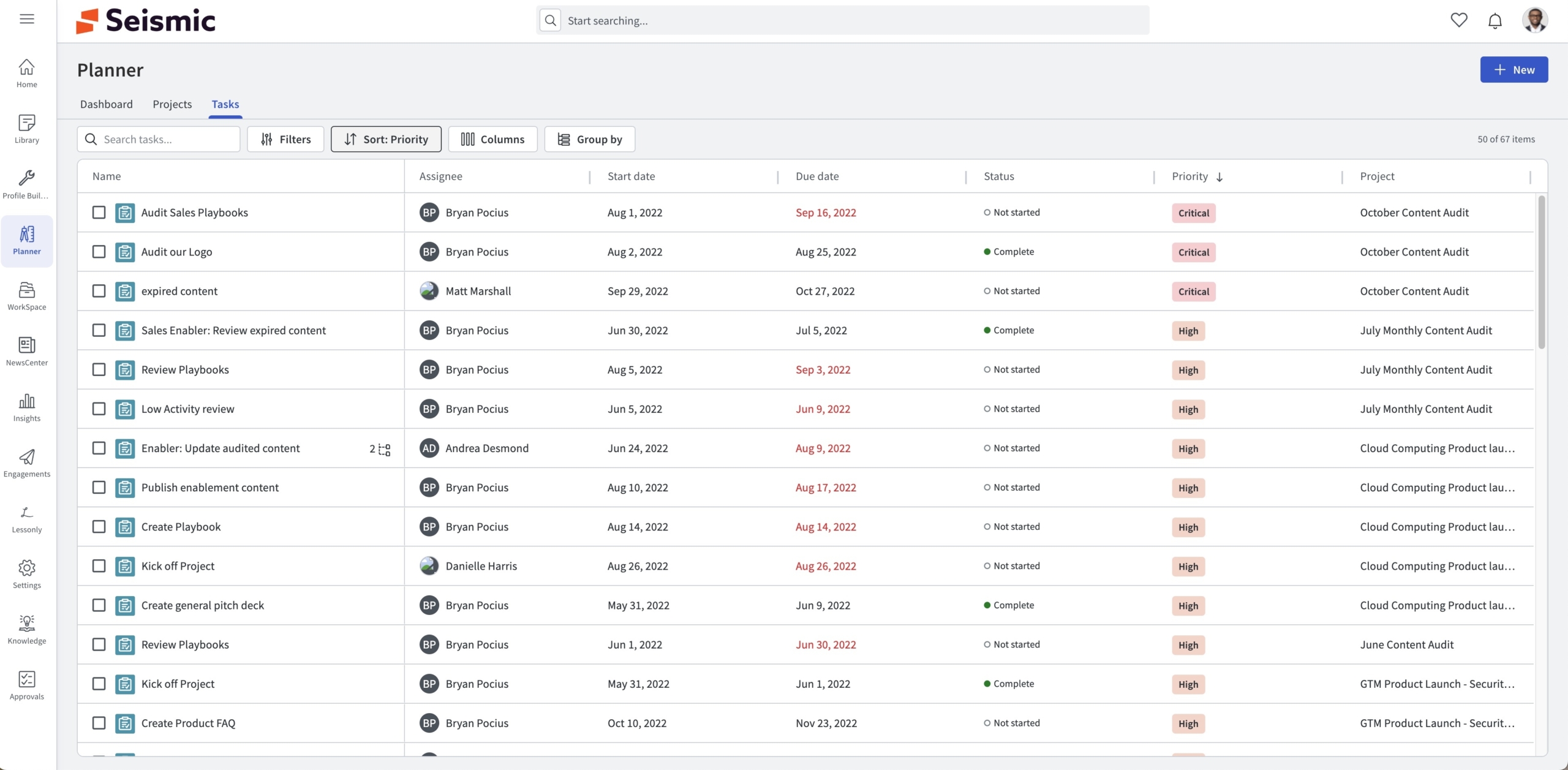 What is Enablement Planner?
Enablement Planner is the strategic hub for enablement teams, providing the process and data they need to bring programs to the field faster, reduce manual work, and empower customer-facing teams to accelerate deals. It's a single, purpose-built tool designed for enablers to plan, execute, measure, and iterate on strategic initiatives, all in one coordinated, streamlined workflow.​ Enablers can:
Take action on stale or underperforming content directly within their Library.
Plan new product launches and onboarding programs that build on past wins.
Get a holistic view of what works and what drives revenue, so they can continually take their strategy to the next level.
Consider how many teams execute content audits today. An enablement team may download and spend an hour analyzing a spreadsheet to understand what content needs to be updated and why. Next, they'll email a colleague in product marketing to refresh that outdated or underutilized content. With nothing to guide or remind them but an email and a few Slack or Teams messages, that colleague is likely to not respond, or make only the quickest, most obvious updates. Imagine that happening at scale – not only does this manual, unreliable process slow teams down and decrease speed-to-market, but it also increases the risk that the content customer-facing teams use is out-of-date or irrelevant to their customers.
In contrast, when teams use Enablement Planner, they can quickly identify what content needs to be refreshed, thanks to out-of-the-box insights they can customize to show what's most important to them, right in their Seismic Library. Directly from the Library, they can assign a task for product marketing to update the applicable pitch deck or fact sheet. Their marketing colleague then receives a notification, plus the data they need to decide what to do with the content. With a streamlined workflow to guide and expedite the content audit process, teams can not only get these audits done and ensure that their reps have fresh content available — they'll have the process and brain space needed to take a more strategic view of their entire collection of collateral. And with that process and strategic perspective in place, they'll be empowered to deliver exactly the content that customer-facing teams need to build trust and move revenue-driving conversations forward faster.
What's included in Enablement Planner?
Seismic Enablement Planner was designed with enablers in mind. We partnered closely with our customers and our own enablers to create this first-of-its-kind tool, purpose-built for enablement teams.
Data-driven, strategic audits
Content audits are often difficult because they're manual processes. Because audits have traditionally taken place in separate tools and systems, it's difficult to identify what content is stale and assign it to be refreshed.
Enablement Planner allows teams to work where their content lives. Content audits are made simple because enablers or content owners can take action to keep, archive, or update old or underperforming content, all from within their Library. By making audits more efficient, teams can increase their capacity to focus on more strategic projects.
Project planning for enablement
Just as marketing departments have dedicated software to align their strategy and power marketing operations and workflow, it's time enablement teams did, too.
Enablement Planner's planning capabilities, built natively to Seismic, are purpose-built to drive enablement-specific projects and goals – not just content audits, but also playbooks, onboarding programs, training initiatives, and product launches. It also allows enablers to turn high-impact projects into templates, so they can repeat and refine what's working and launch initiatives to the field faster.
Full-circle project reporting
Enablement teams need data to understand what's working, what isn't, and how to improve. When separate tasks are hosted in various systems, it's challenging to get a holistic view and turn recommendations into actionable steps.
Bringing together project workflows, content, and Seismic's reporting capabilities helps enablers connect the dots between their team's work and sellers' wins. With data and insights at your fingertips, you can drive alignment on goals, workload, and requests with key stakeholders ​ — and ensure you're focusing your teams' limited time on projects that truly move the needle.
See Enablement Planner for yourself
Enablement Planner was designed by enablement teams for enablement teams. Bringing a purpose-built planning solution to where enablement teams already work will help enablers improve speed to market, accelerate time-to-close, and increase efficiency.
The capabilities announced today are just the start for Enablement Planner. In the coming months, we'll introduce new features and capabilities that will empower enablement teams to unlock new growth opportunities, so stay tuned!
If you'd like to learn more about Enablement Planner, there's still time to join virtual sessions at Seismic Shift. You can also learn more by visiting our Product Innovation Center.