Have you ever started building a pitch deck but couldn't find the perfect slide that you know will engage your prospect or customer? Maybe you saw it in another deck, once upon a time. You ask around and see if any of your colleagues know where it is, but to no avail.
You're not alone. When content lives in different locations, it can be difficult to track down the slides you need to make your presentations just right. Even more, the time you've spent tracking down slides could be time spent focusing on your customers.
What if there was an easier way to create personalized presentations your buyers will love while saving valuable time? Seismic for PowerPoint is designed to do just that. And, if you bear with us, we'll explain just how!
What is Seismic for PowerPoint?
Seismic for PowerPoint is a seamless PowerPoint plug-in that gives sellers the ability to stay inside their presentation, while easily mixing and matching slides and content they need from different sources. Sellers can access content from sources across the business, including slides from successful pitches, templates, customer data, and images. Save time, stay on brand, leverage past work, and personalize pitches with ease, without ever leaving PowerPoint.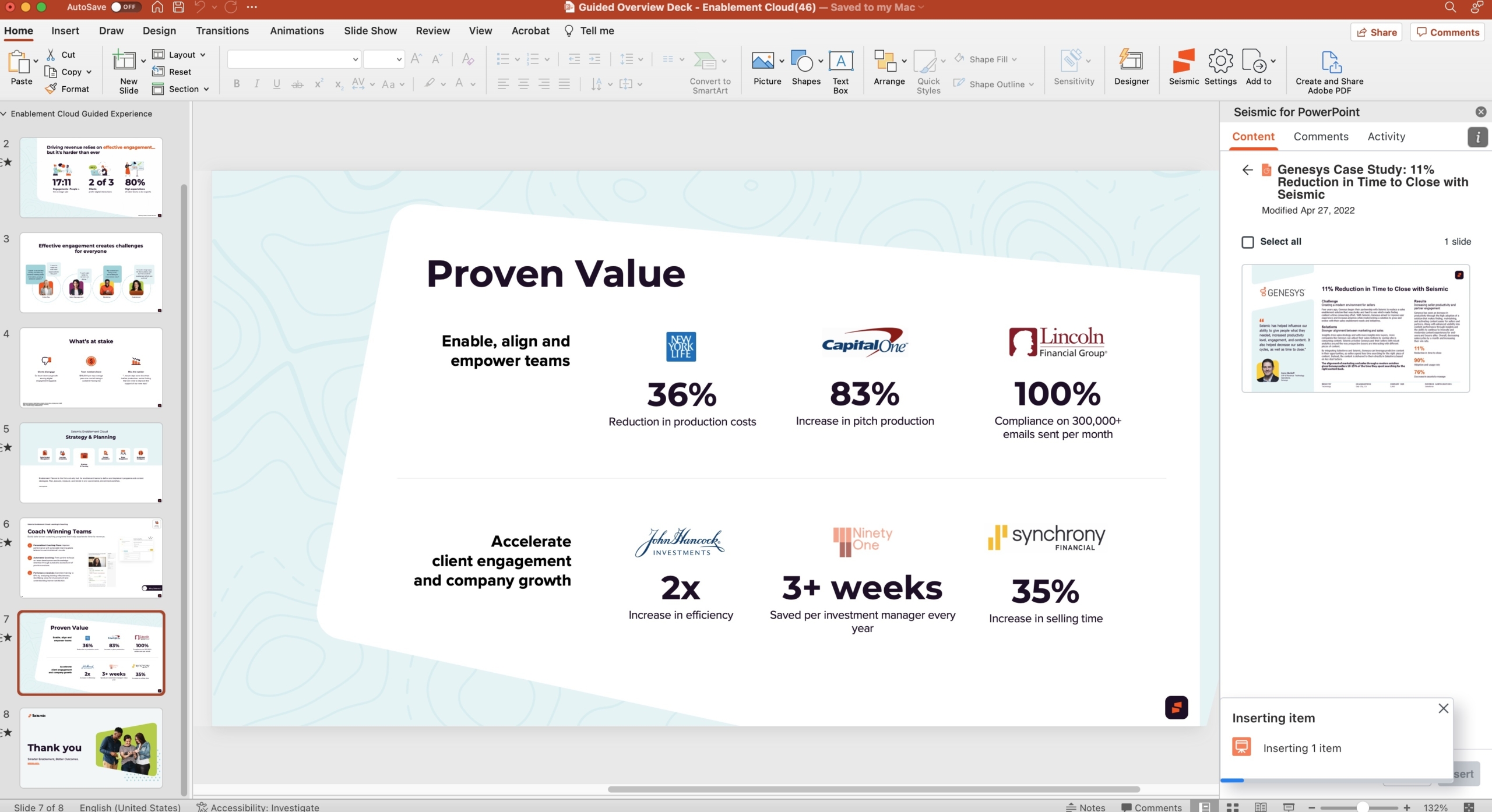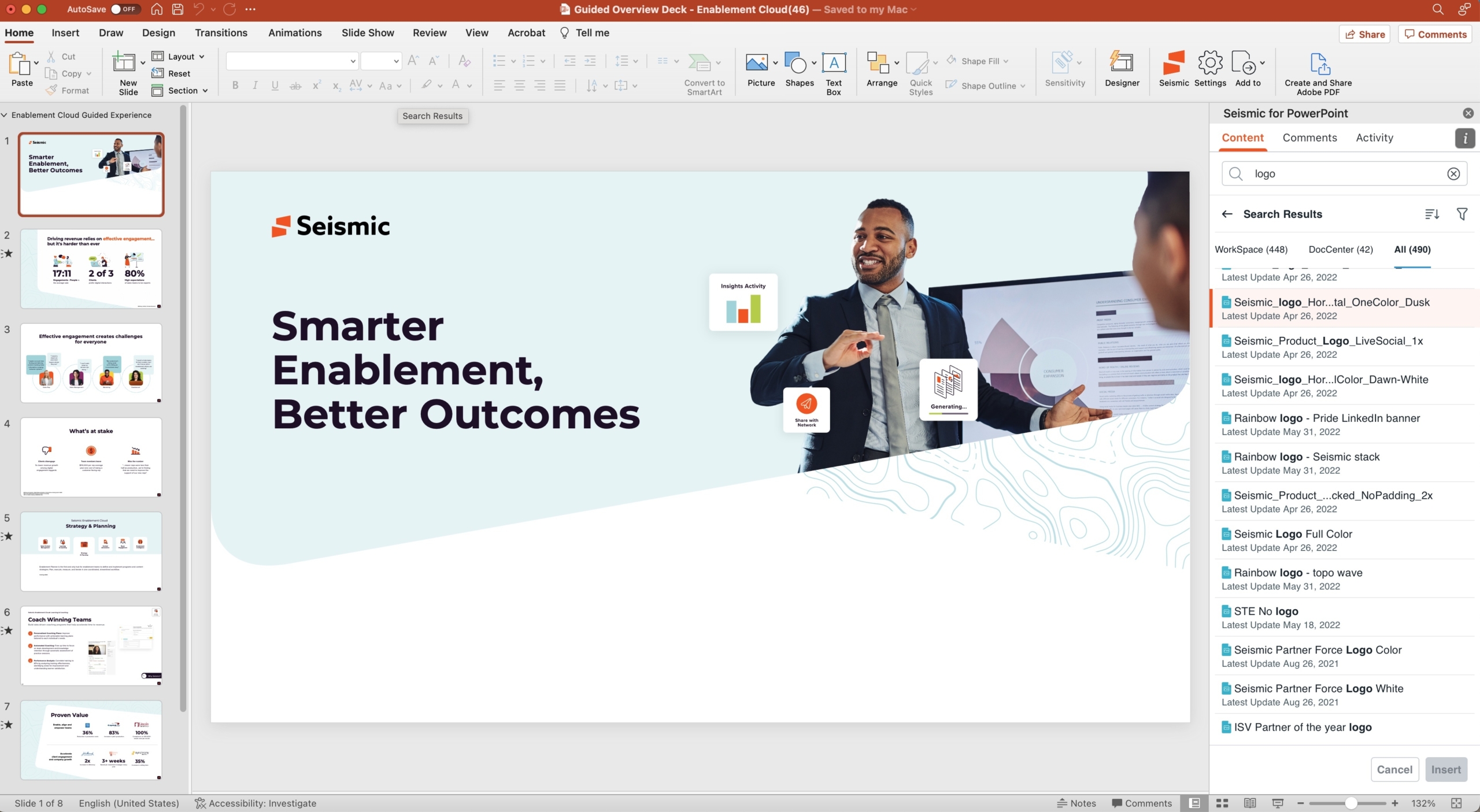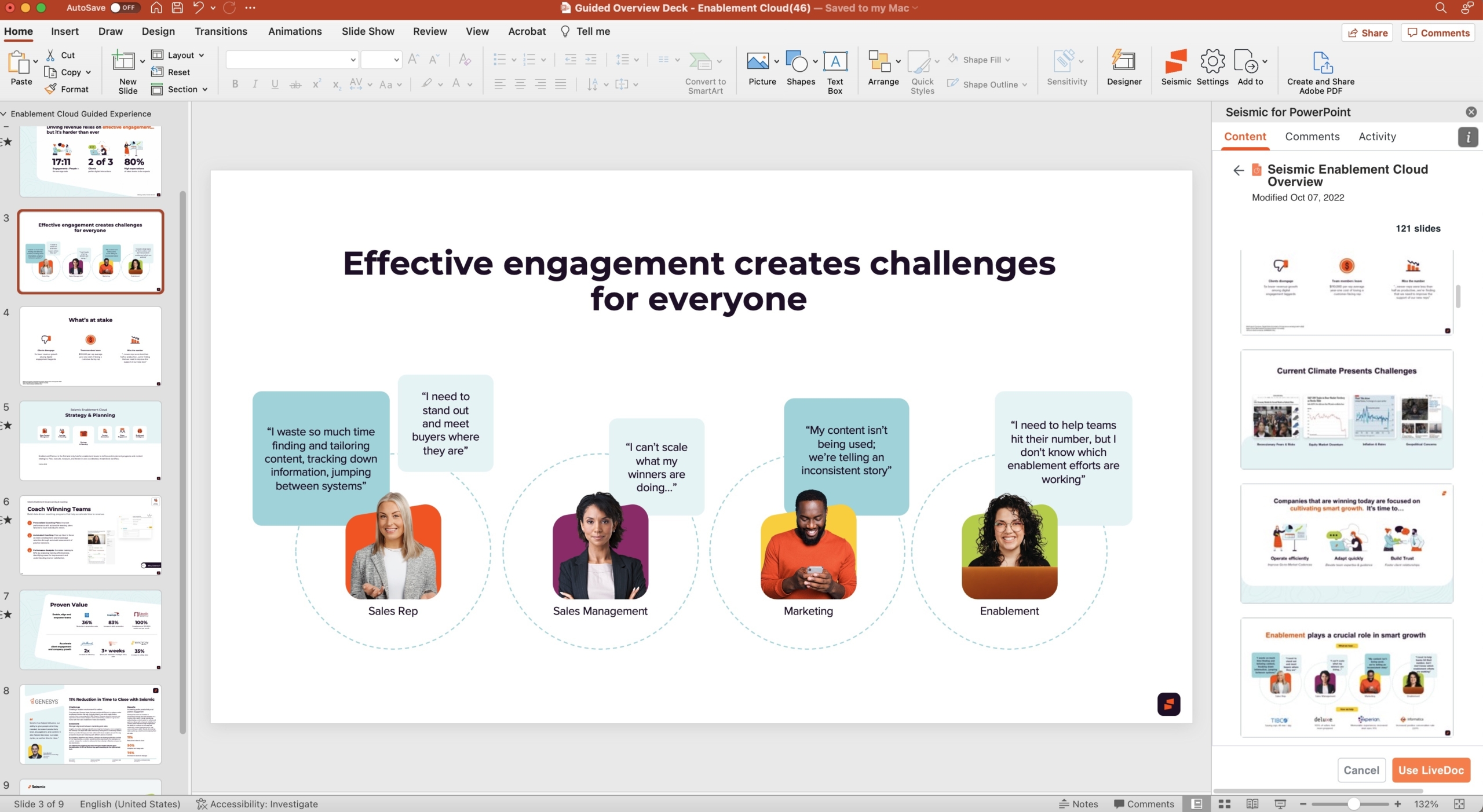 Enable greater personalization and productivity
Buyers today expect highly personalized content experiences. The LinkedIn State of Sales 2022 report found that 47% of buyers are more likely to consider brands if they provide personalized communication. But personalization doesn't just happen. Sellers need to have meaningful conversations to understand their buyer's needs and find the right content to help address their pain points. 
However, when sellers can't find the content they need, they may create slides on their own. Not only does this take time away from selling, but it also runs the risk of creating content that is off-brand, outdated, or non-compliant. Either outcome can lead to an inconsistent brand experience that leaves buyers unmotivated and disengaged.
Sales enablement software helps by simplifying the content discovery process for sales reps. Content management systems ensure that sellers have easy access to the content they need when they need it. But that sometimes means going from the content management system to PowerPoint to bring a presentation to life.
Seismic for PowerPoint builds on the strengths of content management by bringing content directly to the seller – in PowerPoint. Instead of searching multiple sources and decks for the right slide, image, or customer-specific data, sellers can access all of the content they need directly within PowerPoint. 
What's included in Seismic for PowerPoint?
Seismic for PowerPoint makes it quick and easy for sellers to create powerful, personalized, on-brand client pitches. The plug-in makes client prep work easy by keeping sellers inside PowerPoint and letting them pull in content as they mix and match slides to personalize their work. Seismic for PowerPoint enables sellers to:
Personalize with ease: Stay inside PowerPoint and use templates to kick-start a pitch and then easily personalize each customer's experience by searching for and finding the best content for each selling scenario.
Save sellers time: Accelerate the content creation process for sellers by pulling customer-relevant content directly into the presentation. Free up time for sellers to focus on selling, not creating content. Speed up your content creation process while making the content easy to organize, track and measure within and outside the organization.
Access brand-approved content: Prevent rogue information by enabling sellers to easily find content and follow messaging and brand guidelines.
Search and discover content: Use Seismic's powerful search capabilities to filter, find, and preview the most compelling content, including slides from successful pitches, templates, customer data, and images.
Simplify personalization with Seismic for PowerPoint
Content personalization and seller productivity are the foundation for effective buyer engagement. Seismic for PowerPoint empowers sellers to unlock both by allowing them to work smarter, not harder – where they already do their work. If you'd like to learn more about how your go-to-market (GTM) organization can use Seismic for PowerPoint, get a demo.