For revenue teams, the search for information to do their jobs effectively is never-ending.
And, if you're a revenue team leader, we're guessing you often find yourself repeatedly fielding and answering the same questions from your team. Whether it's a ping in Slack from a new seller about messaging or a shoulder tap from a veteran support agent who needs clarification on a new product, it's inefficient to answer their questions in a moment of need. 
If this sounds familiar — you aren't alone. A study from McKinsey and Company found that revenue teams actually waste 20% of their time looking for answers to help them close deals and support customers. To put that into perspective, that's an entire day's worth of work that could be used engaging customers and prospects, wasted.
Enablement and the power of knowledge management
To ease this problem, enablement teams work hard to ramp team members and equip them with the right information to support deals and customers. This structured enablement process, which largely focuses on centralizing enablement content, isn't enough anymore. 
After all, there will always be more questions. As organizations grow and develop, they naturally collect a wide array of information that's found across disparate systems, documents, and with different employees. Information lives virtually anywhere, and it's time-consuming to look for the right answers. Reps bounce back and forth searching for answers or take the path of least resistance and ask their colleagues. This type of context-switching results in lost focus and productivity for everyone involved. And because enablement teams can't be everywhere at once, it's difficult to capture what information is needed and provide relevant answers in addition to supporting other strategic initiatives.
This is why knowledge management is critical to the enablement success of every organization. Knowledge management is the process of harnessing information, organizing it, and sharing it across the team. And, over the years, we've found that even if companies deliver great enablement programs, they still have a ton of decentralized or unstructured information that they have yet to organize. That's why we're excited to announce the newest product of the Seismic Enablement Cloud™, Seismic Knowledge, to provide teams with just-in-time enablement.
Let's dive into some of the features and capabilities.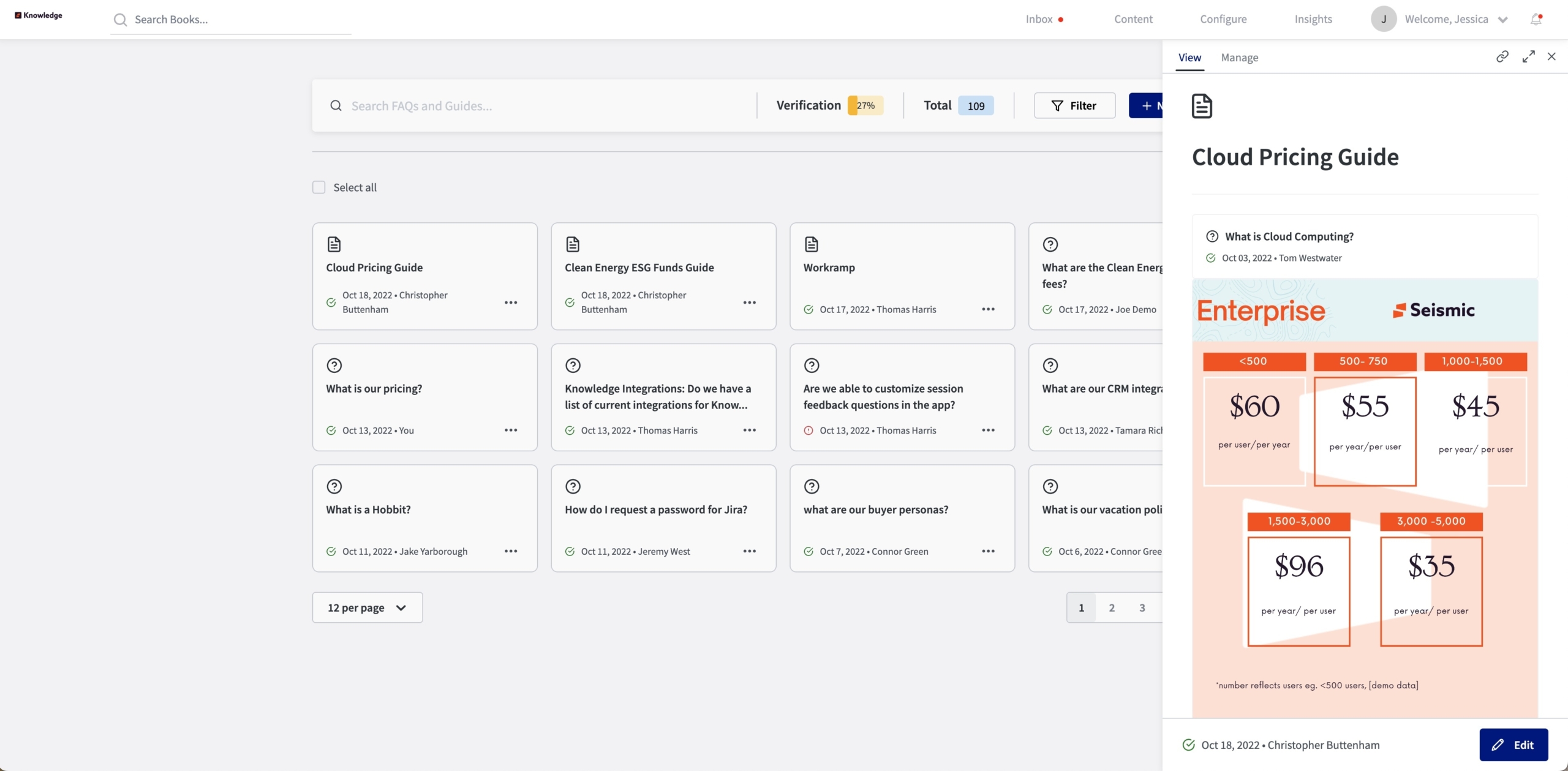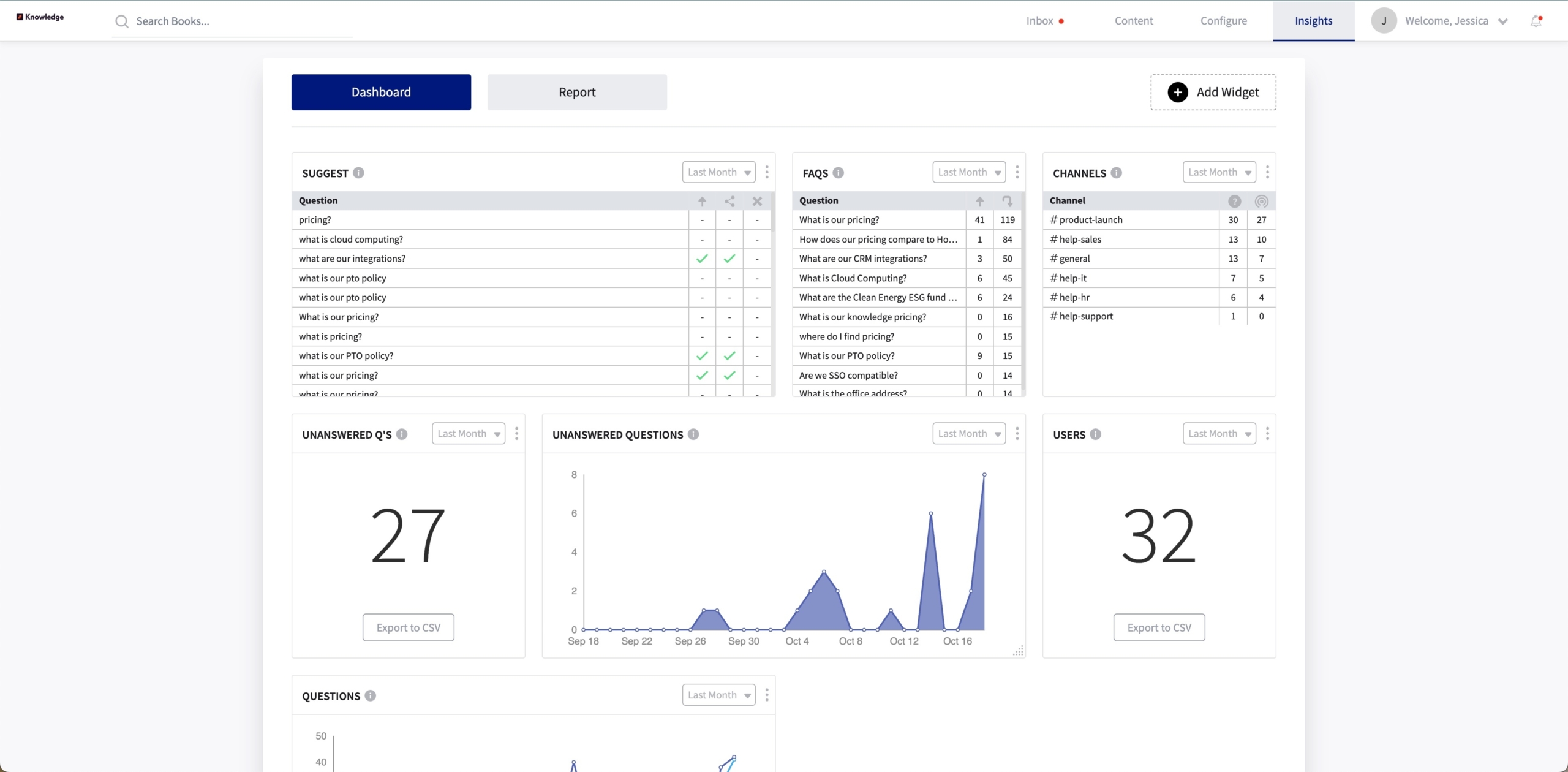 What's included in Seismic Knowledge
Seismic Knowledge is a just-in-time enablement solution that provides teams with faster access to answers, documentation, and assets right within the flow of work and tools they already use. By leveraging Knowledge, users can connect various systems to create one searchable source of truth so reps are confident they have the right information. With Seismic Knowledge, teams can:
Access knowledge: Knowledge integrates with Seismic and allows reps to access FAQs through Seismic search. It also integrates with Lessonly so users can surface both Seismic content and Lessonly training by directly chatting with the Seismic Slack bot. This allows users to ask the Seismic Slack bot questions privately, or get AI-recommended answers when asking questions in specific channels. Additionally, the Chrome extension provides instant, ongoing access to answers, lessons, and docs – no matter what application they're working in, like a CRM or email.
Capture knowledge: Knowledge surfaces most answers in two bite-sized formats — FAQs or Guides. FAQs are quick snippets of information that directly answer common questions. This saves reps the time and frustration of reading through lengthy documents to find answers. When more context or instruction is needed to effectively answer questions, Knowledge will provide users a Guide. Regardless of the format, all of the answers benefit from crowdsourcing and expert verification capabilities. Users can upvote, downvote, and recommend answers. Then, experts like product managers or enablement leaders can verify that information.
Gain insights: Knowledge also gives access to insights that wouldn't exist without it. Users can monitor frequently asked questions and easily identify unanswered questions. This helps teams uncover and plan new enablement opportunities that can include new content, training, or additional knowledge information. It's also just as easy to fill these knowledge gaps with a centralized requests management hub where teams can update and enter new answers in an instant.
"Seismic Knowledge truly is a first-of-its-kind, self-service enablement solution," explains Chris Buttenham, Senior Product Manager at Seismic. "No other platform gives organizations the ability to cover both structured and unstructured enablement efforts, and we're excited to help our customers enable a culture of knowledge sharing with this product."
Seismic Knowledge extends and optimizes the capabilities of your enablement function by providing teammates with fast, accurate support when they need it. This frees up valuable resources that enablement teams can use on large initiatives rather than answering questions and pointing reps to relevant documents. As a result, organizations reduce knowledge silos, boost productivity, improve the employee experience, deliver better support to customers, and close deals faster.
Extend the power of your enablement team
When employees are empowered to be great at their jobs, magic happens. With Seismic Knowledge, revenue teams can get access to answers at their point of need, in the flow of work, and at scale. If you're an existing customer who would like to learn more about Knowledge, please reach out to your account manager. Or, if you'd like to learn more about the Seismic Enablement Cloud™, including Knowledge, get a demo.