Many of us, at one point or another, have been responsible for making a purchase decision on behalf of our organization. Whether it was a consulting service, a productivity tool, or office supplies, chances are, you still remember how you felt about the experience. If you dealt directly with a seller, then the quality of their interactions with you likely set the stage for the entire purchase experience.
There are countless ways that effective sellers make an impression and stand out from their competitors. Maybe they demonstrated a deep understanding of your unique use case or followed up with the right information at just the right time to help you make a well-informed decision. But it likely wasn't a matter of luck – it was because they had the right skills, content, and knowledge to help you navigate your purchasing journey.
Getting that engagement right at scale requires effective enablement. In fact, enablement is becoming a C-Level imperative within organizations as they seek to drive consistency and predictability when it comes to winning and retaining business. That's why we're excited to introduce the Seismic Enablement Cloud™ to empower GTM teams with the right content, skills, tools, and insights to effectively engage customers and drive growth, built on a unified, enterprise-grade, AI-powered platform.
The Seismic Enablement Cloud
Just as sales and marketing clouds have brought together several complementary products and solutions to address the needs of their respective teams, we see a similar need and opportunity for the enablement cloud – a dedicated platform purpose-built to empower enablement and GTM teams to deliver exceptional end-to-end buyer experiences.
The Seismic Enablement Cloud redefines enablement by bringing together historically siloed systems for sales content management, learning & coaching, strategy & planning, content automation, buyer engagement, and enablement intelligence into one enterprise-grade platform that supports end-to-end workflows for GTM teams. With the Seismic Enablement Cloud, companies:
Reduce tool fatigue by powering seamless workflows for users. Go-to-market teams lose valuable time when they have to jump between disparate systems to access the tools and information they need. Combining everything from content management to personalization to training & coaching to multi-channel engagement in a single location makes sellers' lives easier because they have access to the tools they need in one place.
Future-proof your investment as your teams grow and company strategy evolves. What your team needs today may not be the same tomorrow or years from now. The Enablement Cloud is built to scale with your organization as it grows, all on the same platform – no need to switch or reimplement. This means your team can start with the capabilities it needs to solve its immediate needs and easily expand as your needs evolve.
Drive a data-driven enablement strategy with a 360-degree view of the performance of your GTM teams and the impact of your enablement programs. The Enablement Cloud brings together insights from across content, training, coaching, engagement, and CRM. More than ever before, enablement teams need intelligent insights that allow them to get enablement right. It's almost impossible to understand what does and doesn't work when critical data is stored in separate systems. For example, if you see that your pitch deck has a dip in engagement, without training & coaching data, you might first think it's an issue with the content. But when you can drill into how engagement compares among certified and uncertified reps, you might see your organization has training opportunities – not that your deck needs to be revamped. And with the Enablement Cloud, you can activate that plan all within Seismic.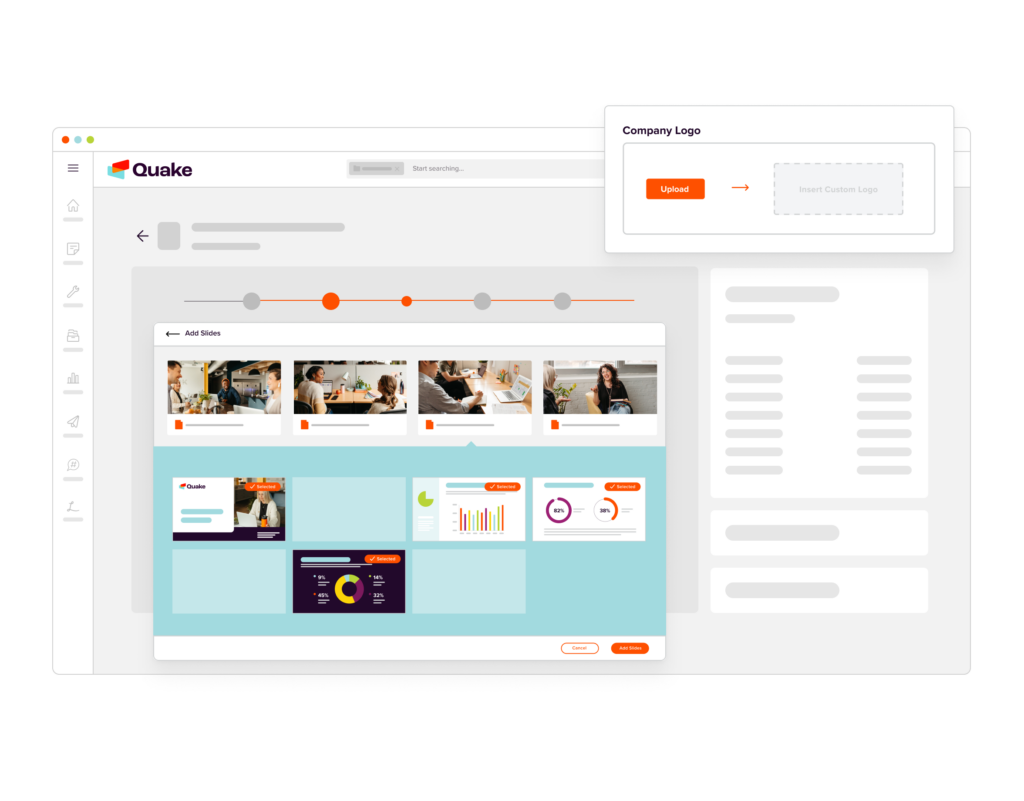 What's in the Seismic Enablement Cloud
The Seismic Enablement Cloud delivers powerful functionality that is greater than the sum of its parts. In total, it brings together six applications that help teams get enablement right, including
Sales Content Management: Build, maintain, activate, and govern  content in a scalable platform that makes it easy to organize, find and share differentiated assets. ​
Learning & Coaching: Lessonly by Seismic is the powerfully simple solution for learning, coaching, and skills development for customer-facing teams. Onboard new hires, continuously train, and improve the performance of your team. ​
Strategy & Planning: Enablement Planner (Coming Soon) is the first and only hub for enablement teams to define and implement programs and content strategies. Plan, execute, measure, and iterate in one coordinated, streamlined workflow.
Content Automation: Produce targeted content through quick assembly, reusable components, and dynamic templates or streamline mass production of materials, even those that require data integrations.​
Buyer Engagement: Seismic's buyer engagement capabilities allow teams to create memorable experiences and interact effectively across all touchpoints and channels to deepen relationships and move deals forward. ​
Enablement Intelligence: Seismic's enablement intelligence equips leaders to improve performance with insights into the behaviors, activities, and content that deliver the best outcomes. It combines human-centered and automated analytics to help increase productivity and repeat success.​
A unified platform for everything enablement
Enablement software is mission-critical for many of the customers that use Seismic and is becoming a core part of GTM workflows and tech stacks. More than 2,000 customers and millions of users choose Seismic to help them practice smarter enablement. That's why we've invested in our enterprise-grade platform. This includes a global cloud infrastructure with unmatched availability and speed, open and extensible APIs to integrate into your workflows, stringent security and controls to meet your growing compliance requirements, AI & machine learning to drive intelligent decision making, and an extensive data infrastructure to scale what works.
We are very excited about bringing the Seismic Enablement Cloud to you all – the next chapter in defining the future of enablement and sales. We can't wait to see how all of you will leverage its capabilities to transform your GTM teams and activities.
If you'd like to learn more about the Seismic Enablement Cloud, download our eBook, The Enablement Cloud™: A Unified Platform for Engagement & Growth.