Sales enablement is having a moment. LinkedIn has almost 9000 open sales enablement positions across the United States alone. So, it is high time to delve into what sales enablement really looks like in 2019. Seismic commissioned Forrester Consulting on a July 2019 study[1] reporting on the present and future of enablement, surveying nearly 400 sales enablement decision makers representing organizations across multiple industries.
What are the results of the research? What does enablement look like for organizations today? And what lessons are instructive for future trends in sales and marketing? The full 13-page study will be released on August 20th during a free webinar featuring Forrester Principal Analyst Mary Shea. But we're too excited about the findings and wanted to share a handful of them with you now.
Buyers are taking more initiative than ever
The new research confirms that buyers are more knowledgeable, self-directed, and digitally oriented than ever before. They don't need a seller to handhold them through a process of learning. Now, buyers are finding content on their own and making more determinations outside of traditional buyer-seller interactions.
With buyers knowing more than ever, they naturally have higher expectations for sellers to bring value to the sales cycle. Today's sellers need to be equipped with the right methods and tools to deliver the best experiences to their buyers – or risk negatively impacting sales results.
Preview stat #1: 85% agree that buyers will dismiss a seller in the first interaction if they don't receive tailored information.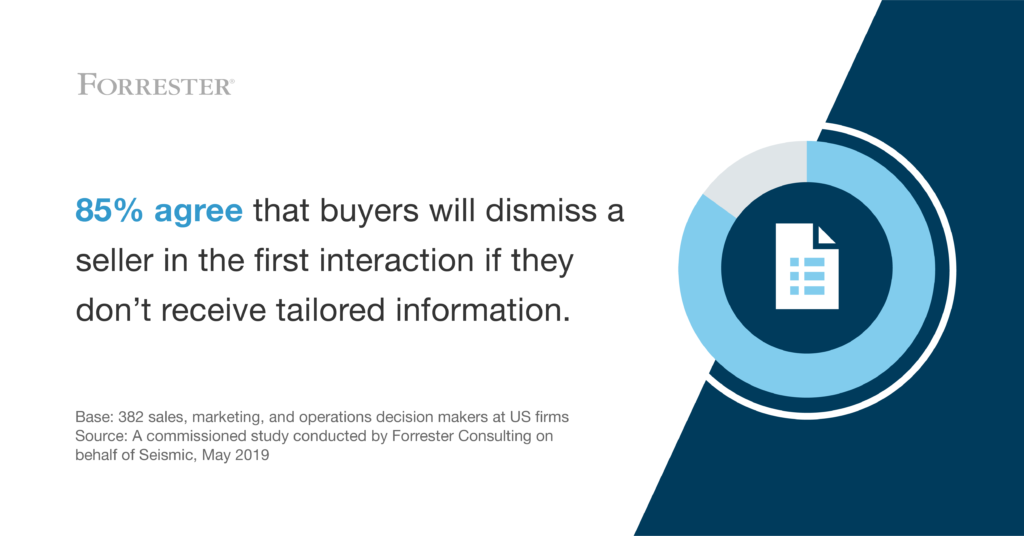 Asset personalization is both the foremost challenge
— and the foremost opportunity — for sales enablement programs.
With buyers coming to the table with increased expectations, a personalized experience is top of mind. The research proves that this has been the single biggest change in buyer behavior over the last five years.
Too often, though, sellers customize sales assets without adhering to brand messaging and guidelines – a development that is detrimental to both sales and marketing teams. This leads to time drains on both sides of the equation. Organizations need to equip their teams with the right technology and processes to personalize assets at scale and ensure that buyers receive an experience that is both personalized and on-message.
Preview stat #2: Asset personalization is the top success factor for customer and prospect engagement.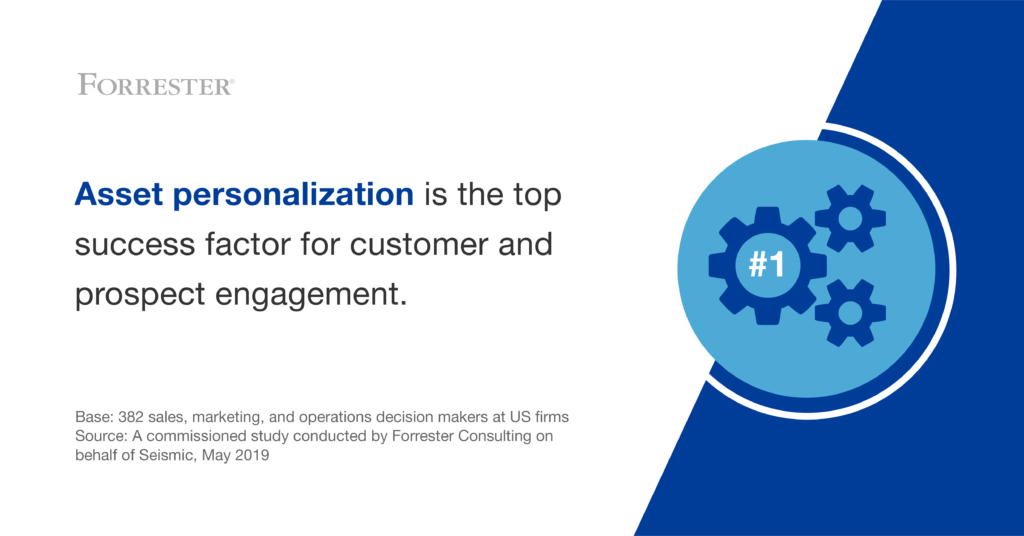 In Seismic's view, sales and marketing alignment means shared metrics, language, and most important, understanding
For too long, "sales and marketing alignment" has been a term thrown around with too many definitions. But this new study will shed light on what we really mean when we talk about alignment, and it comes down to understanding. When true alignment occurs, sellers have full understanding and confidence in the assets provided to them, and marketers have comprehensive knowledge of what sellers need to do their jobs better.
Preview stat #3: 70% agree that marketers spend too much time policing sellers' asset use to ensure brand and regulatory compliance.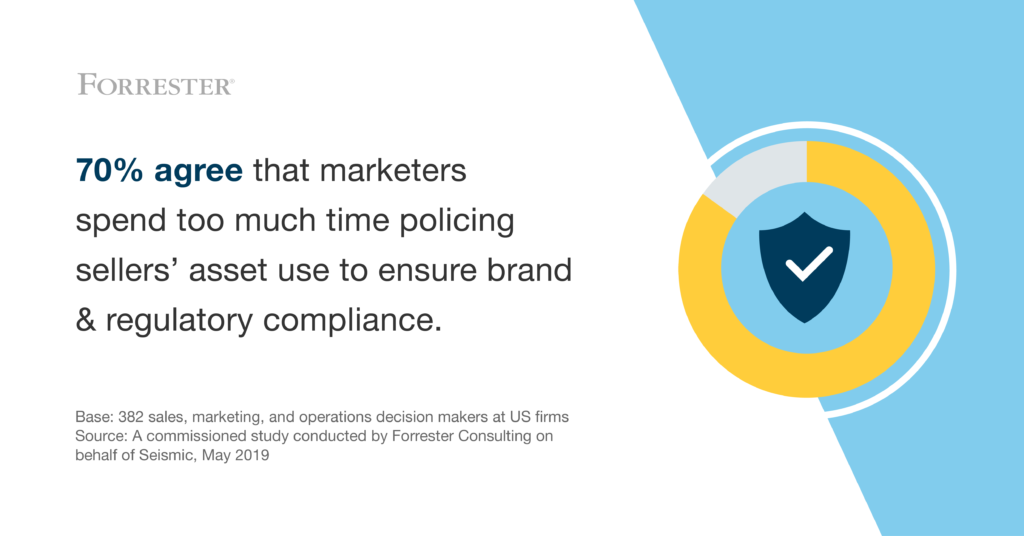 ---
Finding the right sales enablement strategy is going to become a major advantage in the competitive marketplace for B2B organizations. Understanding these trends and more is critical to feeling the full transformative effect sales enablement can have for your organization, and the full Seismic-commissioned study will provide even more ways to leverage enablement.
Ready to learn about this new research? Download the study now.

---
[1] The State Of Enterprise Sales Enablement, 2019, a July 2019 commissioned study conducted by Forrester Consulting on behalf of Seismic