What is a sales enablement plan?
Sales enablement planning is the process of identifying what sales teams need to do their jobs effectively. A sales enablement plan creates a roadmap for the tactical sales enablement materials needed to support a specific campaign, initiative, or goal. These include:
Tools:

The solutions, platforms, and software sellers need to access and know how to use.

Sales enablement content

: This includes sales plays, playbooks, and other collateral sellers will need to review. 

Onboarding and training:

New and seasoned sellers will need training so they fully understand new messaging, product features, pricing, and more.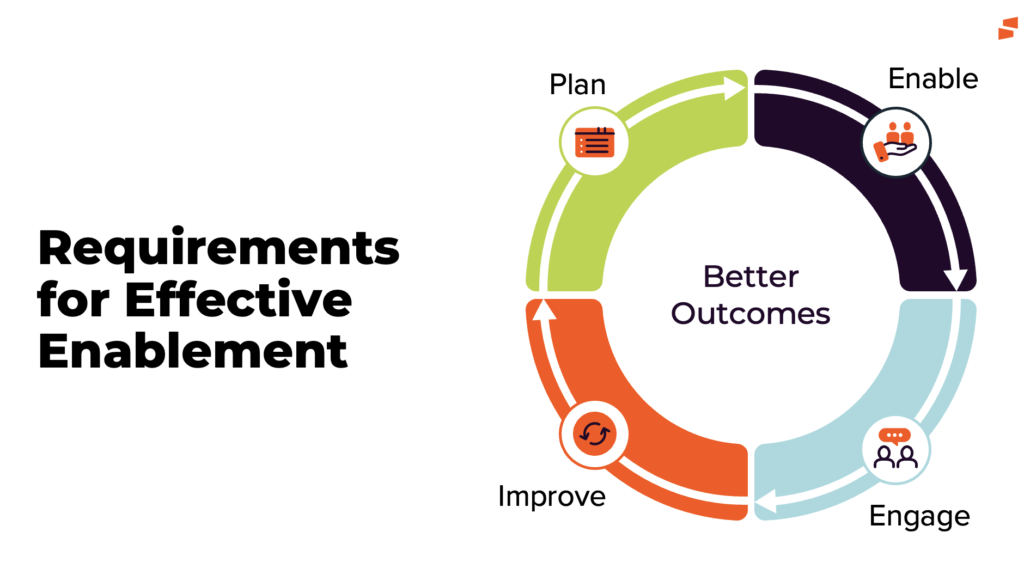 Planning your sales enablement strategy
Strategic sales enablement requires sophisticated prioritization, resource planning, and execution workflows. So, once the planning process is finished, enablement teams should move on to the other three stages of their enablement strategy. This process includes:   
Enable:

After enablement teams identify what items sellers need in order to hit their goals, they create the appropriate sales enablement materials and deliver them to the sales team.
Engage:

Once sellers are enabled on new information, messaging, and best practices, it's time to apply this knowledge and engage with prospects in the buying process. 
Improve:

Then, enablement teams look at how sellers performed, audit content, and identify opportunities for improvement. From here, the sales enablement process starts over again so teams can iterate and improve. 
Sales enablement benefits
The sales process is more challenging and complex than ever before. Buyers are more informed since they can access product information, reviews, and pricing information all online. Because they're more educated, they expect sellers to present information that is tailored to them and that will ultimately help them make a decision. 
However, if sellers don't deliver personalized information that clearly demonstrates the value of their company's products and services, the buyer will lose interest. Therefore, sellers need a quick and effective way to learn key information, apply new knowledge, and engage with customers — which is why sales enablement is key. Sales enablement makes sure this happens by detailing processes, identifying tasks, and creating useful content that sellers need for every stage of the sales cycle. 
A study from The Aberdeen Group found that companies with successful sales enablement experience 30% higher sales team quota attainment and nearly 25% higher individual seller quota attainment. However, it's not enough to produce content, sales sheets, and training and hope for the best. Rather, you need an iterative and ongoing sales enablement strategy to ensure that your sales team is always equipped with the best resources, tools, and content. It may be time to update your sales enablement strategy if…

Your team doesn't follow a consistent selling process

You can't determine the ROI of your content

Sellers spend too much time searching for content 

Sellers don't know what to say or share during interactions with buyers
Why is sales enablement planning important?
The sales enablement planning process sets the tone and trajectory for your entire sales enablement strategy. Teams that don't take the time to plan out efforts will struggle to effectively enable sellers and likely miss their sales enablement and performance goals. Let's take a closer look at a few of the benefits of the planning process.

Identifies sales enablement content needs:

The planning process is a great way for teams to define and plan the various types of content they'll need to create or update.

Helps prioritize initiatives and resources:

Sales enablement strategies are very involved and have a lot of different moving parts. Additionally, if your team has to support a number of different initiatives simultaneously, sales enablement planning helps teams prioritize initiatives and allocate resources accordingly.

Keeps everyone organized and on-target: If you've ever coordinated a big project with multiple stakeholders, you know how important it is to keep tasks organized. Enablement teams also need to proactively ensure that everyone is on the same page with the goals and progress of their efforts.

Sales enablement planning best practices
Now that we've identified the importance of the sales enablement function, let's take a look at how you can get started building your organization's own sales enablement plan. 
Include the right people
While enablement teams should be the main driver of the planning process, it's still important to involve the other departments and team members. After all, enablement's main focus is to equip sales teams with everything they need for success, so that they're key stakeholders in the process. Effective sales enablement planning also relies on communication and collaboration between enablement roles and the marketing team. 
Determine your sales enablement goals
First, you need to determine what your overall sales enablement goals will be. This will help you identify what sales enablement materials are needed to ensure you meet those metrics. Set reasonable expectations, but add stretch goals to keep everyone motivated.
Identify what your team needs
Along with improving metrics, focus on solving the most pressing pain points and challenges. What will give you the best results? Knowing what tools your team needs will help you build a sales enablement playbook, provide the tools your teams need, and provide any missing skills or knowledge training. 
Set clear outcomes and deliverables
Once you've identified your team's needs, set clear goals and a timeline for completion. Make sure that everyone understands their role to ensure that they successfully provide any deliverable that's needed. After all, it will take input from both the marketing and sales teams to make your sales enablement process work. 
Use the right sales enablement tools
The old way of sales planning includes project management tools, complex workflows, and context switching. This creates a slow and ineffective planning process that negatively impacts speed to market and business agility. However, a purpose-built, all-in-one sales enablement platform helps create a more streamlined sales enablement process that includes planning, sales enablement content management, training, coaching, reporting, and more. 
Power sales enablement planning with Seismic
With so many shifting priorities and last-minute changes, enablement teams don't have the bandwidth to proactively and strategically manage enablement planning. But with the Seismic Enablement Planner™ all that changes. Now enablement teams can easily plan, execute, and iterate on all of their efforts in one place. This creates a more streamlined, strategic, and repeatable process that teams can use to connect the dots between their sales enablement strategy and sellers' wins. Ready to learn more and put your team in the driver's seat of your enablement planning process? Book a demo today.