Even as business evolves, two things remain the same: sellers want to become more productive and B2B buyers want purchase experiences that help them understand how to solve their business challenges. Technology that accelerates sales helps sellers achieve both by driving efficiency through tools and resources that streamline buyer engagement.
So, what is sales acceleration? In this guide, we'll cover the basics of sales acceleration, why it matters, and what sales acceleration technology your organization can use to increase revenue.
Let's start by defining "sales acceleration."
What is sales acceleration?
Sales acceleration is the strategic use of content, analytics, and resources by go-to-market (GTM) teams to deliver meaningful buyer engagements that increase deal velocity.
Sales cycles changed significantly as sellers and buyers adapted to digital-first selling motions. Sellers who were previously accustomed to in-person meetings, business travel, and client dinners, suddenly found themselves at home, staring at a screen.
In digital-first sales cycles, sellers need to build relationships with customers through highly relevant, personalized content experiences.
The adoption of sales acceleration technologies can support go-to-market teams as they navigate increasingly complex deal cycles.
Why does sales acceleration matter?
Digital-first sales motions are the new normal. McKinsey found that 75% of buyers prefer to continue digital interactions. 97% of buyers are willing to spend up to $50,000 in virtual environments and 15% are willing to spend $1 million without meeting face-to-face.
In order to capitalize on these opportunities, sellers need to be equipped with the right content for the right buyer, at the right time.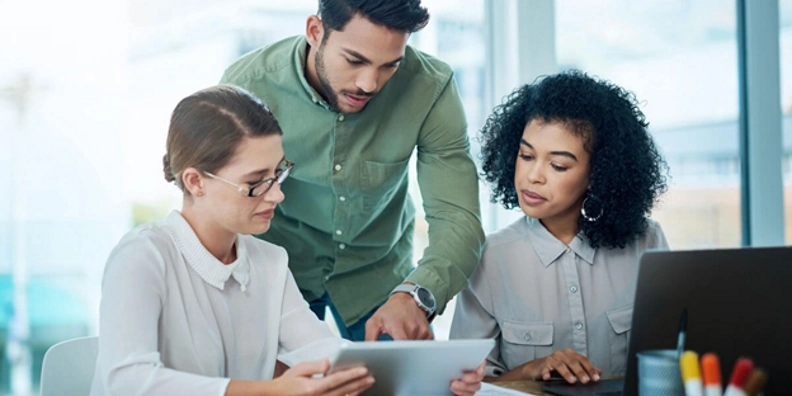 Empathy and trust help accelerate deals. But, to build trust, sellers need to understand buyer needs and identify content that will address their business challenges.
Sales enablement solutions simplify these tasks, freeing up time for sellers to focus on building relationships and supporting the buyer.
How can businesses increase sales acceleration?
Sales acceleration starts with GTM alignment. When sales and marketing are on the same page, it streamlines buyer engagement.
Sales enablement technology gives sales and marketing organizations visibility into what both parties are doing. When sellers are aware of the content marketing produces, they're more likely to include it in their communications with buyers. They can also give marketers feedback that can help optimize content.
That's why sales enablement and GTM alignment are critical to increasing sales acceleration. And there are several tools and techniques that can drive GTM synergies.
Data and content analytics are critical. When sellers share content that buyers view or download, it generates meaningful data and insights. These insights help determine what content to share, but also what marketers should produce more of.
Over time, as content generates more data, GTM teams can make more intelligent content decisions. Sales enablement solutions driven by artificial intelligence (AI) give sellers intelligent, insights-driven content recommendations that boost sales acceleration. By spending less time identifying content, sellers can spend more time building relationships with buyers. 
Which sales enablement capabilities support sales acceleration?
There are a variety of sales and marketing technologies that enable sales acceleration. Organizations with well-integrated GTM tech stacks, generate vast amounts of data that allow them to make insights-driven content decisions.
Some of the sales enablement technologies they use to support sales acceleration include:
Analytics – Content analytics enable GTM teams to track content from the time it's created to when it's shared. Tracking content usage and performance gives marketers insights into the content sellers use and how it performs with buyers.
Sales content solutions – Sellers can't use content that they don't know exists. Investing in a dedicated content management system allows marketers to upload, categorize, and tag content in a way that simplifies discovery for sellers.
Customer relationship management (CRM) integrations – Sellers are more likely to leverage sales enablement technology when it integrates with the tools they already use. Integrating CRM with sales enablement technology gives sellers the ability to personalize content, using context-rich insights.
Email – Connecting with buyers by email is more important than ever. Sending personalized notes that include relevant, resonant content helps sellers remain top-of-mind while building relationships at scale.
Marketing enablement – GTM alignment is the most impactful way to accelerate sales. When marketing and sales are on the same page, they can partner to produce the right content to address customer needs.
Predictive content – Sellers are more productive when they have intelligent content recommendations at their fingertips. Sales enablement technology allows sellers to easily discover, personalize, the most relevant content based on context-driven insights.
How does Seismic enable sales acceleration?
Seismic is the industry-leading sales enablement and digital sales engagement solution. Our software aligns and empowers go-to-market teams to deliver engaging buyer experiences that drive growth.
The Seismic platform enables marketers to orchestrate content across all channels so that sellers can deliver personalized, meaningful content experiences to prospects at every stage of their buying journey.
Seismic offers GTM teams the ability to accelerate sales through its sales enablement platform. By combining key features into a single, unified solution, organizations have a comprehensive view of their go-to-market efforts.
By understanding what works, GTM teams can leverage their findings from the Seismic platform to scale best practices across the organization.
Seismic also offers AI-guided selling solutions that further enable sales acceleration. Our AI engine, Seismic Aura, analyzes patterns and behaviors that can lead to new revenue opportunities.
Aura includes a Google Chrome extension that serves as an omnipresent sidekick for sellers. The extension provides real-time, insights-driven recommendations to sellers that accelerate sales and help sellers take advantage of every revenue opportunity.
If you'd like to learn more about how AI-guided selling enables sales acceleration, read more here.