With yards of craft paper, post-it notes, and sticky dots – so many dots! – the goal wasn't really data collection. There are certainly more efficient, and more accurate ways of collecting information.
Above all, we were creating an experience.
An opportunity for sales enablement leaders and practitioners to engage with – and learn from their peers as they explored the Seismic Experience Room at the recent Sales Enablement Society conference in Atlanta, GA.
But when all was said and done, some interesting insights had emerged.
A Two-Part Interactive Experience
The first half of the experience room was all about enablement careers, maturing enablement capabilities, and various approaches to measurement.
My half was all about a topic near and dear to me, and a quickly evolving and increasingly critical difference-maker for modern sales teams: Social Selling.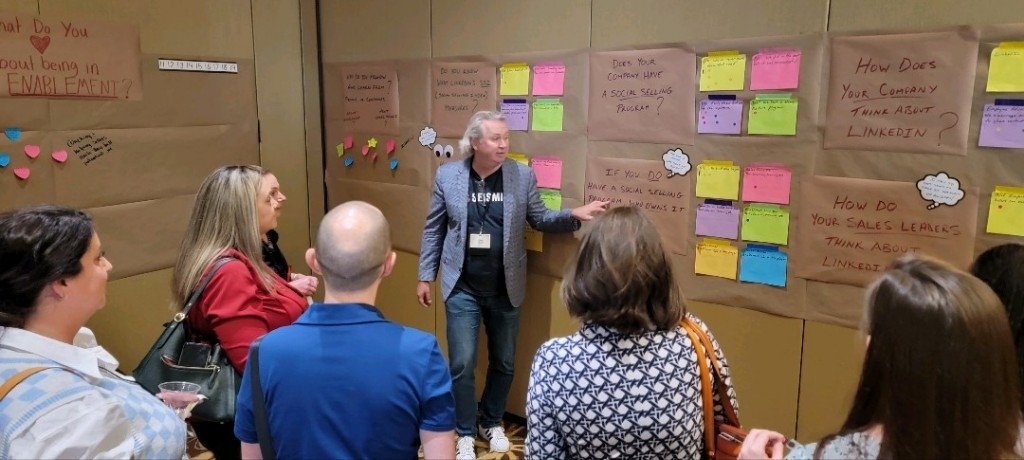 We explored a wide range of social media and social selling topics
We set out to explore such things as:
How companies are approaching LinkedIn. Is it just job postings from the talent team? Ads and promotional messaging from marketing? Salespeople prospecting? Employee advocacy? Something bigger and more strategic?
How sales leaders are approaching LinkedIn. Discouraging use for whatever reasons? Leaving it to their teams to figure out on their own? Ensuring they're well-tooled and well-trained to thrive?
Who's purposefully building social selling capabilities and how far along are they in that journey? Who owns or co-owns it?
Are enablement professionals themselves using LinkedIn effectively? Are they learning from experts, connecting with peers, and leading by example?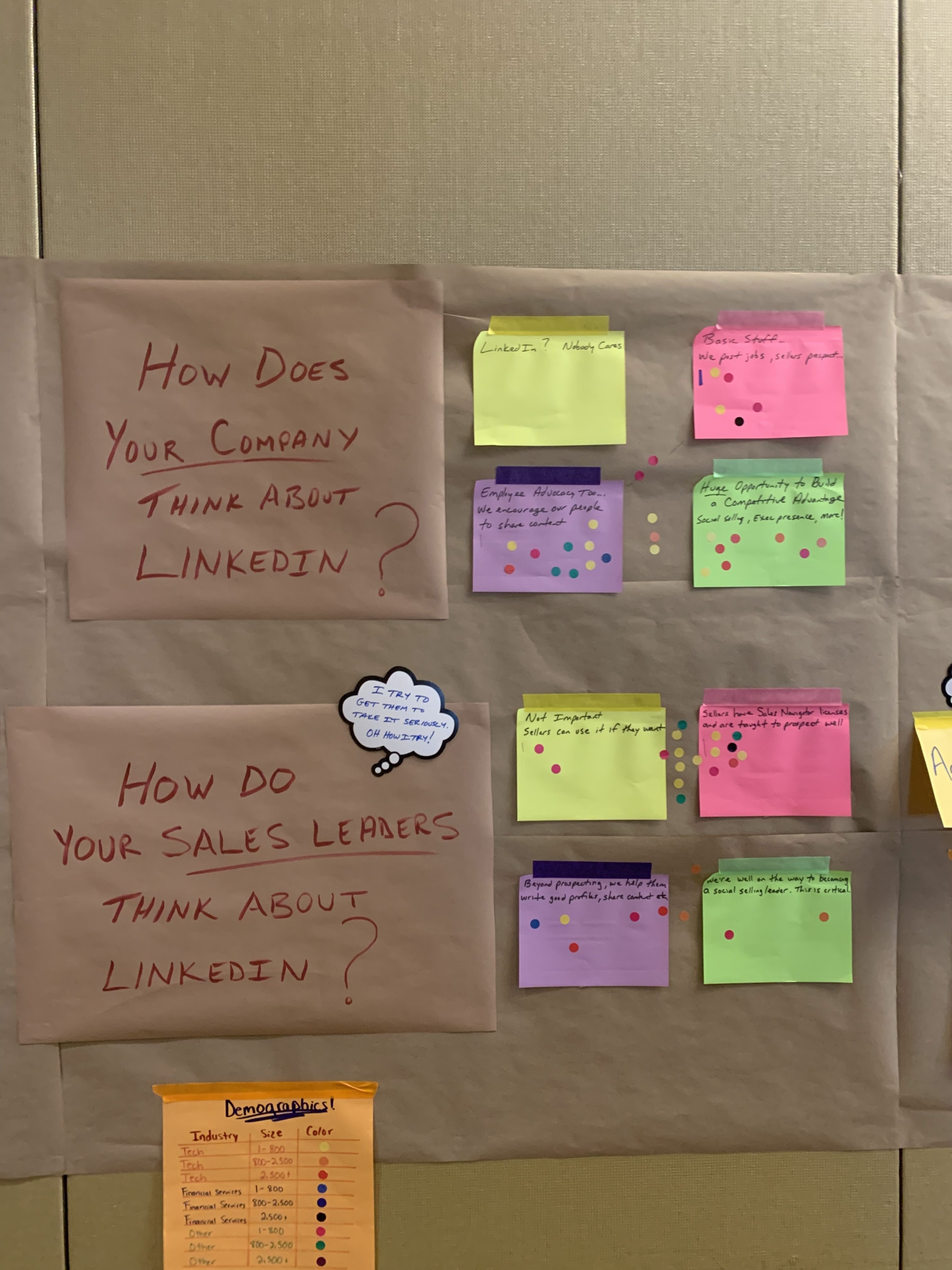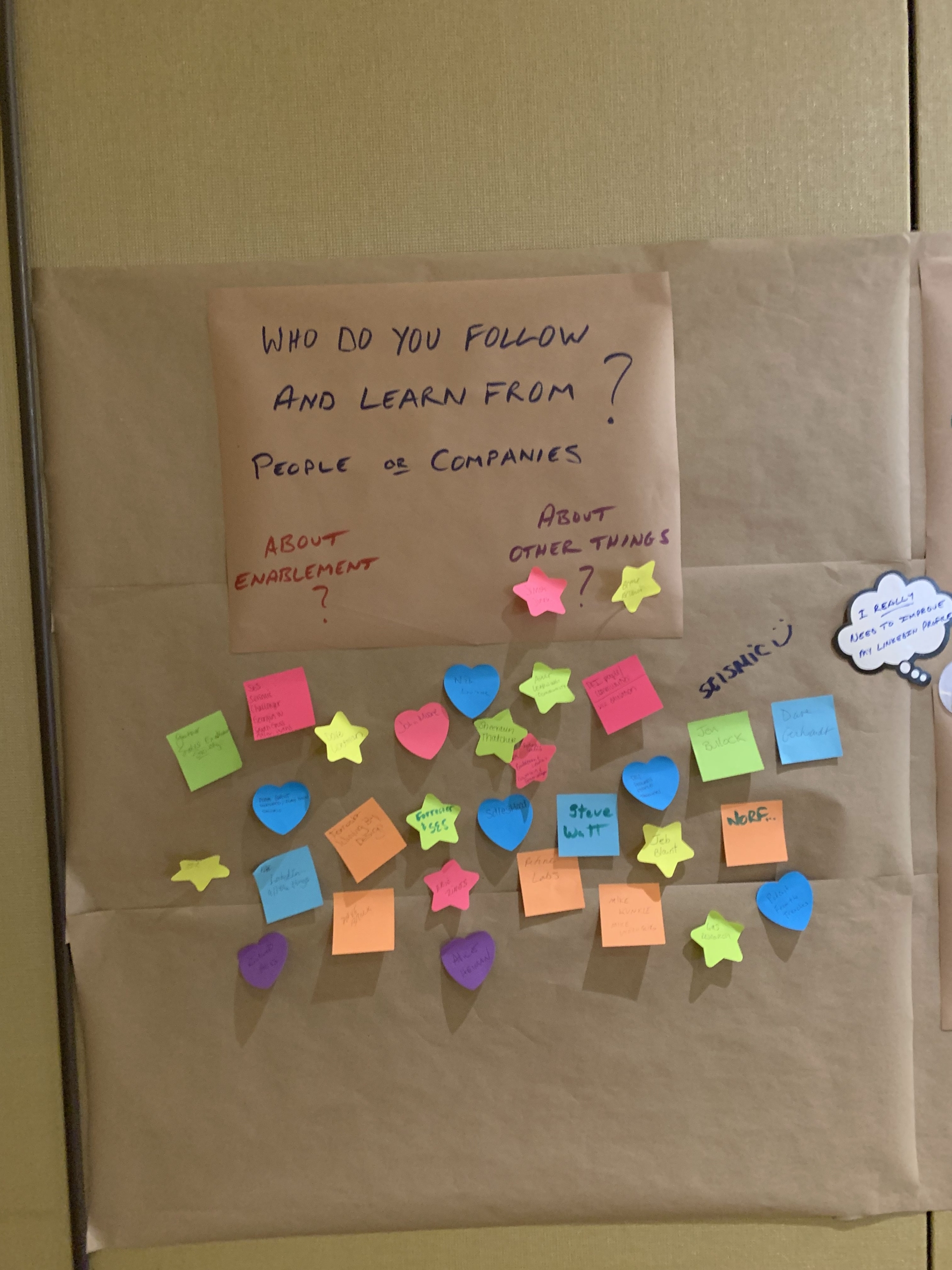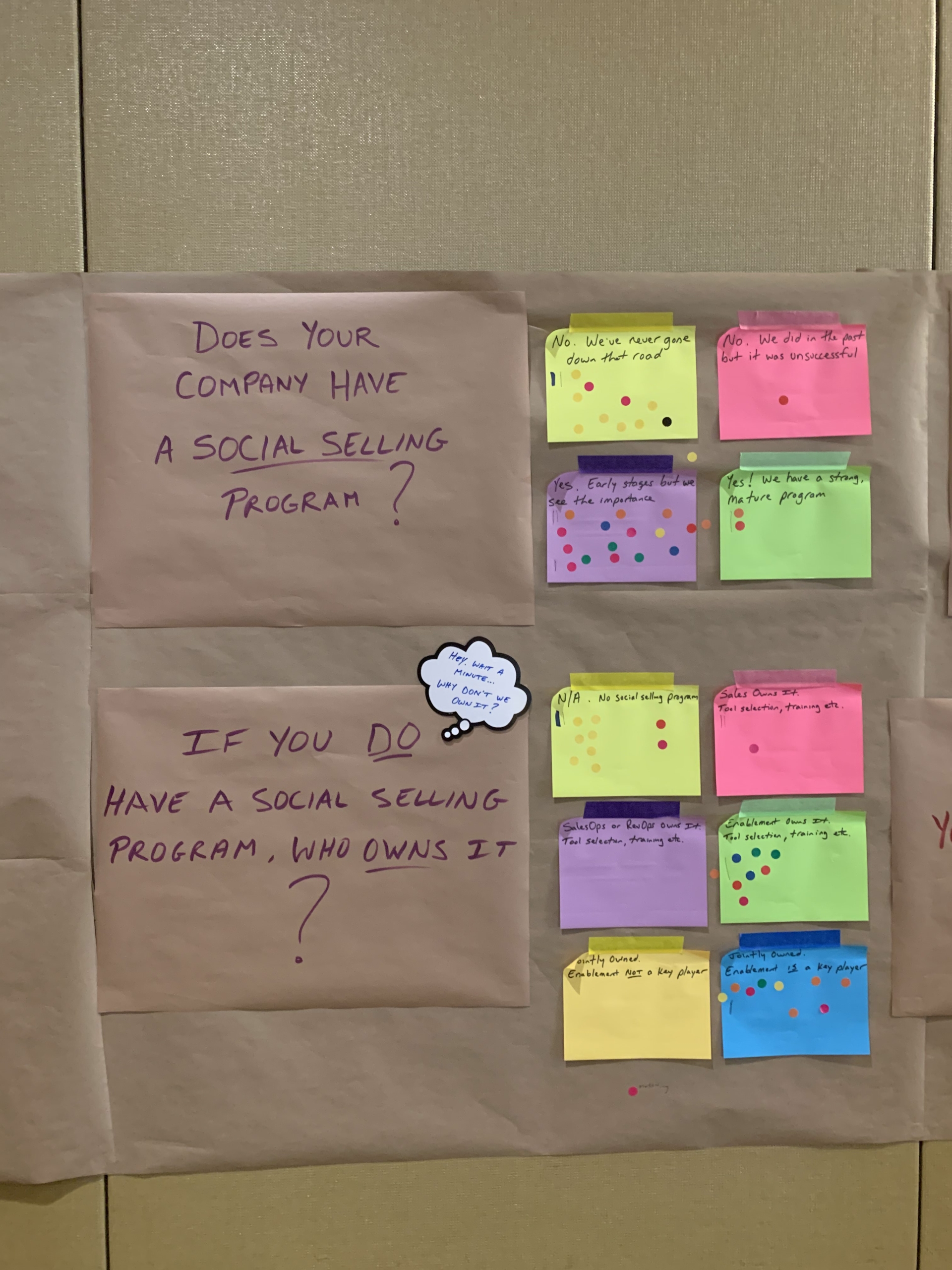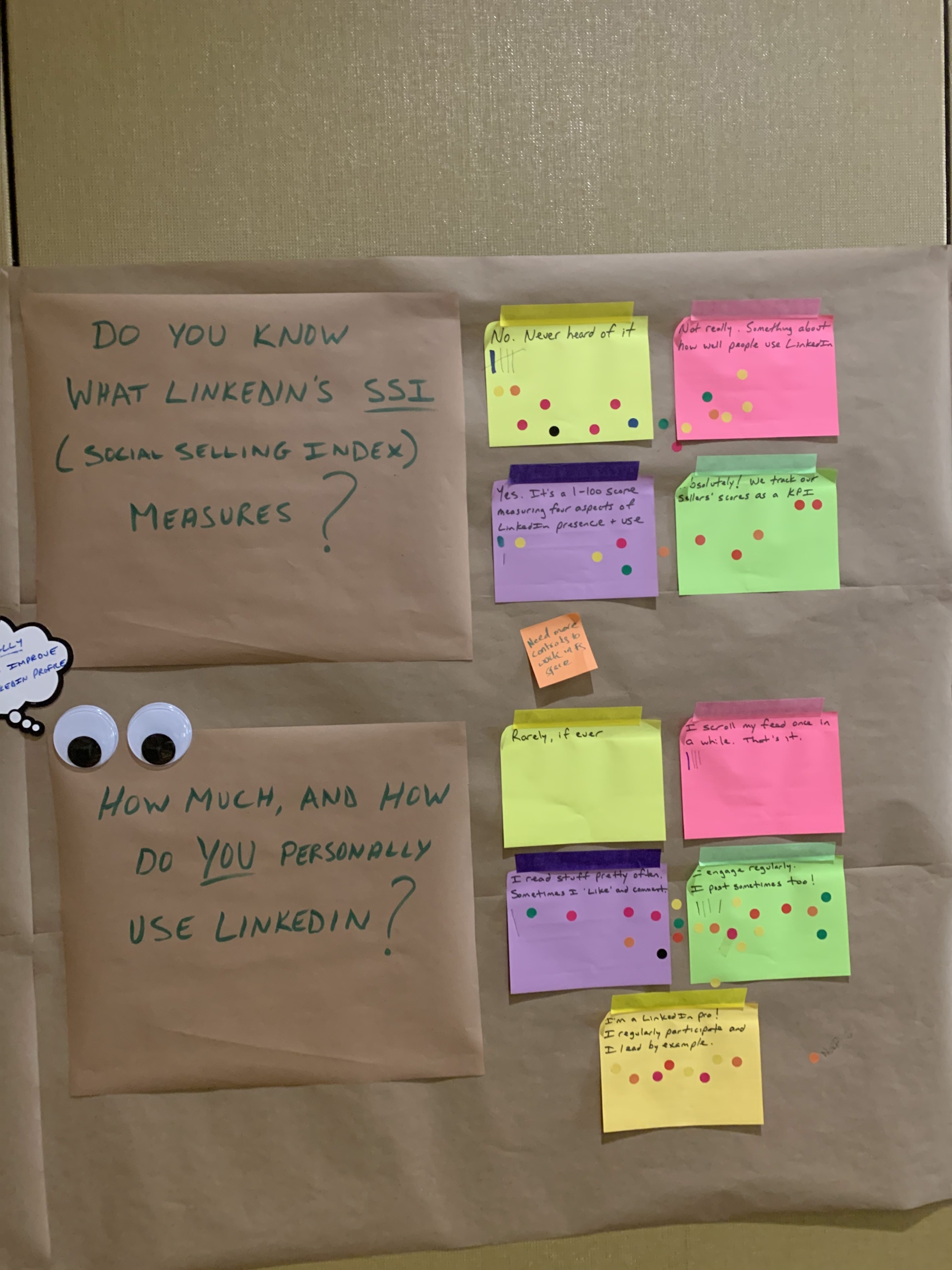 Learning #1 – A Maturing, but unevenly distributed understanding of social
The vast majority of companies in our small sample see the potential impact of LinkedIn reaching beyond job postings and ads.
Most companies have some sort of employee advocacy or brand ambassador program, with greatly varying approaches to ownership and levels of focus.
A significant number of companies, especially mid-sized and large tech firms, see mastering LinkedIn as a current or future source of meaningful competitive advantage.
When it comes to social selling specifically, there's a large divide between larger and smaller tech companies. Very few smaller tech firms in our survey are on a path toward building a purposeful social selling capability. Their larger competitors are taking action.
Learning #2 – It's early days for building social selling programs
Only two respondents said their firms have strong, mature social selling capabilities. Both are very large tech companies.
Many people told us they're in the early stages of building a purposeful social selling program. They understand the importance. They see the potential impact. Investments in tools and in training are being made.
These same early-stage builders are far from having it all figured out. They're uncertain about a great many aspects of how to train, coach, tool, and measure a high-impact social selling program and how it interacts with conventional sales skills and approaches.
There's a great deal of (very appropriate) hesitation to go down old roads of treating social selling as a spammy 'connect-and-pitch' outreach play. They know that doesn't work. They don't like being on the receiving end of that any more than the rest of us do.
Learning #3 – Enablement is owning or co-owning social selling
Of those firms that are on the path to building a proper social selling capability, the enablement team is a very active player. It's not happening in a sales-only silo or with sales leaders going it alone and hiring trainers and dictating approaches.
In about half of the program-building firms, enablement is the primary owner and driver. In the other half, it's a multi-team collaboration with enablement playing an important role.
Learning #4 – A troubling disconnect between tool purchase and effective use
A significant number of respondents said their company has invested in LinkedIn Sales Navigator licenses but they're going unused or ineffectively used due to a lack of proper training.
Learning #5 – Enablement professionals are increasingly leading by example
Nearly every participant in the experience room reported that they're personally active on LinkedIn at least "pretty often". Many "engage regularly" and some claim to be "LinkedIn pros".
There was a lot of enthusiastic conversation about why this is so important. People mentioned learning from industry leaders and other enablement professionals while also building their own internal and external reputations and relationships.
A recurring theme was credibility and depth of understanding. How can you fully understand the many aspects of LinkedIn etiquette, network growth, effective posting and commenting, hashtag use and everything else if you're not personally active? This credibility and knowledge goes a long way in helping the sales team and others learn and thrive.
The bottom line as I see it
It's an extremely noisy, competitive world. If your sales team is doing all the same things they've done for years – and all the same things their competitors are doing – it's going to be very hard for them to rise above the noise.
There is a huge opportunity to build reputation, relationships, and trust at scale by leveraging the power of social media – and LinkedIn in particular – to become the sellers that buyers actually want to speak with.
To become the sellers that publicly demonstrate subject matter expertise and client-centric passion.
To become magnets for business-building conversations.
To become trusted advisors.
Old connect-and-pitch approaches won't get them there. People are ignoring and blocking sellers who attempt to barge into their world with a pitch or a meeting request.
New mindsets, skillsets, toolsets, approaches, and metrics are needed, and enablement professionals are absolutely critical to building these new capabilities.
Modern social is fast becoming a 'must-have' for sales professionals, sales leaders, and entire sales teams. They're going to have a very hard time getting there without the active leadership and support of modern, social-savvy enablement teams.