Doug Winter, CEO and Cofounder, Seismic
The Forrester Wave™: Sales Content Solutions, Q3 2020 report published this week. The day the Forrester Wave comes out is one I always look forward to. It's always an important moment for the sales enablement space, and 2020 is no different. It gives credit where credit is due in terms of important innovations made by providers in the previous two years, and most importantly, it sets the tone for where the industry is headed and how businesses will benefit.
This year, Forrester redefined how it evaluates sales enablement. Instead of a Sales Enablement Automation Platforms Wave, sales enablement is now broken into sub-categories including sales engagement, sales readiness, and sales content solutions. We are thrilled to not only be recognized as a Leader in The Forrester Wave™: Sales Content Solutions, Q3 2020 report, but also be recognized with the report's highest scores in all three categories that providers were evaluated in: Current Offering, Strategy, and Market Presence.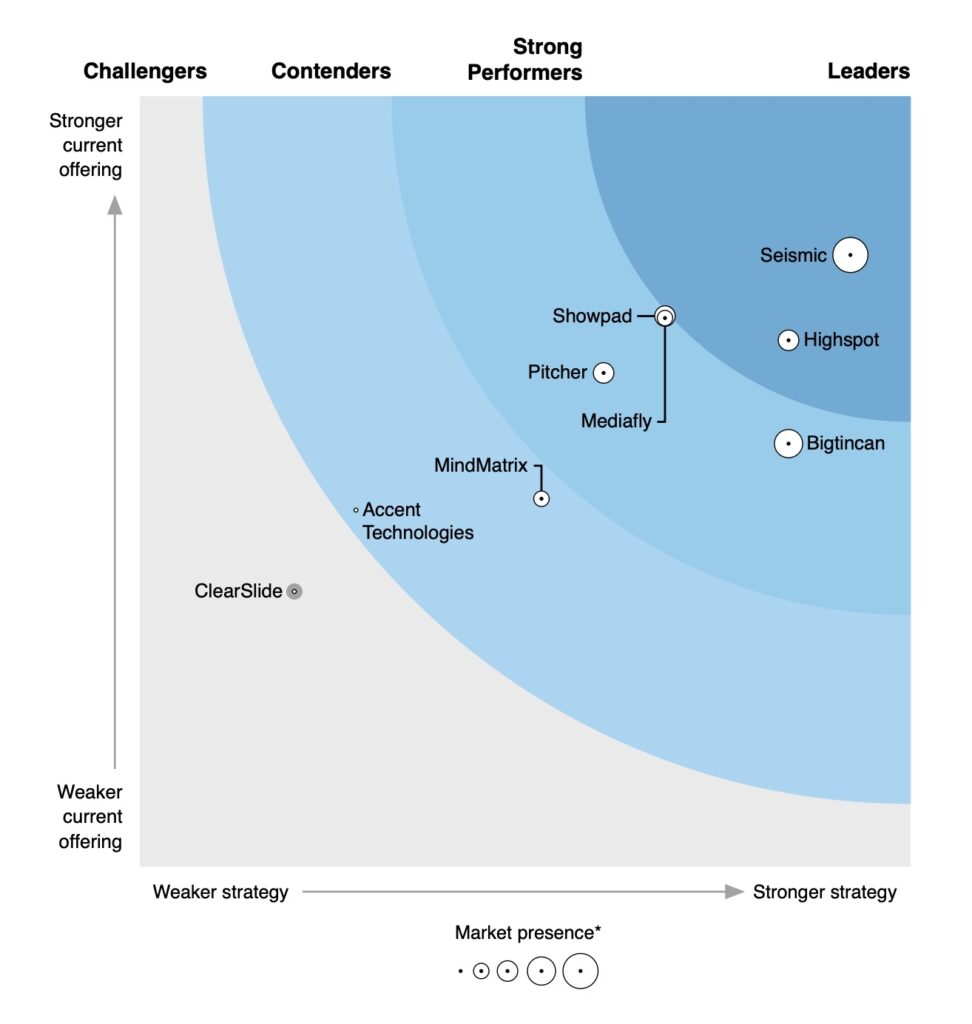 Upon reading the full report, I took a moment to reflect. It was hard not to experience deep gratitude, both for the incredibly hard-working and dedicated Seismic team, and for our customers. Seismic has been in business for 10 years. Since the beginning, when our technology was used to solve enterprises' complicated content problems before "sales enablement" was even a term, our customers have helped guide our innovation, strategy, and growth. Simply put, our customers have made us better.
Seismic has partnered with our customers to help define and lead the sales enablement industry. And, with this in mind, we welcome the change Forrester has made in how it evaluates the sales enablement space. It's a positive step toward the vision we share for sales enablement…one where personalized, engaging, and smart content allows sellers to have more relevant conversations throughout the buyer journey.
As Forrester so accurately put it in the latest Forrester Wave report, "B2B marketers and sales enablement pros want to manage customer-facing content better, understand how it gets used, and give sellers easy ways to access and deliver that content to buyers." Another quote from the report stated, "But ask new SCS buyers why they picked their vendor, and today you will likely hear that they wanted technology to help sellers be effective online and create engaging interactions at a distance."
We notice similar trends with our customers, and this is already reflected in innovation we've applied to our platform recently. As part of our Summer 2020 release, we launched Interactive Content to enable marketers and sellers to deliver high-impact, personalized content at-scale. We are bringing sales content to life during a time when content must be self-guided, helpful, and attention-grabbing for a buyer when a seller is likely not in the same room.
While it is certainly not the circumstances we all wanted or expected, the all-digital environment we are in is shining a spotlight on the need for tools like Seismic that enhance customer engagement from afar. The latest Forrester Wave report points to this and makes it clear that there is a lot of room for the industry to grow, innovate, and meet the world's new demands.
We're excited. We're ready. Ten years later, and we're just getting started.
To learn more, download a full copy of The Forrester Wave™: Sales Content Solutions, Q3 2020 report.