Sales enablement has changed tremendously since Aragon Research published its first Aragon Research Globe™ on sales enablement in 2016. This year their message is clear – enablement platforms have never been more valuable to go-to-market (GTM) teams than they are today. In its latest Globe for Sales Enablement, Aragon highlights the rapid expansion of sales enablement platforms (SEP). "There's no longer debate that a sales team must have a sales enablement platform," Aragon states, adding that "sales enablement platforms [have] become the de facto digital work hub for sales professionals."
"Enterprises that do not leverage an SEP face significant disadvantages over those that do."
The Aragon Research Globe™ for Sales Enablement Platforms, 2023
This SEP Globe marks the fifth consecutive time Seismic has been recognized as the top Leader. In the report, Aragon evaluated 15 vendors across a variety of criteria, including strategy, performance, and reach. Our recognition as a Leader is something we're extremely proud of, and one we don't take for granted. We know that growth in our company and the enablement industry wouldn't be possible without our customers – all 2,200+ of them, plus the millions of users and hundreds of partners who shape our products and industry on a daily basis.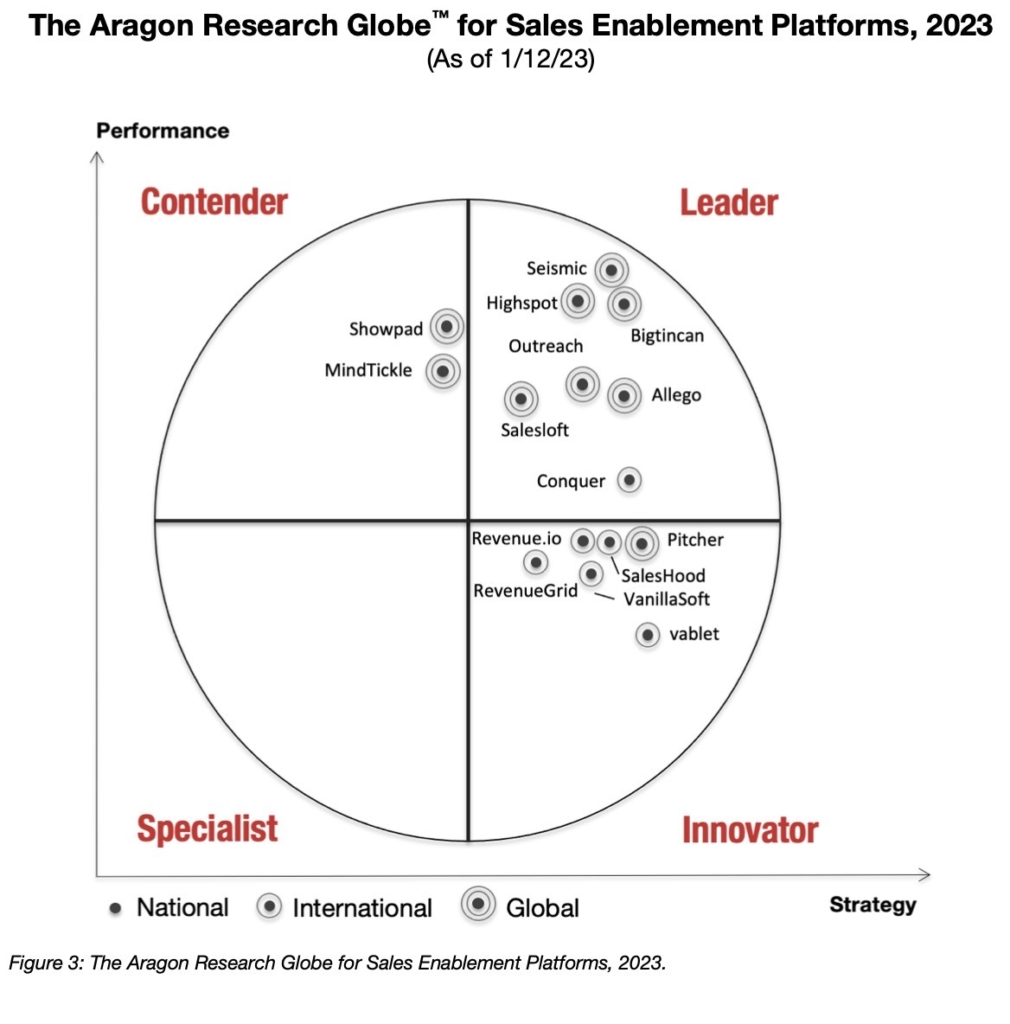 "What enterprises need is a robust set of sophisticated tools in an all-in-one platform in order to engage with savvy customers, and to enable sharing of content and better communications."
The Aragon Research Globe™ for Sales Enablement Platforms, 2023
The Consolidation of Learning and Coaching into SEPs
Aragon also highlights the growing presence of sales learning and coaching capabilities within SEPs. Aragon notes "One of the key things to consider when buying a SEP is not just the ability to share content, but how well the offering works for sales learning."
Aragon goes so far as to combine the SEP and coaching and learning category with this declaration:
"With all of the mergers and acquisitions that have occurred over the last four years, Aragon is declaring that sales coaching and learning is now part of the SEP suite."
This analysis aligns with Seismic's vision of learning and coaching as a critical pillar of the enablement tech stack. The inclusion of learning and coaching capabilities alongside sales content ensures that reps have the right content and competence to effectively engage their buyers. Aragon goes on to stress the importance of conversation intelligence in understanding how reps and buyers communicate in context leading to deeper data on what works in the real world for content, messaging, and behavior.
OUT: Siloed digital tools.
IN: Comprehensive, all-in-one enablement clouds.
According to Aragon, the best enablement platforms "streamline and condense the digital tools needed in the sales process, [acting] as the new digital sales suite for sales professionals, akin to an 'office for sales.'" In its report, Aragon says that The Seismic Enablement Cloud™ "offers a full sales enablement platform," inclusive of "strategy planning, content management, coaching and learning, engagement, content automation, intelligence, social selling, and integrations."
To learn more, download a full copy of The Aragon Research Globe for Sales Enablement Platforms, 2023 report.
Aragon Research does not endorse vendors, or their products or services that are referenced in its research publications, and does not advise users to select those vendors that are rated the highest. Aragon Research publications consist of the opinions of Aragon Research and Advisory Services organization and should not be construed as statements of fact. Aragon Research provides its research publications and the information contained in them "AS IS," without warranty of any kind.