Delivering personalized, compelling content at every customer touchpoint has become essential. 85% of sales and marketers now agree that buyers will actively dismiss their marketing and sales efforts if they don't receive tailored content. When also considering the fact that the buyer's journey is more complex than ever before, the challenge before sellers and marketers today is enormous.
But it also represents an enormous opportunity. If you can find a way to meet the needs of today's buyers and ensure they are greeted with an experience that provides value at every touchpoint, then you will win new customers much more often than you lose.
Seismic's mission has always been to enable our customers to engage their buyers through content with purpose. Content with purpose is that which provides real value to its intended audience. Content with purpose results in better conversations between buyers and sellers. Content with purpose allows marketers to prove their impact to the business at large.
With this in mind, I am incredibly excited to announce that Seismic has acquired Percolate, the leading campaign orchestration and content management platform. The result will be a combined offering that enables marketers to have full control and oversight of how their content impacts the entire buyer landscape and allows them to meet the needs of buyers today through content with purpose.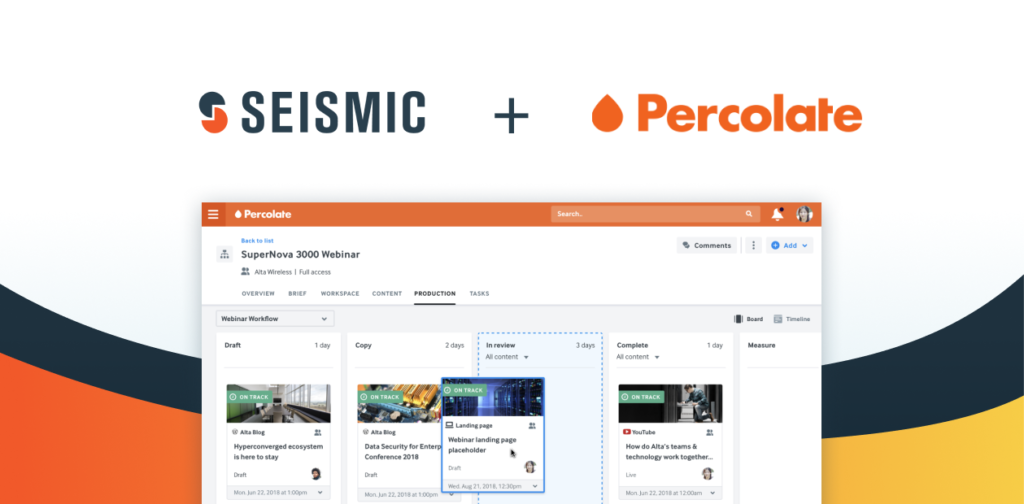 By combining Seismic's industry leading sales enablement and asset management functionality with Percolate's content orchestration and campaign planning tools, marketers will have comprehensive control and agility to efficiently align the most compelling and personalized content wherever and whenever the customer interacts with their brand. The unification of two essential pillars in the marketing technology stack will also offer the necessary data for marketers to make full-scale, intelligent improvements to their entire content investment.
While the offering will provide significant new capabilities to our customers, I am just as excited about what it means in having the Percolate team join our own. Seismic now grows to 800 employees strong, with Percolate bringing nearly ten years of experience in working with customers to optimize their content strategy. Seismic and Percolate customers will have by far more content expertise and experience available to them than what can be offered by other vendors in the space. The collective knowledge of the Seismic and Percolate communities will help lead the way in sales and marketing content for the foreseeable future.
Yes, the buyer's journey seems to grow more complex daily. But what continues to inspire me is how our customers consistently meet the challenge. In speaking with the Percolate team, it became immediately apparent that that's what gets them excited to come to work every day as well. Together, our companies and our offering will be able to provide so much more to our customers who continue to break barriers in sales and marketing.
It's an exciting new chapter for all of us, and I can't wait to get started!
About Percolate
Percolate is an Orchestration Hub that gives marketers the power to control all aspects of the marketing lifecycle. Percolate offers solutions to introduce visibility into the marketing process, improve coordination of work, and effectively build marketing campaigns and content. The world's largest enterprises — including Mazda, IWG, Robert Bosch, and Rockwell Automation — use Percolate to create a coordinated customer experience, reduce production costs, and understand marketing impact.
To learn more, visit Percolate or watch this video below.