Since its founding, Seismic has been a customer-centric company. From our first customer to our 700th, every single customer has played a part in the organization we are today. So it's a rewarding feeling when you are recognized for your customer service by outside firms and organizations.
In the past three months, Seismic has received two prestigious awards for our exceptional customer service and the accomplishments of our Customer Success team. Earlier this year, we earned the Silver Stevie® for Customer Service Department of the Year (computer software category, 100 or more employees). More than 2,300 nominations from organizations of all sizes and industries, in 51 nations, were considered in this year's Stevie competition.
And today, we are proud to be named the Organization of the Year in Business Intelligence Group's 2021 Excellence in Customer Service Awards (software category, large-size companies). This award recognizes the teams who are helping companies better communicate with their customers to provide a differentiated level of customer service.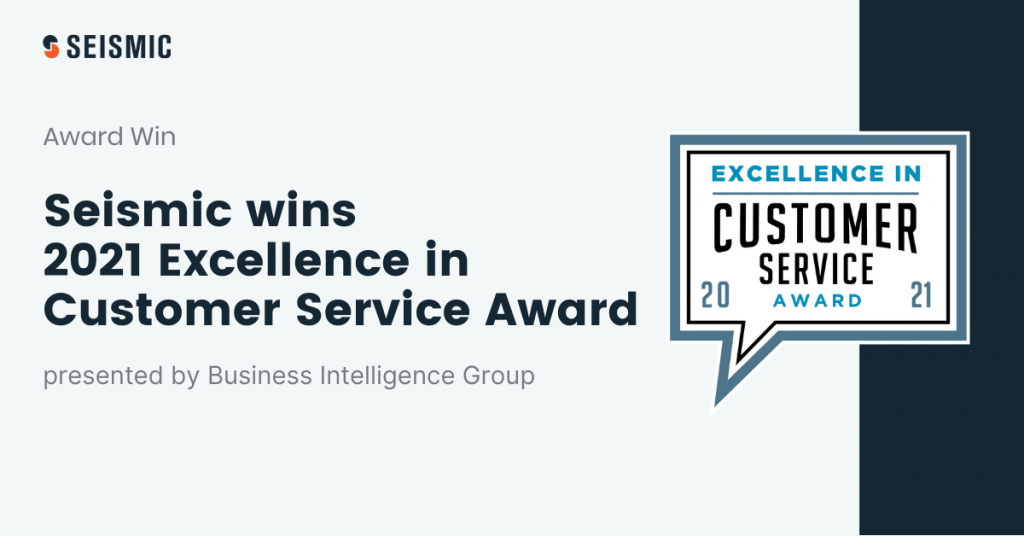 First, I need to extend thanks and congratulations to our Customer Success team. Seismic's Customer Success team is more than 350 people strong today, supporting more than 1 million users across 50+ countries around the world. We're a group of hard-working individuals dedicated to delighting our customers and building long-term partnerships that enable transformation and success of their buyer engagements. From San Diego to Sydney, and every office (and home office) in between, please join me in celebrating these wins!
Not only do these awards recognize the day-to-day work of the Customer Success team, but they also shine a light on Seismic's top-tier community and customer education programs. Seismic Community, our online social learning destination, allows Seismic customers, partners, and staff to connect with other practitioners, industry peers, and platform experts to seek support and share expertise. It's full of active customers swapping knowledge with each other from the field. Additionally, Seismic University is a growing online learning and knowledge portal offering on-demand, live, virtual, and blended learning, plus certification opportunities. Launched in 2019, Seismic University has already earned an award for excellence in customer education and has built a loyal following of Seismic experts.
I also want to thank Seismic's executive leadership, and our entire go-to-market team, for instilling this focus on customer centricity and supporting the mission of the CS department. It takes all of us to deliver these results. Finally, thank you to our customers for partnering with us, giving us feedback, and helping us create the best sales enablement platform on the market. Onward!